Nor'westers keep lashing the country
11 killed; Met says it may continue for 2 more days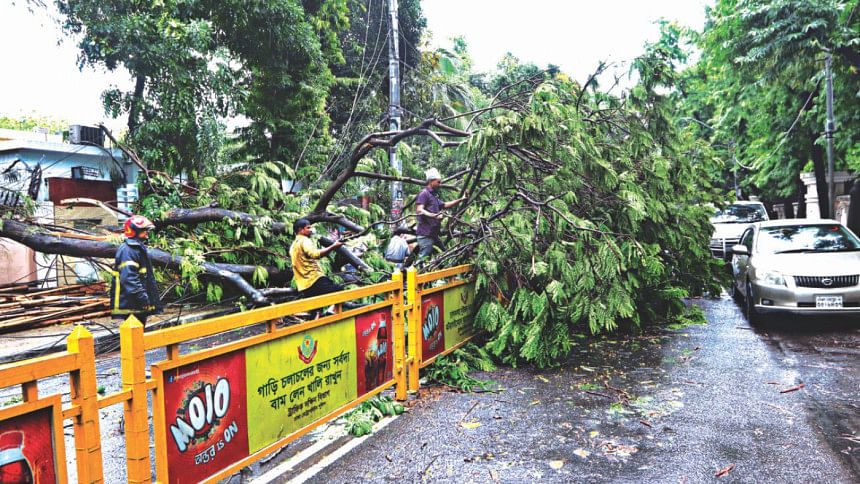 It was sunny yesterday morning but that did not last. The sky went dark with heavy clouds like Sunday. People shut doors and windows of their homes and shops and a nor'wester lashed the capital. There was lightning, thunder and heavy rain, inundating many areas of the city.
At least 11 people, including a child were killed, in lightning strikes around the country, reports our correspondents and news agency UNB. 
The Bangladesh Meteorological Department yesterday forecast that similar rain and thunder showers are likely across the country today and tomorrow. There could be hail storms at a few places too.
A low lies over West Bengal and adjoining area and another low formed over the Andaman Sea.
Sylhet recorded 89mm rainfall, the highest, between Sunday and yesterday evening, according to the Met office.
For some city dwellers, Sunday's rain brought in relief after two days of summer heat. It also reduced the dust in the air but made many streets waterlogged.
The temperature, however, may rise towards the end of the week, according to the Met office.
11 KILLED
Lightning strikes killed four people in Narayanganj, reports our correspondent there.
In Rupganj, Hashem Molla, 17, and Rafiqul Islam, 33, were struck by lightning while working on their paddy field. They were taken to hospital but doctors declared them dead there.
Officer-in-Charge Morshed Alam of Sonargaon Police Station said Obaidul Haque, 30, and Sadek Mia, 49, were working on their paddy field when they were struck.
Obaidul was killed instantly. Injured Sadek was taken to Sonargaon Upazila Health Complex.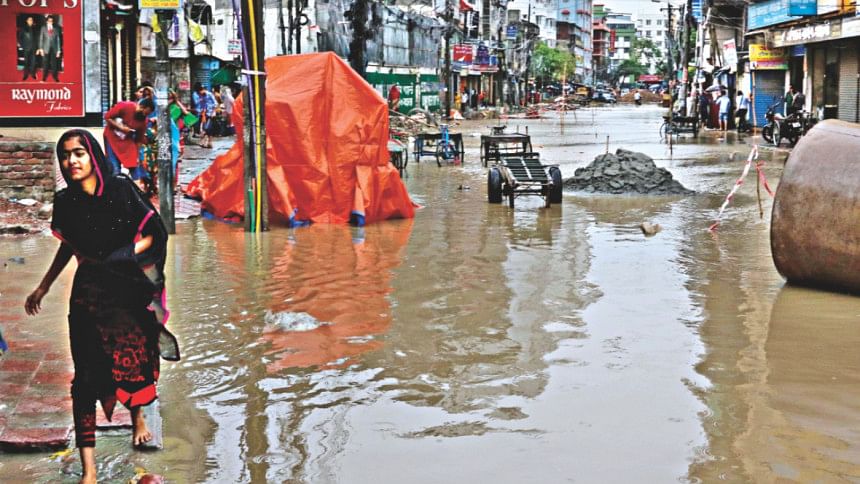 Schoolboy Farhad Sheikh, 14, was catching fish yesterday afternoon in Tetlabo area of Tarabo municipality when he was hit. He died instantly.
In Rajshahi, two farmers were killed in lightning strikes.
Yakub Ali, 45, of Nowpara in Puthia, was struck and killed while working on his farmland around 7:00am, said Sayedur Rahman Bhuiyan, officer-in-charge of Puthia Police Station.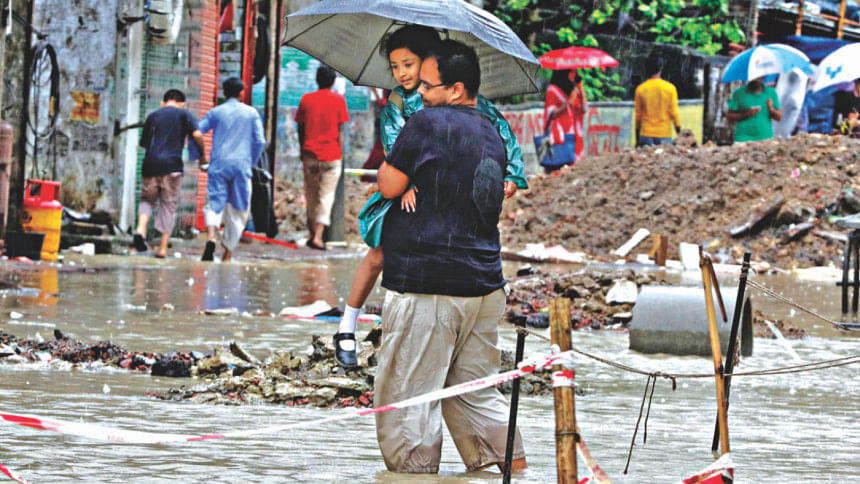 Bablu Sheikh, 48, of Jotioyram in Godagari upazila, was also killed by a thunderbolt, said Abdul Khaleq, a sub-inspector of Godagari Police Station.
Bakul Mia, 32, and Habibur Rahman, 40, of Sarishabari and Islampur upazilas of Jamalpur were killed by lightning strikes yesterday. They were working on their farmland.
Farmer Motin Mondol, 45, in Rajbari was killed in a similar way.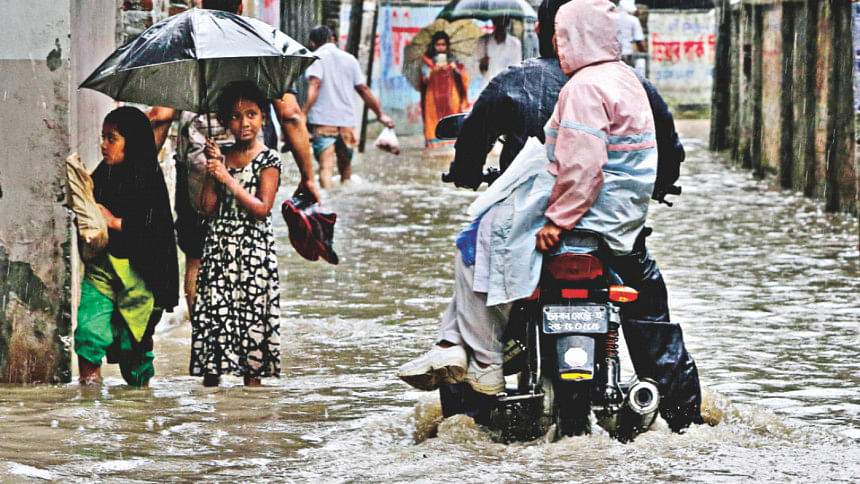 Md Yeahia, 42, also a farmer was killed by a lightning strike in Kanaighat upazila of Sunamganj, reports UNB, adding that Shamsul Haque, 30, of Habiganj was killed while working on a paddy field near the Sutki river.
State Minster for Labour Mujibul Haque Chunnu at a press briefing at the secretariat yesterday said families of those killed in lightning strikes would get Tk 2 lakh.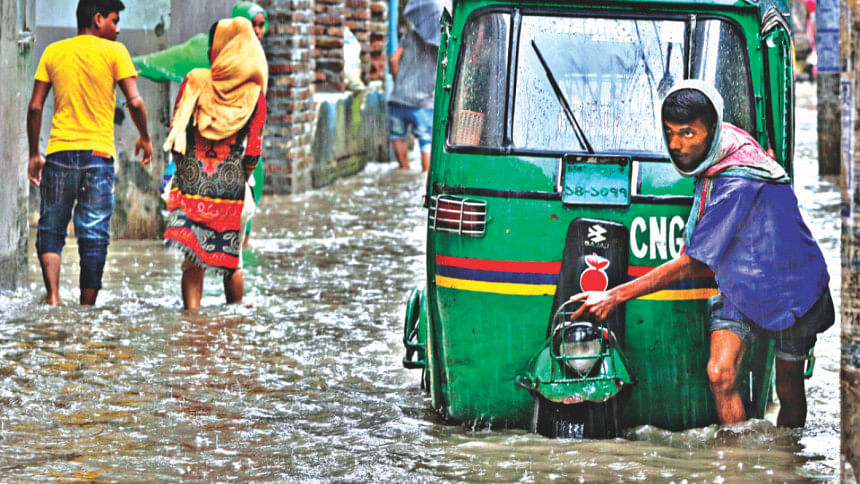 In Chittagong, two people were hurt as a tree fell on an ambulance during a nor'wester at Pahartali area on Raozan-Kaptai Road yesterday.
Launch and ferry services on Paturia-Daulatdia route on the Padma had to be temporarily suspended at 10:45am yesterday due to bad weather, said Mahiuddin Russel, Aricha terminal manager of Bangladesh Inland Water Transport Corporation (BIWTC).
Alamgir Kabir, joint director of BIWTA, said the plying of launches, ferries and speedboats across the country was temporarily suspended around 11:00am.