Trump wishes Hasina success in third term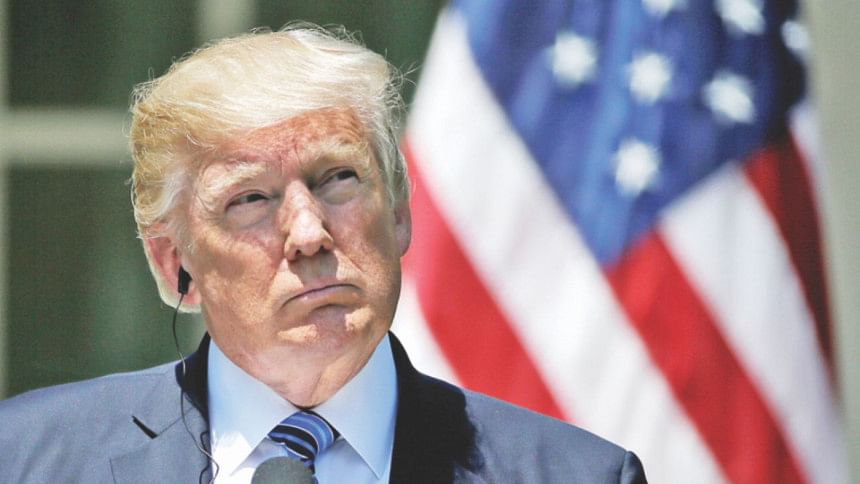 US President Donald Trump has wished Sheikh Hasina a successful third term as Bangladesh's prime minister.
In a letter, he also said, "On behalf of the American people, I commend tens of millions of Bangladeshis who voted, demonstrating their democratic aspirations for the country."
The Daily Star has obtained a copy of the letter issued on January 18. A highly-placed diplomatic source has verified its authenticity. 
The letter quoted the US president as saying, "I hope that you [Hasina] will focus on expanding Bangladesh's economic growth -- including by taking steps to promote fair and reciprocal trade and investment -- and on renewing your commitment to protecting human rights, individual freedom of expression, and democratic institutions."
He also said the commitment was "particularly important in light of international calls for an independent investigation into the December 30, 2018 national election. Ongoing reports of attacks on the political opposition and their supporters and repression of journalists are tainting the national election and Bangladesh's international reputation.
"If peaceful expression of dissent is suppressed, there is a risk some will turn into violence, which undermines the stability and economic prosperity that your government has worked so hard to create."
Trump also said the United States values its partnership with Bangladesh.
 "We are deeply invested in the future of your country and its people, and we remain grateful to the government of Bangladesh for its generous hosting of the Rohingya refugees expelled from Burma [Myanmar]," the letter read.
Both the United States and Bangladesh were founded on democratic principles. There is a strong link between Bangladesh's democratic development and its continued economic growth and prosperity," the letter added.
Talking to The Daily Star yesterday, State Minister for Foreign Affairs Md Shahriar Alam said the US president congratulated Hasina on becoming prime minister for the third straight term.
"We have received a congratulatory letter from the president of the United States and it will be formally handed over to the prime minister," he said.