A train to massacre
The 1971 Golahat mass killing in Saidpur remains a lesser known part of Liberation War history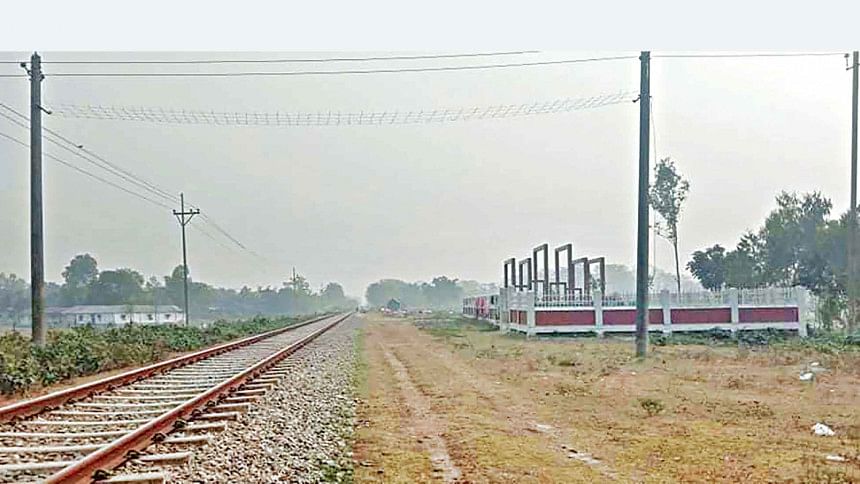 It was past midnight at Saidpur Rail Station.
In the dim light, mostly Hindu Marwaris and some Bangalees from all walks of life could be seen standing beside the platform. Tense, even those who knew each other were not talking.
They were all anxiously waiting for the train that would leave for Jalpaiguri in West Bengal through the Chilahati border.
More than 450 Marwaris boarded that train, but little did they know that it would take them just 2km from the railway station.
On that fateful night, they were betrayed and subjected to a pre-planned massacre by Pakistani army troops and armed razakars led by two Bihari men -- Qaiyum Khan and Izahar Ahmed -- and their associates, who were lying in wait near Golahat point.
They stabbed all the passengers on the train to death with knives and bayonets, except for around 10 to 12 young boys and men who made a run for it in the dark.
The Daily Star spoke to three of these survivors who lost their family members and witnessed the barbaric Golahat massacre in Nilphamari's Saidpur upazila, which saw at least 448 people, mostly Marwaris, killed on June 13, 1971.
Nijhu Kumar Agarwal, now 65, narrowly escaped death but lost nine family members -- including his father and elder brother.
"From the afternoon of June 12, two military lorries from Saidpur cantonment were engaged to carry us from our homes to the railway station. We were told by the soldiers to hurry as there would be no space in the train compartments for those who were late."
As soon as the unsuspecting Marwaris reached the station, they were escorted by soldiers in civil dress and the Biharis, and were pushed into the compartments of the standing train, he said.
"From the spot, Pakistani soldiers abducted 20 young Marwari girls, and out of panic, their guardians couldn't make even the slightest protest," Nijhu continued.
In the early hours of June 13, the train began its short journey on the Saidpur-Chilahati route.
Tapan Kumar Das, a 70-year-old survivor, said the train moved very slowly along the steel tracks before it reached near railway culvert No 338 in the Golahat area and rolled to a stop.
To their horror, he said, those inside found that all gates and windows of the train were locked from the outside and peeping through a crack, he noticed that the train was encircled by local Biharis carrying knives and bayonets and Pakistani soldiers in civil dress at a slight distance.
The killers then opened the gates of each compartment one by one to drag out the men, women and children -- first looting all their belongings and finally stabbing and cutting them down to their harrowing deaths, according to the few remaining survivors.
Binod Agarwal, 65, said some victims requested they be killed by shooting but they were kicked at and the soldiers shouted that the Pakistan government would not waste their bullets on them.
Survivors Nijhu and Binod said during the massacre, the killers were shouting "kharcha khata, kharcha khata".
Later, the bodies were carelessly buried in knee-deep holes on one square kilometre area on both sides of the rail tracks. They were mostly eaten by jackals and dogs, he said.
The incident was described in the 2014 book "Golahat Ganohatya" written by Ahmed Sharif, who works with the organisation 1971 Genocide and Torture Archive and Museum Trust.
"All the victims of the Golahat massacre were lured to that train being assured that they would be sent to India. They were later killed," Ahmed Sharif told The Daily Star.
The massacre is also documented in Zahangir Alam Sarkar's "History of Nilphamari", published by Bangla Academy.
SAIDPUR IN 1971
A large number of Marwaris, from various parts of undivided India during the British era, lived in a part of Saidpur which came to be called "Marwari Patti".
They stayed on in the railway town, home of an important railway workshop in the region, trading in jute and other lucrative industries. 
Bangalee residents of Saidpur who witnessed those days of turmoil in 1971 said after the March 7 speech of Bangabandhu Sheikh Mujibur Rahman, it was clear that Bangalees were heading towards independence.
However, Urdu-speaking Biharis who migrated here after 1947 came to dominate Saidpur from the morning of March 23, Pakistan's Republic Day, with the help of the Pakistani army.
Marwaris, Bangalee Hindus, and those who supported independence of Bangladesh in Saidpur remained confined in their homes out of fear during the month of March.
On March 23, when the Swadhin Bangla flag was hoisted across the country, the Biharis in Saidpur opposed this, instead hoisting Pakistani flags from house-tops.
After the night of March 25, Pakistani plainclothes soldiers and Biharis began looting and killing Bangalee homes and also attempted to attack the wealthy Marwaris, though they were not Bangla speakers.
Before that fateful June day, many local Marwaris and Hindu young men -- estimated to be from 185 to 300 -- were forcibly taken to the cantonment to work at the under-construction Saidpur airport.
From June 5, Pakistan army officers and local Bihari leaders spoke with Marwari community leaders, assuring them the Pakistani government had arranged a special train for all of them to be taken to India.
They also announced this by loudspeakers in different parts of Saidpur over a few days, asking them to prepare to leave for India, which came as a great relief for the under-siege Marwaris.
NEGLECTED MARTYRS
Survivor Nijhu Kumar Agarwal, who recently visited the killing ground with our Nilphamari correspondent, pointed a finger to the spot where he last saw his loved ones.
"Just there, my father and brother were killed," he said, tears rolling down his eyes.
Starting in 2015, the Saidpur upazila administration, along with local bodies, built a memorial at the spot which was finished in 2018.
Saidpur Upazila Nirbahi Officer Nasim Ahmed said they have a list of 448 victims of the Golahat massacre.
"We pay homage to those martyred at the memorial site," he said.
Earlier, the number of dead was reported as 437 but local journalist MR Alam Jhantu, also a martyr's son, said after extensive interviews in the area, the number was revised to 448.
Jhantu also said more than 4,000 people were martyred in Saidpur during the Liberation War.
"But successive governments did almost nothing to preserve the memory of those martyred."