Traffic chaos as hawkers, workers block roads
Hawkers demonstrate for space on footpaths, jute mill workers want arrears
The beginning of Ramadan is when city dwellers enjoy less chaotic traffic on streets but yesterday, the first day of the holy month, people endured standstill traffic for hours in downtown Dhaka as agitating hawkers blocked several roads in Gulistan.
The situation was made worse as jute mill workers went on the rampage in Demra and Jatrabari demanding arrears.
Several hundred hawkers demonstrated demanding they be allowed to set up shops on the pavements of Paltan and Gulistan.
They first moved to the Nagar Bhaban around noon and started blocking the North South Road near Golapshah Mazar around 1:00pm after failing to meet the Dhaka south mayor. 
The hawkers also placed large sewage pipes on Abdul Gani Road and blocked several other key streets in the area.
This had a cascading effect on the traffic system. Tailbacks started appearing on streets and many people who were fasting suffered in the summer heat.
Shiblee Noman, additional deputy commissioner (Motijheel division) of Dhaka Metropolitan Police, said the hawkers withdrew their roadblocks around 5:15pm when the police convinced them that they were causing sufferings to city dwellers.
"I had to rush home after work in Gulistan, as it was the first day of Ramadan, but I could not move even an inch on Bangabandhu Avenue due to the blocked road," said frustrated Sanowar Hossain, a car driver.
Arif Chowdhury, executive president of Bangladesh Hawkers Federation, who was involved in the demonstration, said Dhaka South City Corporation (DSCC) allowed hawkers of Motijheel to set up shops on the pavements after 3:00pm on weekdays and at designated holiday markets on weekends. But the hawkers of Paltan and Gulistan were not allowed and they went for the demonstrations.
Arif said the hawkers were ousted from Paltan and Gulistan around four months ago.
MA Kasem, president of the federation who leads a faction of the hawkers and is also the president of pro-government Hawkers League, claimed that they did not block the streets and that they want to continue their movement in a systematic manner.
He said when the government has set up 11 holiday markets in the city and allowed hawkers in Motijheel area to set up shops on pavements after 3:00pm on weekdays, their movement blocking streets was unacceptable.
The prime minister had decided in an Executive Committee of National Economic Council meeting to prepare a list of hawkers and issue them ID cards. The listed hawkers were supposed to be allowed in the holiday markets and eventually be rehabilitated to hawkers' markets.
But the decision was yet to be implemented, he said.
DSCC Mayor Sayeed Khokon also decided to rehabilitate hawkers, including sending many of them abroad as migrant workers, but a Tk 10 crore project proposal in this regard is pending with the finance ministry, Kasem said.
Mayor Khokon yesterday told The Daily Star that there was no way to allow hawkers to set up shops in Gulistan and Paltan areas.
"If they have any specific proposal regarding rehabilitation, they can come to me and we will consider if it is acceptable," he said.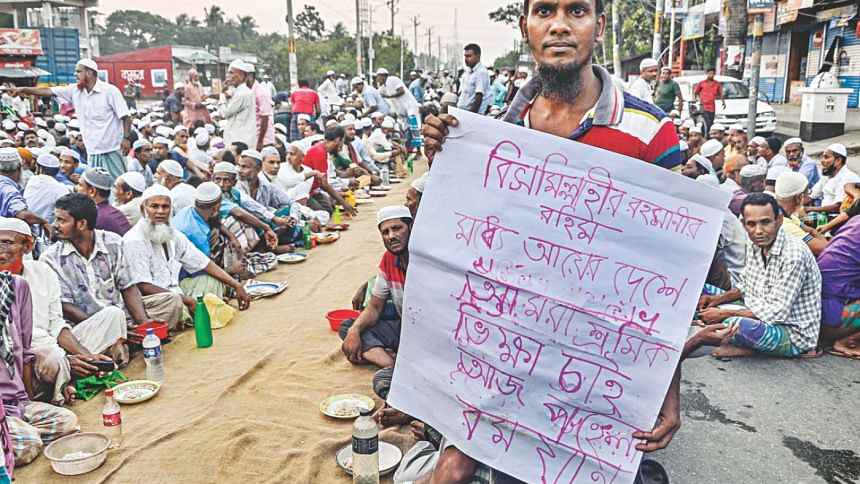 DEMRA, JATRABARI DEMO
State-owned jute mill workers continued their demonstrations for the second consecutive day demanding arrears.
Hundreds of workers of Latif Bawany Jute Mill and Karim Jute Mill also vandalised some vehicles during the demonstration, said Md Selim, officer-in-charge (investigation), of Demra Police Station.   
The workers equipped with iron rods and sticks took to the street demanding arrears of two months, he said.
They halted traffic for six hours, placing broken electric poles on roads, and moved away at 2:00pm. City dwellers and commuters suffered in the sweltering heat.
Mamunur Rahman, a local, told The Daily Star that the workers took position in front of Demra intersection and Staff Quarter area and stopped vehicles, even the ones carrying patients.
Police chased and dispersed them around 11:00am but they returned after half an hour.
Mohammad Ali, CBA president of Latif Bawany Jute Mill, claimed that they did not vandalise any vehicles during the demonstration.
He said workers were due six weeks' wages while other employees and officials had two months' salaries unpaid.
Meanwhile in Khulna, workers of nine state-owned jute mills blocked Dhaka-Khulna highway at Notunrasta intersection from 4:00pm to 7:00pm demanding arrears, reports our correspondent there.
They sat on highway blocking traffic. They even prayed and had iftar there.
Hundreds of passengers, mostly people returning from work, suffered.
Some 35,000 workers were on their third consecutive day of strike yesterday. They gathered at the intersection, and in Kabirbatla and Daulatpur.
Lutfun Nahar, a worker at Crescent Jute Mills, told The Daily Star that the mill authorities had promised paying her wages. "Fifteen days have gone since then and I am yet to get my wages. I am on the verge of starving with my family of six."
Abdul Goni, a worker of Khalishpur Jute Mill, told The Daily Star that he has not been paid in over two months.
"Like me, around 1,950 workers of the mill did not get paid. How can we run our families?"
Jute mill workers' leader Sohrab Hossain said workers were due 10 to 12 weeks' wages. "We had no choice but to go for this strike."
In Jessore, workers also gathered in Rajghat area, completely blocking traffic on roads for a few hours.