Saudi Makes Hajj Decision: No pilgrims from abroad allowed
Biman, hajj agencies face huge loss; pilgrims already registered to get their deposits refunded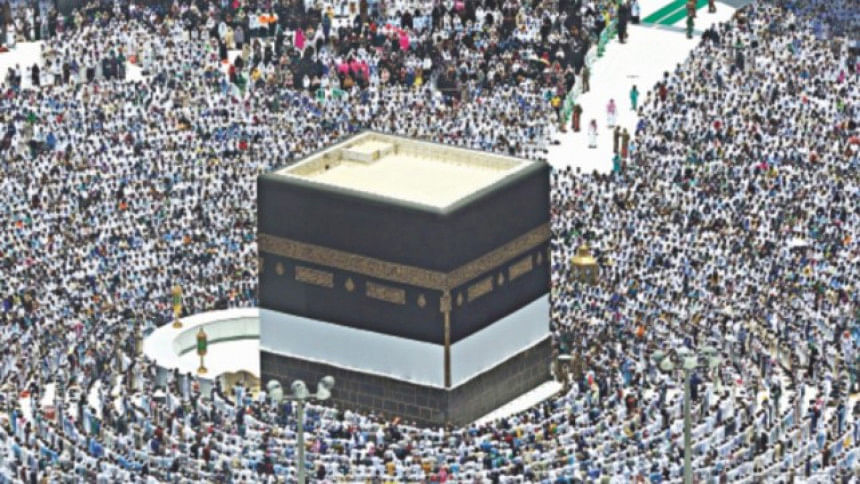 Private hajj agencies and Biman are set to incur a huge financial loss as the Saudi government has decided not to allow anyone from abroad to perform hajj this year amid fears over coronavirus pandemic.
If the decision is implemented, around 1,400 members of Hajj Agencies Association of Bangladesh (Haab) will be deprived of around Tk 5,500 crore, and Biman Bangladesh Airlines Tk 800 crore, said officials concerned.
The Saudi government's decision not to allow people from other countries, including Bangladesh, to perform hajj came as a blow to the private hajj agencies as they will not be able to earn Tk 5,500 crore by sending pilgrims to Saudi Arabia, Haab President M Shahadat Hossain Taslim told The Daily Star yesterday.
He said around 1.30 lakh Bangladeshis attended hajj last year and only 7,000 of them were sent by the religious affairs ministry. "Around 1.23 lakh hajis performed hajj through private agencies."
This year, 1,37,198 Bangladeshis were scheduled to perform hajj, which is likely to be held on July 31, depending on the sighting of the moon.
Of them, 17,198 were scheduled to perform hajj under government management, and the rest under private management, said Taslim.
Not only hajj agencies, several lakh people and many associate industries, including textile, leather, hotel, and medical centre, will also be badly affected  due to the Saudi decision, he said.
The Haab chief added that around 50,000 people in dealing with the Bangladeshi hajis in Saudi Arabia will be affected as well.
Replying to a query, Mohibul Haque, senior secretary at Civil Aviation Authority of Bangladesh (Caab), said Biman earned Tk 798 crore last year by carrying Bangladeshi pilgrims to Saudi Arabia and bringing them back.
"Hajj flight operation is one of the major sources of Biman's yearly income. The Saudi decision will affect the national flag carrier severely," he said.
Meanwhile, the religious affairs ministry has called an emergency meeting today to discuss the next course of action following the Saudi decision.
Ministry Secretary Nurul Islam told this newspaper that they would discuss how to refund those who have already registered for performing hajj this year.
"If anyone withdraws the money, the person will have to register again for performing hajj next year. Otherwise, the registration will remain valid for the next year," he said, adding that around 66,000 people had registered this year.
On Tuesday, a Saudi minister said they would allow around 1,000 pilgrims residing in the Kingdom to perform hajj this year, reported media outlets.
"The number of pilgrims will be around 1,000, maybe less, maybe a little more," Hajj Minister Mohammad Benten told reporters. "The number won't be in tens or hundreds of thousands this year."
The pilgrimage, scheduled for the end of July, will be limited to those below 65 years of age and with no chronic illnesses, said Health Minister Tawfiq al-Rabiah.
The pilgrims will be tested for coronavirus before arriving in the holy city of Mecca and will be required to quarantine at home after the ritual, Rabiah added.
The decision marks the first time in Saudi Arabia's modern history that Muslims outside the Kingdom have been barred from performing the hajj, which last year drew 2.5 million pilgrims.
Benten did not specify how the pilgrims will be selected.
The decision comes as Saudi Arabia grapples with a major spike in infections, which have now risen to more than 161,000 cases -- the highest in the Gulf -- with more than 1,300 deaths.