. The Daily Star Investigation
Pay or Die
With suspended officer-in-charge of Teknaf Police Station Pradeep Kumar Das now behind bars over the killing of retired army major Sinha, stories are unearthed about the unwritten law of the upazila town: you pay, you live.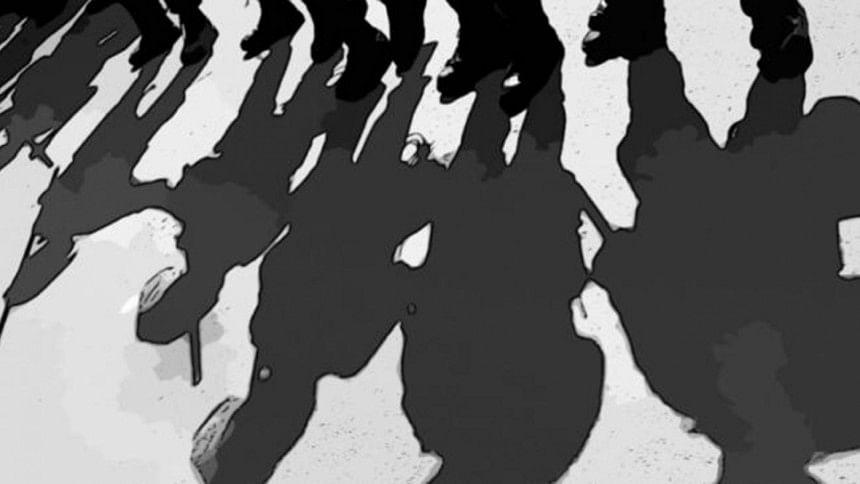 With suspended officer-in-charge of Teknaf Police Station Pradeep Kumar Das now behind bars over the killing of retired army major Sinha, stories are unearthed about the unwritten law of the upazila town: you pay, you live.
You bargain or you don't pay -- you mysteriously die in a "gunfight" that will happen in the middle of the night at some remote beach.
Yasmin Akhter's husband Hasan Ali was a "source" of the Border Guard Bangladesh -- not only does she proudly admit this, she also calls it "a service to the nation".
As the owner of a fleet of 40 fishing trawlers which he leased to sea-faring fishermen, Hasan was the perfect informant, since he had eyes and ears all over the sea looking out for shipments of yaba coming in from Myanmar.
According to his wife, this was also a quick way to make money since he received a handsome commission from the BGB for every haul. But it was also a quick way to make enemies in a town where Hasan's closest neighbours are all yaba traders.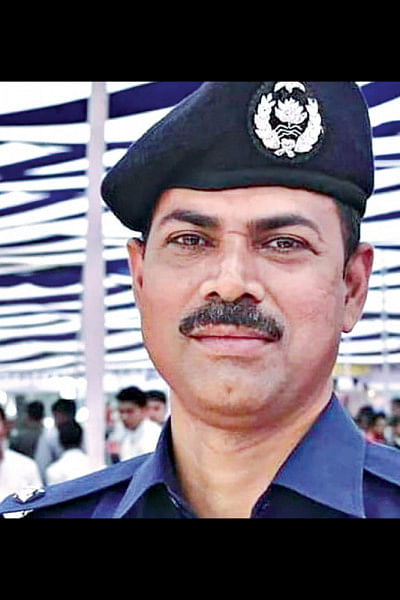 He got so rich ruining their livelihoods that he could afford to plaster every square inch of the walls and floors of his one-storey home with the fanciest golden-veined ceramic tiles.
Hasan was picked up by Teknaf police on October 27, 2018 from south Jaliyapara where he was mending torn fishing nets, alleged his wife.
"He was picked up at 10:30am. The fishermen saw him being taken away by the police. He had no cases against him, nor was he a listed drug trader."
When Yasmin went looking for him at the police station, she was allegedly told by the then OC Pradeep that she needs to hand over Tk 50 lakh to get her husband released, only being charged with Section 54 of the Code of Criminal Procedure.
"I said that I can give only Tk 20 lakh. I sold all the gold jewelry I had and met two policemen -- an assistant sub-inspector and a constable -- behind the Eidgah field at 7:00pm on October 28," said Yasmin.
The amount was not enough and Hasan died in a "gunfight" that very night.
This newspaper reported Pradeep as saying on October 28, 2018: "Police went to Nayapara area after being informed that two groups of drug traffickers were engaged in a gunfight around 4:00am. As the police team reached the scene, the armed gang members began to shoot at them. Officers retaliated and after the exchange of fire ended, police found the bullet-ridden bodies."
Pradeep, now under an Anti-Corruption Commission probe for illegal wealth, had also told this newspaper that Hasan was a "suspected drug dealer".
Hasan left behind two daughters and a son, all under the age of 12.
His wife said, "I saw the news on Facebook the next morning and immediately fell unconscious. He was shot thrice, on the left shoulder, left hip and stomach."
She went with her sister and father-in-law to retrieve the body.
Thirty-two-year-old Nurul Amin was killed because they fell Tk 10 lakh short, alleged his family members. Also resident in Jaliyapara, Nurul was a Dubai returnee who worked at a local cell phone store. He had no criminal cases against him.
"My son worked for five years in Dubai as a store manager in Al-Khulliah supermarket. He came back in 2015 to get married, and had a child, so I did not let him go back," said his father Shukkur Ahmed, a frail old man in a crisp white panjabi, with generations of doing business in the shutki industry.
The Daily Star spoke to him at his beautiful two-storey family home in Jaliyapara.
"Nurul was picked up on March 15, 2019 from his store around the same time as Maghrib," said his father.
Two police sources acted as a mediator between the family and the police station, he added, claiming, "They asked for Tk 15 lakh and in return, Nurul would be charged with Section 54 and sent to court. That was too much for us to give, so we gave Tk 5 lakh to the dalals on March 18."
Nurul was killed on March 22, 2019.
In the report of his death, published by this newspaper the next day,  Pradeep admitted that Nurul was detained before his death.
"They [Nurul and another detainee] were interrogated at the police station. Based on their information, police along with them were going to Rajarchhara area to recover firearms and yaba pills around 3:00am yesterday. Sensing law enforcers' presence, some drug peddlers opened fire to snatch the arrestees, forcing them to fire back in self-defence."
The only two casualties of this  so-called gunfight were Nurul, and the other detainee, a man named Nur Mohammed.
"Nurul's right eye was bruised black," said his nephew Faruq who saw the body, "and he had two gunshot wounds, one to the chest and one in his stomach."
Faruq took out a photo of the corpse to show to this correspondent; Nurul's father Shukkur who was standing at a distance, ambled over to see what was being shown, unintentionally spotted the photo and the impassively tall man doubled over, crying frantically -- a stark reminder that these extrajudicial killings were not just faceless numbers, they were heavy personal costs for families.
This unwritten rule of Teknaf town is also why, when Belal was arrested two days before last Eid-ul-Fitr, his father, 60-year-old Nurul Alam, immediately put his trawler up as collateral and paid Tk 2 lakh to the police.
"I met the cops in front of Mathiner Kup [a local landmark] the very next day and gave the money to a sub-inspector and an assistant sub-inspector," claimed Alam.
"I have already lost a son to crossfire, I could not afford to lose another."
They paid and Belal lives, though he is still in jail.
Another son, 23-year-old Kamal, had been picked up by law enforcers on October 22, 2018, and "given the crossfire" on October 29, family members claimed.
"They were bulldozing the homes of yaba dealers at midnight and Kamal was watching... he was picked up from the gate of our home," said Kamal's widow, 20-year-old Rukia Akhter, about the incident two years ago.
Police, however, denied in their official report that Kamal was detained a week earlier before the "crossfire".
On October 29, 2018, OC Pradeep told The Daily Star, "Police went to Nayapara area after being informed that two groups of drug traffickers were engaged in a gunfight around 4:00am. As a police team reached the scene, the armed gang members began to shoot at them. Officers retaliated and after the exchange of fire ended, police found the bullet-ridden bodies."
The family, as well as locals, claimed that neither Kamal nor Belal were listed yaba dealers -- but two of their brothers are.
"My brothers-in-law surrendered after Kamal was killed," said Rukia.
Drug dealers or not, the socio-economic status of the family stands in stark contrast with that of their alleged peers. The family lives right in the middle of Najirpara, a neighbourhood locally famed as "Yaba Para" because of the sheer number of yaba dealers who live there in magnificent mansions.
Talking to these correspondents, Alam, a bone-thin man dressed in a tattered vest and lungi, said, "None of my sons are here to feed me. I catch fish worth Tk 500 every day and that is all we survive on. You can check my pot, we only had daal and rice for lunch."
He hoisted a bundle of fish nets and set off to catch fish to feed his family.
The Daily Star could not independently verify the claims in these cases. However, several other families have recently filed cases against Pradeep and other policemen with similar accounts.
Five cases, copies of which have been obtained by The Daily Star, have been filed against the cops of Teknaf police station since the death of Sinha -- all alleging that their family members were killed because not enough money was handed over.
The first was by Gulcheher, who filed a case with Teknaf Upazila Senior Judicial Magistrate's Court on August 18, accusing 27 police officers of killing her son.
"On July 4, my sons Saddam Hossain and Javed Hossain were detained by a team of police led by Whaikhyang police camp's in-charge Moshiur Rahman. They were picked up from the street in a neighbourhood called Maulavibazar," narrated Gulcheher in the first information report (FIR) of her case.
"I went to the police camp to bring them home and was asked for TK 10 lakh. I bargained for Tk 5 lakh. I handed over Tk 3 lakh on that very day while I sent over the other Tk 2 lakh the next day using their own chosen messenger. Javed was prosecuted and sent to court, but on July 7 at 10:00pm, Saddam was taken to a place close to his home and shot."
The Daily Star interviewed all but one of those who filed these cases.
On August 27, Senowara Begum, 24, filed a case against Pradeep and SI Moshiur Rahman among others, for the death of her husband Abdul Jalil.
Jalil was in the custody of Teknaf police for eight months before being found dead following a "gunfight", she alleged in the FIR.
He was arrested at 9:30am on December 3, 2019  from Fuad Al Khatib hospital, she said.
"We looked for him for months. At 7:30pm on March 3, 2020, SI Moshiur, OC Pradeep, ASI Arifur Rahman and an informant came to our house, and demanded Tk 10 lakh in exchange for Jalil. I gathered Tk 5 lakh by borrowing money and selling my gold and the above-mentioned cops came to my house again on March 16 to take the money," described Senowara in the FIR.
Months passed again, and her husband did not show up. On June 10, witnesses (named in the case) saw him inside room number 4 of the police station and Senowara rushed to meet Pradeep.
"He agreed to let my husband go, and I kept going there every day hoping he will be freed, up until July 7 when he was killed," she said.
Between 2:00am and 2:45am that night, Jalil was taken to an area called Combo Borchhora and shot at, states her FIR, adding that he was brought alive but wounded to Teknaf Upazila Health Complex.
The health centre referred him to Cox's Bazar, and he died on the way.
Senowara's brother-in-law confirmed the same version of events to this newspaper.
The day after Jalil's death, Pradeep told this newspaper that they had gone to the spot to recover drugs, accompanied by an arrested "drug dealer".
The accomplices of the "dealer" was waiting in ambush resulting in a "gunfight". Two bodies were recovered -- that of the "dealer" and of Jalil.
Essentially, Pradeep claimed that Jalil was in the group lying in ambush to save their comrade.
On August 30, 22-year-old Sultana Rabiya Munni filed a case accusing Pradeep and 34 others of Teknaf police of killing her husband Syed Alam, brother-in-law Nurul Alam, and nephew Abdul Monaf on May 6 this year.
"They were picked up from our house in Rangikhali, Gazipara at 2:00am by a team led by Pradeep and SI Moshiur Rahman. At the time of detention, the two cops asked for Tk 50 lakh which we did not give. They were shot at 4:40am in a paddy field adjacent to our house," she stated, adding that she is now coming forward to file a case because she was threatened with "crossfire" too.
According to media reports, then OC Pradeep said these men were robbers who were killed in a "gunfight" with the cops.
Shahena Akhter also filed a case on September 2 against Pradeep and SI Moshiur Rahman alleging that her husband Md Musa Akbar was killed in a "gunfight" because the family only paid Tk 3 lakh instead of the sum of Tk 20 lakh that was demanded of them.
Musa was arrested on March 28 this year at 2:00pm from Uluboniya. When Shahena went to see Pradeep, he denied that Musa was at the police station.
But two informants approached her saying they were representing SI Moshiur and that her husband would be released if they could pay Tk 20 lakh.
Musa was killed the same day at 11:55pm, Shahena narrated in the FIR, when they were unable to pay in full.
On September 2, Hafez Ahmed filed a case alleging that his sharecropper brother Shahab Uddin was picked up from their residence on April 17, 2019, at noon, by Pradeep and SI Dipak Biswas, and killed in a "gunfight".
"At the time of arrest, SI Dipak and his informant Aminul Haque told me to bring Tk 5 lakh to the police station, or be ready to conduct my brother's funeral. I pawned all the gold jewelry in the house for Tk 50,000 and went to the police station to meet SI Dipak, but he asked me to hand over the money to Aminul. Aminul accepted the money but informed me the next day that the entire Tk 5 lakh would be needed," described Hafez in the FIR.
When he could not arrange the money over the next two days, Shahab was killed in a "gunfight between two groups of drug dealers" on April 20, 2019 -- as said by the police in official report.
The Daily Star was unable to locate or reach the policemen named by victims' families for comment. Other than suspended OC Pradeep, who is in jail, the policemen in question have been transferred from their posts, and their phone numbers too have changed.
On September 25, The Daily Star reported that 1,487 policemen -- ranging from constables to inspectors -- had been transferred from Cox's Bazar by police administration, the largest such reshuffle in district police in recent history.
Police sources told The Daily Star that the reshuffle was actually part of a "correction campaign" by police in the aftermath of the killing of Sinha Md Rashed Khan. The subsequent outcry led to increased scrutiny of "gunfights", and "shootouts" by police in the district.
Asked about the allegations regarding "gunfights" in Teknaf, Deputy Inspector General, Chattogram Range, Md Anwar Hossain, said, "The court has initiated an investigation into the cases filed and is seeking information from the relevant police station. When the Teknaf police station submits a report providing information, further action can be taken."
Asked why the police officers named in these cases are not being arrested, "We cannot take any action until these steps are completed and the court gives further direction."
NO MONEY, NO OPTION
While some well-off families were able to pay for their family members to live, albeit in jail, what happens when you are too poor to pay?
Anowara was never even given the choice to pay for her husband Abdur Rahman's life.
She lives in a shanty on the side of the road, poverty etched all over her walls. In the middle of a storm, she sat outside it, breaking a mountain of bricks into chips -- she would get Tk 600 if she could finish the pile before the day was out.
A construction worker by profession, Abdur Rahman and his brother-in-law Abdul Kader were picked up from their respective homes on June 25, 2019 at midnight by Pradeep and his team in civil dress, informed Anowara.
"They killed them that night at 2:00am on Marine Drive, near Moheshkhaliapara," she claimed.
Anowara found the body at the morgue the next day, shot on the left shoulder, chest, and stomach.
Then OC Pradeep told the media that they were killed in a "gunfight" which happened when police raided that spot to catch "traffickers".
There was no dillydallying, no negotiations -- it was all over within two hours of their alleged arrest.
Even in the lawless land of extrajudicial killings, it is the poorest who are the most deprived.