Onion Self-Sufficiency: Possible, but not so soon
Officials say as govt targets rise in production, cultivation coverage; seed crisis big hurdle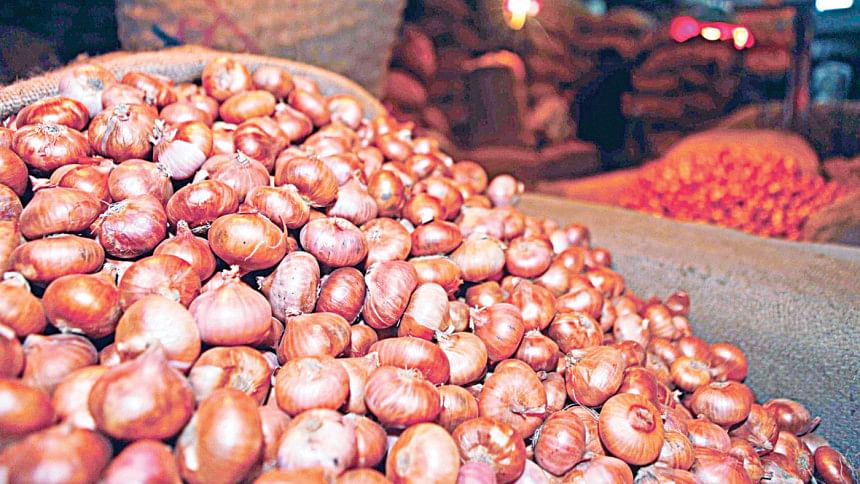 The government intends to make the country self-sufficient in onion by increasing the production of this essential cooking ingredient but it may take years as overcoming the seed crisis remains a major challenge. 
Scientists in Bangladesh say they have developed some high-yielding varieties that can be cultivated in summer when the market sees a scarcity of local onion produced in winter.
But it would take at least six years to have enough seeds of the new varieties to meet the country's demand.
With trouble recurring due to India's onion export ban in two consecutive years, the government aims to expand the coverage of onion cultivation in the coming winter season to be started at the end of next month.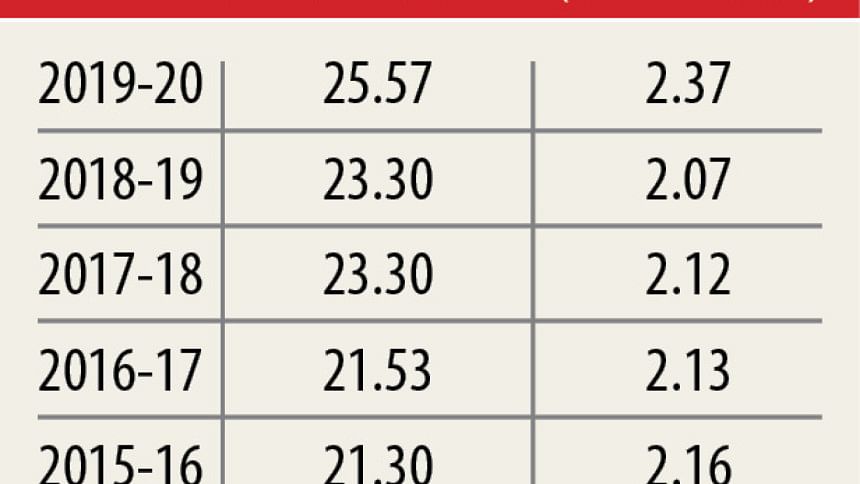 The Department of Agricultural Extension (DAE) has already sought suggestions and data from the field offices on how to reach the target and experts also made a presentation on this at the agriculture ministry.
"Our prime minister has directed us to take initiatives to increase onion production. We have already conducted several meetings on this," Dr Muhammad Abdur Razzaque, the agriculture minister, told The Daily Star.
He said scientists at Bangladesh Agriculture Research Institute (BARI) have developed summer varieties which have yet to reach the farmers because of the seed crisis.
Bangladesh is now self-sufficient in rice, vegetables, fish and meat because the government took initiatives to increase the production of those food items.
Asked whether it will at all be possible for the country to become self-sufficient in onion, Dr Md Abdul Muyeed, director general of DAE, said, "It is very much possible. But for that we need some time, maybe a few years."
Last year, the country produced 23.30 lakh tonnes of onion in 2019, yet 10.91 lakh tonnes more was imported in 2019-20 year -- about 95 percent of it from India.
On September 14, as India banned onion exports, the market here became unstable and prices of the item skyrocketed, causing outrage among the people.
The same thing happened in late September last year. 
"This year," Abdul Muyeed said, "we are trying to increase the production significantly."
He added, "We have set a target to produce 33 lakh tonnes of onion a year. But it will take a few years to reach that goal."
Asked how they are planning to fulfill this target, the DG said the first step is to increase the average production.
In the last season, the production of onion rose by 2.27 lakh tonnes and reached 25.57 lakh tonnes, which was 23.30 lakh tonnes the previous year.
Currently, farmers are cultivating onions in around 2.5 lakh hectares of land. On average, around 10 lakh tonnes is produced in one hectare.
"If we can increase the production by just one tonne per hectare, there will be additional 2.5 lakh tonnes next year," the DG said.
He noted that the global average of onion production is around 17 tonnes per hectare while it is 10 tonnes in Bangladesh.
"The production rate varies from one region to another, depending on soil quality and weather. But we have the potential to increase the average onion production up to 12 to 13 tonnes per hectare."
He added that the land where farmers grow potatoes, tobacco, wheat or winter vegetables could also be suitable for onion cultivation and farmers will find it profitable.
Besides, the government is likely to provide seeds of high-yielding varieties of onion and fertiliser to farmers at subsidised prices so that they can shift to onion cultivation from other winter crops in the coming season. 
The DAE control room sources said farmers last year cultivated onion in 2.37 lakh hectares of land, which was 2.07 lakh hectares in 2018.
For the last five years, Pabna, Rajshahi, Faridpur, Rajbari and Jhenaidah remain the top onion-producing districts.
SEED CRISIS
Every year, farmers need more than 1,100 tonnes of seed, of which around 1,000 tonnes are generated by farmers, while the rest is supplied by Bangladesh Agriculture Development Corporation (BADC) and private companies.
"But this year, there is a crisis as seed production was low in the last season. Currently, we have around 700 tonnes of seed; we need to import the rest," said Shailendra Nath Mazumder, principal scientific officer and director, Strengthening Spices Crop Research in Bangladesh.
This year, the price of seeds is Tk 8,000 per kg, which was below Tk 2,000 last year.
Shailendra, who made the presentation at the agriculture ministry on Wednesday on how to increase onion production, said sandy char areas in the northern region have good potential to grow onion. 
And farmers should grow onions with sugarcane, ginger, turmeric and maize and agricultural officials can train farmers about the method, he added.
Regarding new varieties of onion, he said, they have just developed high-yielding BARI-6. But it will take some time to produce seeds to start its cultivation at the farmers' level.
Regarding the summer variety BARI-5, he said, it was cultivated on only a few hundred acres of land last year.
"Even if we start producing the seeds now, it will take around six years to grow enough of the new varieties to meet our demand," he added.
Shailendra suggested that farmers, who usually plant homegrown and low-yielding seeds, should be provided with the new varieties.
Asked why seeds are not imported, he said, "Our winter is short compared to other onion growing countries. Seeds from those countries usually don't survive here."    
Abdul Muyeed, director general of DAE, said the summer varieties BARI-5 and BARI-3 will play a big role in making the country self-sufficient in onion.  Besides, the BADC will be directed to produce adequate seeds of summer onion.
When asked about the seed crisis issue, agriculture minister Abdur Razzaque said, "We will ensure supply of quality seeds to farmers before the season starts. I think farmers will show more interest in onion cultivation in the coming season."