No resolution for stranded Rohingyas
BGB-BSF flag meeting inconclusive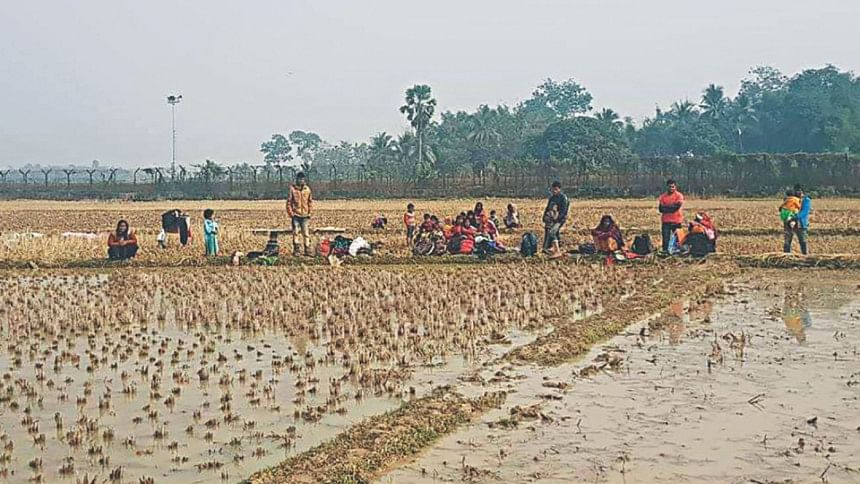 The fates of the 31 stranded Rohingyas living on the no-man's land in Kaziatali border of Brahmanbaria's Kasba upazila for three days remains up in the air as yesterday's flag meeting between the Border Guard Bangladesh (BGB) and India's Border Security Force (BSF) ended inconclusively.
Officials of BGB and BSF sat for two flag meetings on Sunday -- at 11:00am and 2:00pm -- but could not reach a conclusion.
BGB officials said they couldn't receive the stranded people as they weren't Bangladeshi nationals.
A senior official of Kasba BGB company, on condition of anonymity, told The Daily Star that the Rohingyas had shown their national identity card which was issued by the UNHCR, India.
The Daily Star correspondent has collected a picture of one of the identity cards issued by UNHCR, India, which shows the name of the bearer as Abdur Shakur and his country of origin to be Myanmar.
BGB and BSF have both deployed additional forces and increased patrols in the area which has led to a tense situation among the locals.
Meanwhile, the stranded Rohingyas, including women and children, have begun showing signs of illnesses as they had been staying on the fallow land under the open sky ever since India tried to "push" them into Bangladesh territory on Friday evening. 
Among the 31, there are eight men, six women and the rest are minors.
BSF forces supplied them with food and water on Sunday morning, local UP member Shafiul Azam Babu said.
The BSF have been trying to push 31 Rohingyas into Bangladesh since Friday evening through Kaziatali border, according to intelligence reports.
The BGB have been on high alert ever since the situation arose and increased security in the area since Friday night.
The locals had also been alerted to help the BGB foil the bid of forcing the Rohingyas into Bangladesh.