Nerve-racking 24 hours
Cases documents narrate madness at Hathazari on March 26-27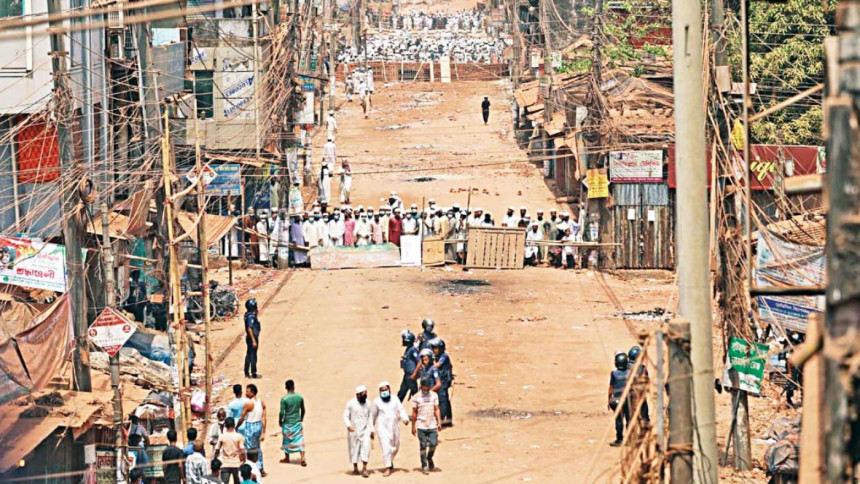 A constable was held hostage at the Hathazari madrasa to force the authorities to release the bodies of four people, killed during the March 26 mayhem, without autopsies, according to a case document. 
The document also described the tension between Hefazat-e-Islam and the administration at Hathazari upazila as violence flared up during the protest against the visit of Indian Prime Minister Narendra Modi.
Md Solaiman, constable (watcher) of Chattogram district police, who was picked up while on-duty and confined to the madrasa for about 24 hours, filed the case on April 21, accusing Hefazat chief Junayed Babunagari and 215 persons.
The Daily Star obtained a copy of the case document recently.
At least 11 Hefazat leaders and activists have been arrested so far in the case, now under investigation by the Detective Branch in Chattogram.
Four of the arrestees gave confessional statements under Section 164 of the Code of Criminal Procedure, DB Inspector Keshab Chakrabarty told this correspondent on Tuesday. 
"So far, Jakaria Noman Fayezi, former publicity secretary of Hefazat, Babunagari's personal assistant Enamul Hasan Farooqi and two others have confessed to their involvement," he said.
"In the confessional statements, they mentioned several persons who plotted sabotage and instigated the attacks [on March 26]."
Police sources said at least eight cases were lodged over the violence but details of all these cases could not be known.
In his case statement, Solaiman said he was on official duty in plainclothes at Hathazari Zilla Parishad Market, in front of Hathazari madrasa, on March 26.
After Juma prayers, around 2:14pm, over a thousand madrasa students started coming out from Al-Jamiatul Ahlia Darul Uloom Moinul Islam Madrasa, popularly known as Hathazari madrasa. All were equipped with bamboo sticks, machetes, iron rods, knives, and other lethal weapons.
A group of students spotted Solaiman and took him to a room on the third floor of the madrasa building. 
Three of them asked Solaiman to call the officer-in-charge of Hathazari Police Station and ask him to come over to "beg for mercy". The constable made the phone call accordingly.
Around 2:30am on March 27, Hathazari madrasa's Assistant Director Mowlana Md Yahiya helped him get out of the room but around 200 students again caught him and confined him to another room.
They forced Solaiman to phone senior police officials, asking them to release the bodies of the four who died of bullet injuries during the violence, without autopsies, otherwise Solaiman would be killed.
Solaiman was freed at around 4:30pm on March 27 and he then took shelter with Tribani intersection's police.
Around the same time, police handed over the four bodies to their family members, without autopsies, from Chattogram Medical College Hospital, sources said.
The Hefazat leaders present at the hospital all along had threatened the authorities that they would go for tough action if the autopsies were done, as they called the procedure disgraceful to the victims.  
However, talking to The Daily Star in late April, Chattogram Superintendent of Police SM Rashidul Haque said officials released the bodies "following the request of the families".
The four deceased were identified as madrasa students Nasir Ullah, Rabiul Islam, Kazi Mirazul Islam, and tailor Wahidul Islam.
Witnesses said they were hit with bullets during clashes between Hefazat supporters and police in front of Hathazari Police Station. They were pronounced dead after being taken to CMCH around 4:00pm on March 26.
ATTACKS ON POLICE
Amir Hossain, inspector (intelligence) of Hathazari Police Station, lodged another case against Junayed Babunagari along with 74 other named Hefazat leaders and 2,500 unnamed madrasa students.
In the case statement, he mentioned that around 2,000 armed madrasa students started attacking some police personnel in front of Hathazari Dak Bungalow around 2:00pm on March 26 and chased another group of policemen on duty at a nearby temple.
They also attacked the police station, disconnected its electricity, telephone and internet lines and vandalised windows and doors.
Before this, the students had beaten up Assistant Sub-Inspector Md Abu Yusuf and snatched his 7.62 pistol along with 16 bullets. Besides, Assistant Superintendent of Police (ASP-probationer) Muhammed Farabi and SI Mehedi Hasan were also critically injured in the attacks.
Apart from lobbing teargas shells, police opened 83 rounds of blank fire to bring the situation under control. As the madrasa students fired back and threw brickbats indiscriminately, police further opened 48 rounds of blank fire.
The attackers stepped back at one point and took position at Tribeni intersection.
No Hefazat leader was available for comment.
However, soon after the mayhem, Hefazat's chief Babunagari said police had attacked their students without any provocation.