Mysterious fire destroys 100-acre orchard
People protesting building of 5-star hotel there affected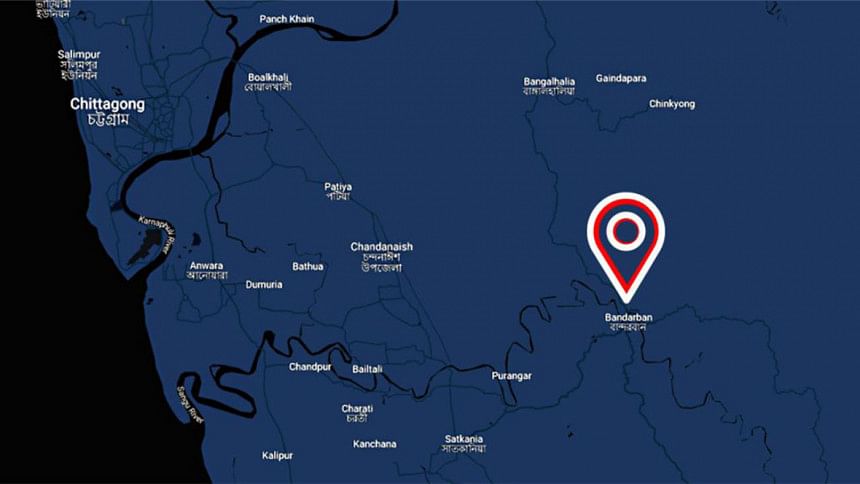 A devastating fire yesterday destroyed an 100-acre orchard of the Mro community who have been protesting the construction of a luxury hotel in Naitong area of Bandarban.
People of the underprivileged community said somebody must have deliberately set their farms on fire. However, officials have yet to find out the exact cause.
Of the 59 families in Ramri Para, about 40 have been seriously affected by this fire, locals said.
Chong Mro, a resident of the area, said the 40 families have been participating in the demonstrations against the construction of a five-star hotel in the area. 
Chong Mro said, "We are an 11-member family. We live off the orchard. I don't know what we will do now.
"People of Shingchong Mro Para, Baittya Mro Para, and Ranglai Mro para who also took part in the protests have also been affected by the fire."
Ramri Para's Longru Mro said, "All of our mango, papaya and banana trees on 15 acres of land are nothing but ashes now. Our water supply pipe has also been damaged. How will we survive on the hills now?"
Plucan Mro, chairman of Tonkaboti union, said, "We don't know how the fire broke out. We are trying to assess the damage."
Bandarban Sadar Upazila Nirbahi Officer Tousif Ahmed, said, "We are trying to know the details."
Mro people in the district have been demanding that a project to build a five-star hotel and an amusement park in Chandrapahar, popularly known as Chimbuk, be cancelled.
The project is destroying the ecological balance and risking indigenous life in the area, they said.