Liaqat, two other cops sued over extortion
Court orders probe into murder claims against OC Pradeep, 22 others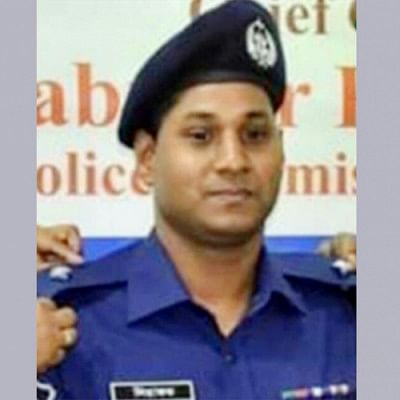 A businessman of the port city yesterday sued seven people, including Major (retd) Sinha murder accused suspended sub-inspector Liaqat Ali and two other policemen, for allegedly extorting Tk 2 lakh from him and threatening to "kill him in a crossfire."
Jasim Uddin, the owner of Suchana Enterprise in the city's Sagarika BSCIC area, complained with the court of Chattogram Metropolitan Magistrate Abu Salem Md Noman.
The court ordered the Deputy Commissioner (DB-North) of Chattogram Metropolitan Police to investigate the complaint and submit a report to it, said plaintiff's lawyer Jewel Das.
The accused are: suspended SI Liaqat, Nazrul, sub-inspector of Satkania Police Station, former SI Hannan, SM Sahabuddin, Bishnupad Palit, Kajol Kanti Baidya and Ziaur Rahman.
Sahabuddin, Bishnupad, Kajol and Ziaur Rahman are the business rivals of the plaintiff, said Jewel.
Jasim Uddin, 55, is the son of later Nekbar Ali Sikdar of Patenga area in the city.
According to the case statement, Jashim filed a case after a burglary took place at his office in June 2014.
SI Liaqat, who became the investigation officer of the case, initially took Tk 50,000 from Jashim during the investigation, the statement reads.
On June 14, 2014, Liaqat asked Jashim to come over at Laldighi DB office and requested him to "compromise" the case.
As he refused to do so, Liaqat demanded Tk 5 lakh from him and tortured him inside the police station, the statement reads.
Later, Liaqat took him Patenga Police Station and threatened him to "kill him in a crossfire," Jashim claimed in the case statement.
Later, Jashim gave Liaqat Tk 2 lakh and was taken to Sadarghat Police Station where he was shown arrested in an extortion case, it said.
Jashim was sent to jail in the case and he got bail after 19 days, the statement says.
COMPLAINT AGAINST PRADEEP
A complaint has been filed with a court in Cox's Bazar against 23 people, including former officer-in-charge (OC) of Teknaf Police Station Pradeep Kumar Das, over killing a man in the name of "gunfight".
Nurul Hossain, 45, brother of the deceased, filed the complaint yesterday.
After a hearing over the compliant, the court directed the incumbent OC of Teknaf Police Station to submit detailed report of the cases that were filed by police following the "gunfight" incident.
Judge of the Cox's Bazar Senior Judicial Magistrate Court-3 Mohammad Helal Uddin came up with the directive yesterday.
Of the accused, 16 are policemen. Of them, some are still working at Teknaf Police Station, while some others have been transferred.
In his complaint, Nurul said his brother Mahmudul Haque was a Saudi expatriate. After returning to Bangladesh in 2019, police demanded Tk 10 lakh from him as extortion.
As he did not pay the money, police on March 28, 2019 picked up Mahmudul. Later, the victim's family members paid Tk 5 lakhs to police. But police killed Mahmudul on March 31, 2019 in the name of "gunfight", the complaint read.
Contacted, Nurul said, "My brother was not accused in any case. He was killed in a planned way in the name of a gunfight. Following the killing, police kept threatening our family members."
"We did not dare to file any compliant due to the insecurity of our lives. Now, the opportunity has come. That is why, we have filed complaints now," he added.