Int'l Childhood Cancer Day Today: Love will keep us alive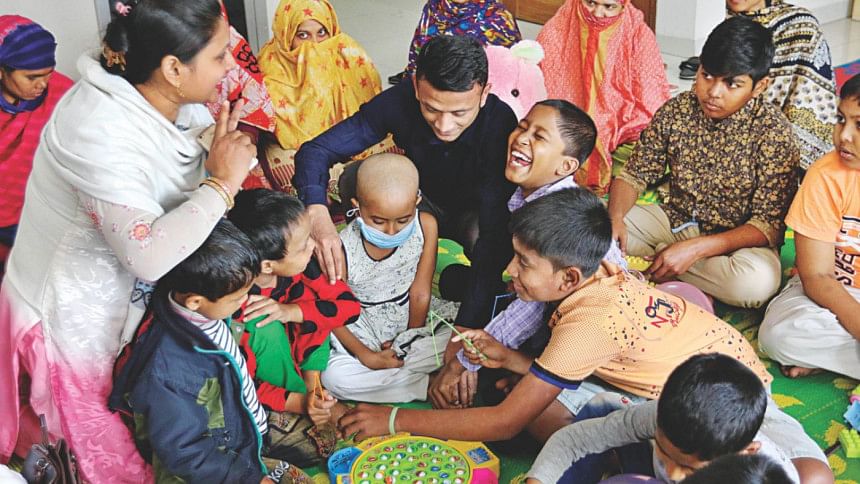 Seven-year-old Rohan complains of being confined to a bed all day long. At the assurances of his caregivers that he will recover soon enough, Rohan's youthful, wide eyes dart between their faces and the tubes protruding from his arms and leading to a saline drip, placed next to his bed.
Rohan's cancer is terminal so there is no road to recovery.
During a recent visit by The Daily Star to ASHIC Palliative Care Unit -- the only such unit in the country offering free service -- in the capital's Dhanmondi area, Rohan is seen stretching out his left hand and glancing hopefully at his mother, who is seated next to him on the bed.
Seeing the movement, his mother draws the tip of her sari towards her eyes and wipes away her silent tears, which know no end.
An admission to palliative care -- the care for the terminally ill and their families -- is a reluctant acceptance of the inevitable for all parties involved. The unit run by ASHIC Foundation, a non-profit charity, is dedicated to providing all kinds of physical and mental support to children like Rohan and their parents.
Patients like the seven-year-old are referred here by public hospitals in Dhaka. Before this, doctors try out every medical procedure possible that can help patients' recovery.
When all else fails, the palliative centre offers one last thread of hope -- not one of recovery but rather on ensuring that the focus is on the present and on what is to come. Here, ensconced in the love and comfort of the centre, patients live out their remaining days.
According to the World Child Cancer, an organisation that works for children with cancer, 9,000 children are at risk of developing cancer every year in Bangladesh. Of them, only 1,000 are diagnosed.
Around a million children worldwide need palliative care every year but less than one percent actually get it. This lacking is a growing concern, one that is highlighted again on the International Childhood Cancer Day today. 
The journey of ASHIC Palliative Care Unit had begun in May 2006 with the concept, unique at the time in the country, of providing care to terminally ill pediatric cancer patients.
"It was the first such facility in Asia Pacific," says Nujhat Sohani Nonda, programme coordinator of ASHIC.
The centre has provided care to around 994 patients, including 448 palliative patients, since its inception. Last month, 36 children were admitted.
Four doctors, six nurses and other staffers provide services at the nine-bed facility round the clock in shifts.
ASHIC (A Shelter for Helpless Ill Children) Foundation has been running the unit in the capital's Dhanmondi since 2010 with the help of a few local donors. Before that, the unit had been operated with funds from Union for International Cancer Control (UICC), non-governmental organisation that exists to help the global health community accelerate the fight against cancer, and Sanofi Aventis, a global pharmaceutical company from 2006. 
The place is like a home away from home. When pain and suffering become persistent companions of children, ASHIC staffers here play with them, give them food that they like, let them play on swings even when undergoing chemotherapy, trying to provide a cushion against all odds.
It is not only the children who get support. Parents, who are emotionally drained and are constantly looking for ways to arrange money for the never-ending treatment, also benefit from ASHIC. It gives them a place to stay, provides counseling, and bears the treatment cost of needy patients so that they can complete the cycles of chemotherapy and other medical procedures.
The bond with the family lingers even after the child's death, says Kamrunnaher Lovely, project manager.
If a child dies at the palliative home, ASHIC even arranges the last journey to the family's home.
A PLACE LIKE HOME
ASHIC was founded in 1994 by Salma Choudhury, who had lost her three-year-old son to cancer. The incident motivated her to pursue the initiative.
"I suffered a lot at that time and I know other mothers in my position suffer the same. I like to help with that," she told The Daily Star over phone.
"I am happy to see children surviving cancer," she said.
ASHIC first began with a shelter at Banglamotor built to accommodate around 20 people. It houses pediatric cancer patients and their families, who stay during the month-long treatment almost for free; they only have to pay a nominal amount of Tk 100 for meals for each person a day.
ASHIC helps bereaved families cope with their grief and cherish the beautiful memories of the ones lost.   
Meanwhile, Salma looks forward to set up similar shelters in Cumilla, Barisal and Khulna so that children with cancer don't always have to travel long distances.
On February 6, six-year-old Nehad, from Bhola, greets two guests at the door of the Banglamotor shelter with a smile; Nehad has acute lymphoblastic leukemia, a type of cancer of blood and bone marrow. Four other children wheel their try-cycles to join Nehad.
Walking past the play area, four-year-old Saymon is seen separating tangerine pieces with his tiny fingers, sucking the juice out of them and then leaving the rest into a bowl on his bed. He is a leukemia patient too.
Soon mothers of patients, staffers and a supervisor engage in chit-chat. The mother of a recent arrival sighs and says, "May Allah ensure that no poor suffer from cancer."
Mamunur Rahman, in-charge in absence of the supervisor, tries to lighten up the mood, saying "See I am a survivor. I am having a normal life."
Mamunur, 22, has been getting support from the foundation since his father died a decade ago, leaving him to fight the cancer on his own. It is now five years that his cancer went into remission. 
The mother, though, remains unconvinced at his words.
"My husband said he couldn't bear the cost any longer after my son relapsed." 
"Don't worry. Things will be fine," Mamunur replies, offering out a branch of hope.
For many parents like this, the journey ahead remains a dark one. Fortunately, ASHIC will be there for them throughout, holding up the last ray of light to illuminate the road ahead.