Infection rate still over 20pc
35 more die, 3,009 infected in a day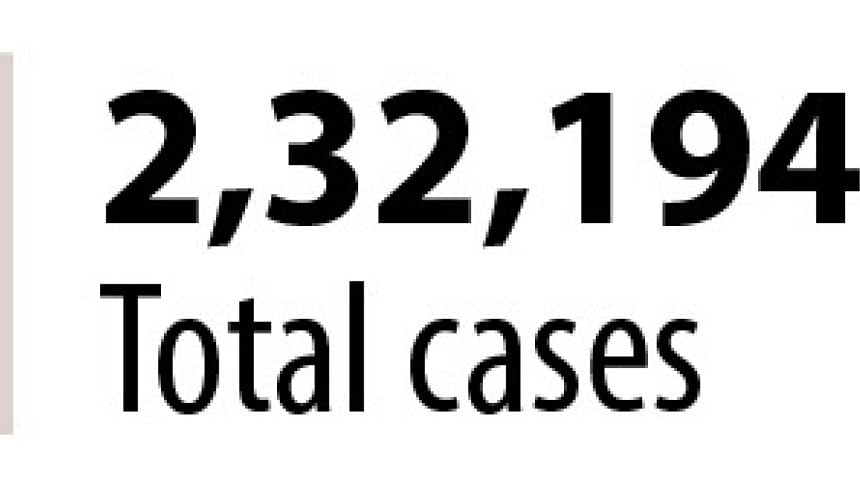 Thirty-five people died of coronavirus infection and 3,009 tested positive for the highly transmissible virus in the 24 hours till 8:30am yesterday.
The death toll from Covid-19 has now reached 3,035, while the total number of confirmed cases rose to 2,32,194.
The overall death rate now stands at 1.31 percent, and the positivity rate is 20.17 percent, Prof Dr Nasima Sultana, additional director general (administration) of the Directorate General of Health Services, said during a briefing yesterday.
Some 14,127 samples were tested in 82 labs across the country in the 24-hour period, and the positivity rate was 21.30 percent.
Bangladesh is currently the 16th worst affected country in the world in terms of confirmed cases -- one place above Turkey and one place below Italy, according to worldometers.info.
Meanwhile, 2,878 Covid-19 patients recovered in the same 24 hours.
The total number of recoveries rose to 1,30,292, and the recovery rate was 56.11 percent.
Among yesterday's deceased, 30 were male and five female.
Of all deceased, 2,388 were male and 647 female.
In the 24-hour period, 29 patients died at hospital while six died at home.
One was aged between 21 and 30, one between 31 and 40, six were aged between 41 and 50, seven between 51 and 60, 12 between 61 and 70, seven between 71 and 80 while another was aged between 81 and 90, said Dr Nasima.
Of the victims, 14 were from Dhaka, eight from Chattogram, four from Barishal, two each from Rajshahi, Khulna, Sylhet and Rangpur, and one from Mymensingh divisions.
Meanwhile, 827 people were put under isolation over that period, taking the number of people currently in isolation to 18,699.
On the other hand, 146 people were released from isolation, taking the total number of released people to 30,647.