India bans onions export
Move likely to send prices spiraling in Bangladesh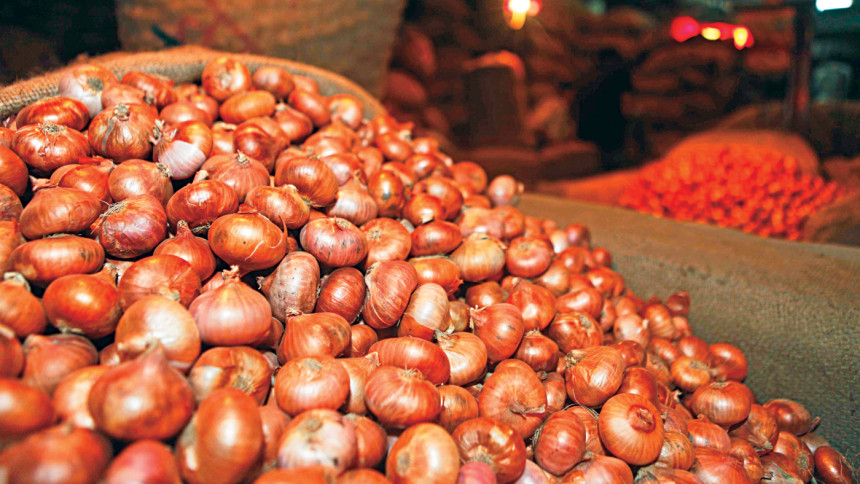 India yesterday banned export of onions with immediate effect, a move more than likely to create a crisis in the markets of Bangladesh.
The Indian Directorate General of Foreign Trade yesterday uploaded a notice on its website stating, "Exports of all variety of onions are prohibited with immediate effect."
India has been the main source of onion imports for Bangladesh. 
India banned onion exports last year following a scarcity in its local market.
It caused a sharp rise in prices in Bangladesh, forcing the government to fly in onions even from Europe.
Bangladeshi domestic production can meet demand for 7-8 months and 7-8 lakh tonnes of onions are needed to be imported every year.
Bangladesh Trade and Tariff Commission (BTTC)  prepared a market report on the production and stock of onions.
The report says the country has a stock of 5.25 lakh tonnes of locally grown onions and it will require six lakh tonnes more to meet the domestic needs until the next main harvesting season, typically March-April.
It predicted that the neighbouring nation might impose export restrictions which could increase the price of onions in the local market, the BTTC reasoned.
The report said Indian onions accounts for 95 percent of what was annually imported, and prices were going up as floods damaged crops.
The report also suggested that the Trading Corporation of Bangladesh (TCB) go for imports to increase stocks, sell onions in the domestic market, address problems related to transportation, and strengthen monitoring.
Last year, India imposed an export ban on September 29, causing prices of the key cooking ingredient to skyrocket to a historic high of Tk 250 per kg in Bangladesh.