Forged Test Reports: Rab detains Shahabuddin hospital official
Accuses of conducting antibody tests instead of RT-PCR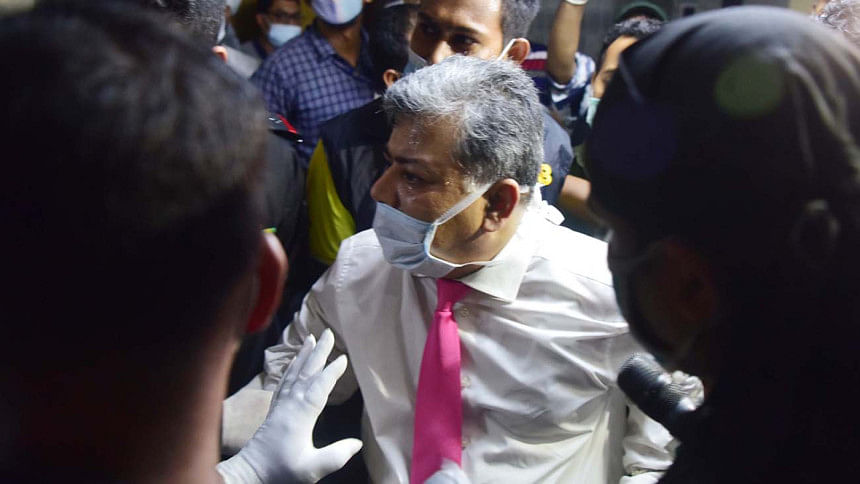 Another hospital has been accused of handing forged coronavirus test reports to people.
Rab yesterday arrested the assistant director and two other employees of Shahabuddin Medical College Hospital on charges of conducting unauthorised antibody tests for Covid-19 and report forgery.
A mobile court led by Executive Magistrate Sarwoer Alam raided the hospital in the capital's Gulshan in the afternoon and found the anomalies, Lt Col Ashique Billah, Rab's Legal and Media Wing director told The Daily Star.
The hospital authorities have been deceiving patients in the name of detecting Covid-19 through rapid test kits which are not approved by the government yet, he said.
The Rab drive assisted by the representatives of Directorate General of Health Services was still on at the time of filing this report last night.
Earlier on July 7, a mobile court led by Sarwoer sealed off Regent Hospital over Covid-19 test report forgery.
A case was filed against Regent Group chairman Md Shahed and Rab arrested him from Satkhira on Wednesday while he was trying to flee the country.
Ashique Billah said the Shahabuddin Hospital authorities started Covid-19 tests with the unauthorised kits since April and also provided Covid-19 reports without testing samples.
They also admitted Covid-19 negative people at the hospital, issuing fake reports claiming they were Covid-19 positive, the Rab official said.
Rab also found date expired medical and surgery equipment in the operation theatre and unauthorised medicine during the drive, he said.
On July 12, the DGHS suspended Covid-19 testing approval of Shahabuddin Medical College and four other healthcare service providers as those did not have any RT-PCR labs.