Faridpur Violence: Vested quarter behind it
Claim police, administration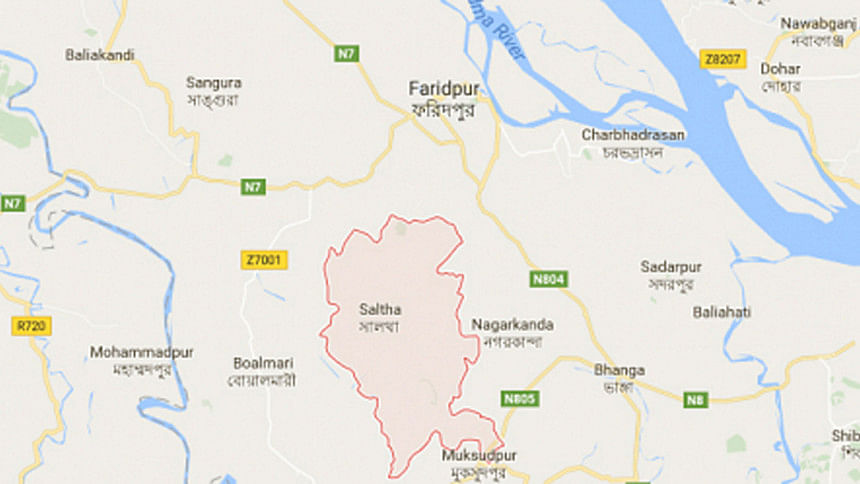 Police and local administration officials yesterday said a vested quarter spread a rumour to agitate people with an aim to unleash mayhem in Faridpur's Saltha upazila on Monday night.
The rumour was that Akram Ali, principal of Bahirdia Madrasa, was picked up and two people were killed by police.
Agitated people ransacked some government offices, the Muktijodda complex and set fire to two government vehicles. Police used rubber bullets, tear gas and sound grenades to bring the situation under control.
The violence left one dead and at least 10 people, including seven cops, injured. The dead, Jobayar Ali, 22, was from Ramkantapur village in Saltha.
Five of the injured were undergoing treatment at different hospitals in Faridpur yesterday.
Witnesses said Assistant Commissioner (land) Marufa Sultana went to Fukra Bazar in Saltha around 6:30pm on Monday to enforce lockdown rules. At that time, some people were taking tea at a tea stall without following health safety rules.
Seeing this, some Ansar members, who were accompanying Marufa, beat up four people, leaving them injured.
"Angered by this, some locals staged a protest. Sensing trouble, the assistant commissioner left the area. Within a few minutes, some policemen went there, but they left the area in face of a protest," said Zahid Munshi, a 35-year-old farmer who witnessed the incident.
Ashikur Jaman, officer in-charge of Saltha Police Station, said several thousand people gathered in front of the office of the upazila nirbahi officer and Saltha Police Station after hearing the rumour that two people were killed and madrasa Principal Akram Ali was picked up by police.
"They started a fire on the road in front of the upazila parishad complex. A section of the mob entered some government offices in the area and set fire to government vehicles," he added.
In Patuakhali, locals on Monday night staged demonstrations and confined the Kalapara UNO to Kuakata intersection area for around an hour over beating up a man on charges of violating lockdown rules.
Witnesses said one Elias Sheikh was travelling on a motorbike, with a sticker of local portal "Talash" pasted on it, in that area around 8:00pm.
UNO Abu Hasnat Mohammad Shahidul Haque, who was making people aware of lockdown rules, intercepted Elias. Elias introduced himself as a local journalist.
At one stage, police and Ansar members beat up Elias, leaving him injured. Seeing this, locals became agitated and kept the UNO confined for about an hour.
On information, additional policemen rushed to the spot and rescued the UNO, said Moniruzzaman, OC of Mahipur Police Station.
Elias was undergoing treatment at Barishal Sher-e-Bangla Medical College Hospital yesterday.
Md Alimujjman, superintendent of police in Faridpur, said they launched an investigation into the Monday night's incident to identify the masterminds.
Faridpur Deputy Commissioner Atul Sarkar said two probe committees were formed to investigate the incident and they were asked to submit reports in three working days.
[Our correspondents in Faridpur and Patuakhali contributed to this report.]