Engage with New Delhi for importing hydropower
Bhutan PM tells Dhaka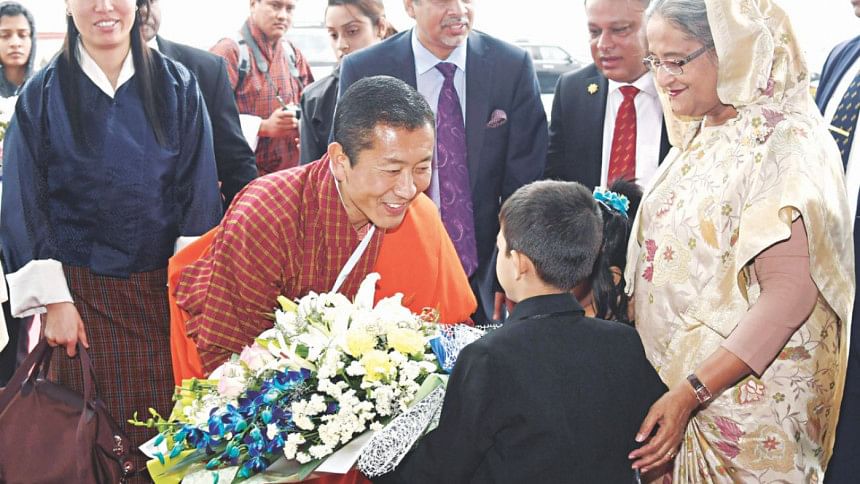 Visiting Bhutanese Prime Minister Lotay Tshering yesterday suggested that Bangladesh should engage in talks with India to import hydropower from Bhutan as it would need to use Indian territory to make it happen. 
"Yes, we have India in between Bangladesh and Bhutan. But I am saying that the hydropower sector is a bonding factor between Bhutan and India. There has been a typical relationship about how a large country helps a small one," Tshering said.
He was addressing a group of businesspeople of the two countries at InterContinental Hotel Dhaka. The Federation of Bangladesh Chambers of Commerce and Industry (FBCCI) organised the meeting.
Tshering, now on a four-day visit to Bangladesh, said India had been very generous to his country in terms of hydropower. It invested heavily and helped Bhutan with financial assistance and technology, he added.
"If there is any interest in hydropower, it has to be trilateral. It cannot be bilateral because electricity cannot fly. It cannot be a wireless business. On that front we are open. But Bangladesh and Bhutan cannot alone do this business on this and probably the Delhi government is aware of it," he said.
Tshering added that in fact, it has to be explored whether Bhutan has such a big potential for generating 30,000 megawatts of hydropower as people have been saying so over the years.
Currently, Bhutan has the capacity to produce 5,000 megawatts of hydropower, he said. "Personally, I am not convinced that we have 30,000 megawatt capacity."
"On the market side, Indian market is hundreds of thousands megawatt requirement and we have a few thousand production capacity. So, in terms of market I think if we can produce I think enough market in India," he said.
Tshering, who is an alumnus of Mymensingh Medical College, urged the Bangladeshi businesspeople to export more to Bhutan as Bangladesh's shipment to Bhutan is very low until now.
At the meeting, Dasho Yeshi Wangdi, economic affairs secretary of Bhutan, said three countries have already made some progresses under trilateral cooperation.
All three countries have to come on board that electricity has to be transmitted through India if Bangladesh and Bhutan want to do business with Bhutan, he said.
Lately, India has come out with a cross border trade in power guideline, which actually allows transmission of power through India. So, the trilateral cooperation can be pursued, he added.
Salman F Rahman, Prime Minister Sheikh Hasina's private industry and investment affairs adviser, said both Bangladesh and Bhutan have the common goals of attracting investment for their countries.
At the end the meeting, Shafiul Islam Mohiuddin, president of the FBCCI, and Phub Zam, president of Bhutan Chamber of Commerce and Industry, signed a memorandum of understanding between the two apex trade bodies to boost the tourism business between the two countries.
Bangladesh exported goods worth $4.38 million to Bhutan and imported goods worth $32.28 million in the fiscal 2016-17, according to data from the FBCCI.
As per the data, the balance of bilateral trade between Bangladesh and Bhutan is tilted towards Bhutan as Bangladesh imports a lot of fresh fruits from Bhutan.
Bhutanese foreign minister attended the meeting. 
DEALS TO BE STRUCK
Bangladesh and Bhutan are expected to ink today several bilateral deals on connectivity, health and agriculture, reports our diplomatic correspondent.
The agreements will be signed following talks between the two countries at the Prime Minister's Office in the morning.
Prime Minister Sheikh Hasina and her Bhutanese counterpart Tshering will lead their respective sides in the talks.
Diplomatic sources said the bilateral instruments would be on cooperation in cargo transportation, health and agriculture sectors and cooperation between the public administration training centres of the two countries.