Custodial Death, Torture Victims: Ensure enough compensation
Speakers at webinar urge the govt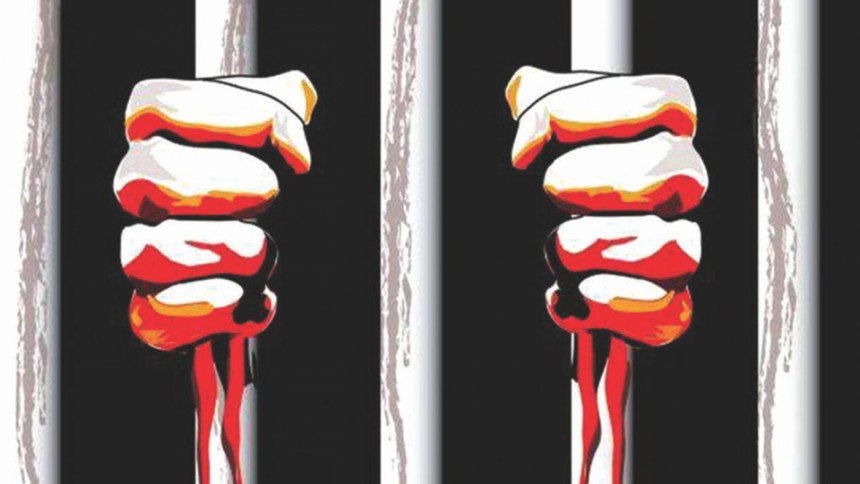 It is not enough that victims of custodial torture and deaths be allowed to seek criminal accountability, they also have to be allowed to seek monetary compensation and there have to be mechanisms that enable it.
While the courts can grant monetary compensation, the victims or their families are still not allowed to voluntarily seek it.
However, there is a cap on how much compensation can be given by the courts, which deters victims from pursuing justice, speakers observed at a webinar titled "Accountability for Custodial Torture: Lessons from the landmark Jonny Case", organised jointly by The Daily Star, Bangladesh Legal Aid Services Trust and Tort Law Project Bangladesh yesterday.
"My dead brother left behind two children. I have spent all of my savings pursuing justice and I don't know what lies ahead in the future of these two children. Who will take their financial responsibility?" said Imtiaz Hossain Rocky, who was tortured by police in 2014 and lost his brother Jonny during the same incident.
Rocky filed a case against the police and received a verdict on September 9, wherein three cops were given life sentence and fined Tk 2 lakh each to be given to the victims' family. The fine, however, will not be handed over to the family until the verdict is upheld by the highest courts of the country, where the accused will be appealing.
"They have only overcome the first step of the legal process, the High Court comes next, followed by the Appellate Division. The Tk 4 lakh they will be getting once the process is over is not enough to raise the two children," observed Sara Hossain, executive director of Bangladesh Legal Aid Services Trust, at the webinar
"The penalty for torture is only a maximum of Tk 25,000 if there is no manslaughter and Tk 2 lakh if the victim died. If there was not a maximum limit, we would have been able to get more people interested in justice," said Taqbir Huda, coordinator of Tort Law Project Bangladesh. 
"People have lost faith in the law enforcement and are also losing faith in the judiciary, thinking that if they seek justice, it will take 10 to 12 years. Those of us who are in this sector have never reflected on ourselves to find out why this is so," said Dr Shahdeen Malik, eminent jurist and Supreme Court lawyer.
There is legal precedent for creating a compensation fund, speakers said.
"In 2012, I had challenged the immunity given to the crimes caused by Operation Clean Heart. At least 57 people had died due to torture between January and October 2002 and it could not be that in a country where there is a constitution, there would be no accountability for their deaths. In 2015, we got a verdict and the judge had directed the government to create a compensation fund of Tk 100 crore," said Dr Malik.
Such a mechanism for justice is necessary because of the prevalence of custodial torture, speakers observed.
"For any and all cases, judges these days allow the law enforcers to take the accused into remand and we appreciate this, thinking that a confessional statement can be forcefully acquired from the person. This is unconstitutional -- the constitution clearly states that no person can be forced to give a self-incriminating confessional," said Dr Malik.