Covid-19 deaths creeping up again
39 die, highest daily casualties in around 2 months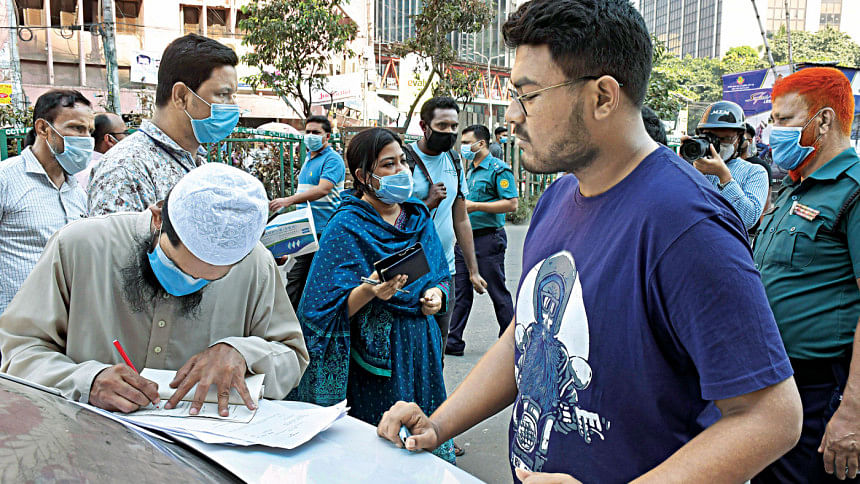 Observing a rising trend in Covid-19 infections and deaths, experts in the country stressed on immediate acceleration of scientific virus curb measures to stop transmission.
In the 24 hours ending at 8:00am yesterday, a total of 39 Covid-19 patients died -- a big jump from the day-on-day casualties in the last eight weeks.
On September 21, a total of 40 Covid-19 patients died.
Since then, the number of daily deaths continued to decrease and reached the lowest ever 13 on November 7.
The highest number of people -- 64 -- had died on the same day was on June 30 since the Directorate General of Health Services (DGHS) reported the first Covid-19 death in Dhaka on March 18.
"Any conclusion can be made considering a single-day jump in death cases. Rather, we can say that there is an increasing tendency in the transmission considering the positivity rate throughout last week and it needs extra-caution," Prof Nazrul Islam, member of the National Technical Advisory Committee (NTAC) on Covid-19, told The Daily Star yesterday.
With the latest figure, the total number of deaths rose to 6,254 which was 1.43 percent of all confirmed cases.
Besides, the number of single-day cases has continued to increase in the same 24 hours as new 2,212 people tested positive for the virus, according to a DGHS press release.
This is also the highest number of coronavirus infections recorded in a day in the last ten weeks.
Against a total of 15,990 tests in those 24 hours yesterday, the positivity rate was 13.83 percent and the overall positivity rate was 16.97 percent.
The previous day, the positivity rate was 13.57 percent.
Since last month, countries across Europe and America are seeing a resurgence in Covid-19 cases at the advent of winter after successfully slowing outbreaks early in the year.
Considering this, the experts as well as policymakers earlier assumed the transmission may increase in Bangladesh in the winter season.
Prof Mushtuq Hussain, consultant of the Institute of Epidemiology, Disease Control and Research (IEDCR), told The Daily Star, "Whatever we do beyond scientific measures will not work. There are specific scientific methods to curb transmission and we had implemented it in our country earlier of this pandemic. We have to detect, trace, isolate and treat every case scientifically."
About recent measures taken by the government, he said those are still inadequate.
"Only strict measures in airports will not give any result when there is community transmission. We have to deploy community volunteers and provide livelihood to the poor during quarantine; there is a need for investment here and it will not go in vain," Dr Mushtaq said.
He also stressed on supplying masks to the people for free and ensuring hand washing facilities in every public place.
Meanwhile, a total of 1,749 Covid-19 patients recovered in the same 24 hours yesterday.
With this, the total number of recoveries rose to 352,895 and the recovery rate was 80.81 percent.
Among the 39 dead, 30 were males and nine were females.
One of them aged between 10 and 11 years, one between 21 and 30, one between 31 and 40, two between 41 and 50, 10 between 51 and 60 and the rest 24 were above 60 years, added the release.