Coronavirus Outbreak: Air pollution can elevate risk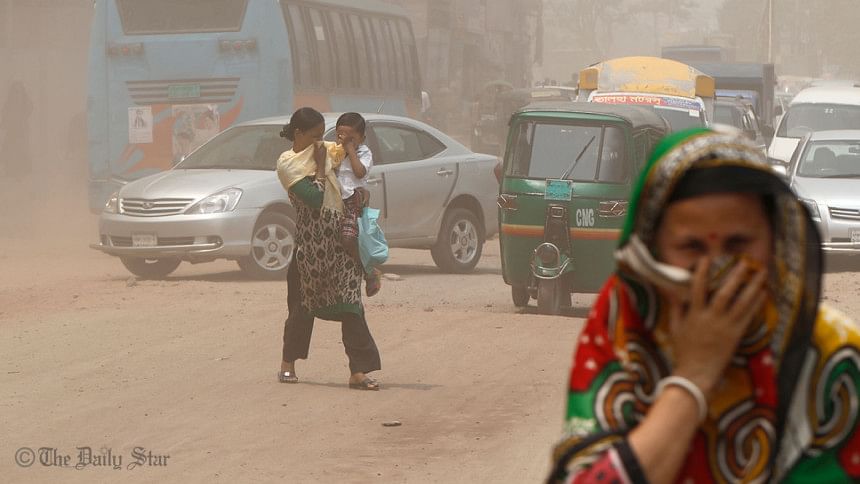 Dhaka -- Bangladesh's densely populated capital -- keeps topping the list of cities with the worst air pollution. Concerns about health hazards due to polluted air have been raised before, but now the warning rings louder as global experts have opined that health damage caused by continued exposure to high levels of air pollution in cities can potentially increase the death rate from coronavirus infections.
Evidence from previous outbreaks also shows that those exposed to polluted air are more at risk.
An article published (on March 17, 2020) in The Guardian quotes a member of the environmental health committee of the European Respiratory Society, Sara De Matteis of Cagliari University (Italy), in this regard."Patients with chronic lung and heart conditions caused or worsened by long-term exposure to air pollution are less able to fight off lung infections and are more likely to die. This is likely also the case for Covid-19," she was quoted as saying.
Early research on Covid-19 has also suggested smokers and former smokers are more susceptible to the virus.
One of the top medicine specialists in Bangladesh and the Prime Minister's personal physician Dr ABM Abdullah said, "Coronavirus does not spread due to air pollution. That does not happen. But pre-existing lung conditions made worse by exposure to severe air pollution can make people more vulnerable."
Meanwhile, Dr Shamim Ahmed, associate professor of Respiratory Medicine Department at Bangabandhu Sheikh Mujib Medical University (BSMMU) said the novel coronavirus outbreak is very recent and not many studies have been conducted on it to come up with any conclusive remark.
He, however, did say that anyone with a pre-existing chronic lung condition worsened by long-term exposure to pollution is likely to be more vulnerable.Dr Shamim warned against drawing any connection between air pollution and growing fatality risk of coronavirus.
"This is because exposure to air pollution can result in short term health complications as well," he said.
But people who are most at risk are the ones who already suffer from chronic lung or heart condition which has also most likely compromised their immunity, Dr Shamim further added.
"Given what we know now, it is very likely that people who are exposed to more air pollution and who are smoking tobacco products are going to fare worse if infected with [Covid-19] than those who are breathing cleaner air, and who don't smoke," Aaron Bernstein, at the Harvard TH Chan School of Public Health, told the Washington Post.
This is not good news, because air quality in Bangladesh was the worst in the world last year and Dhaka was the 21st most polluted city, according to 2019 World Air Quality Report. And among capital cities, Dhaka was the second worst.
Here is an example of just how bad the situation is in Dhaka. A report published in this paper on March 15, highlighted the level of dust accumulation on roadside trees in this city.
A study titled "Assessment of total dust accumulation on tree leaves in Dhaka city" conducted by the Center for Atmospheric Pollution Studies (CAPS) at Stamford University said every single day 436 tonnes of dust is accumulated on the trees.
Overall, Bangladesh's response over the handling of coronavirus has not been consistent with the enormity of the danger. And for a disease, that has no known cure yet, prevention, early testing, and awareness could be the difference between life or death.
Dhaka, it appears, is especially in a precarious position, considering its population breathes in the city's hazardous air day-in, day-out.