Closer to lockdown
Govt suspends train, bus, launch services, domestic flights to check movement of people across the country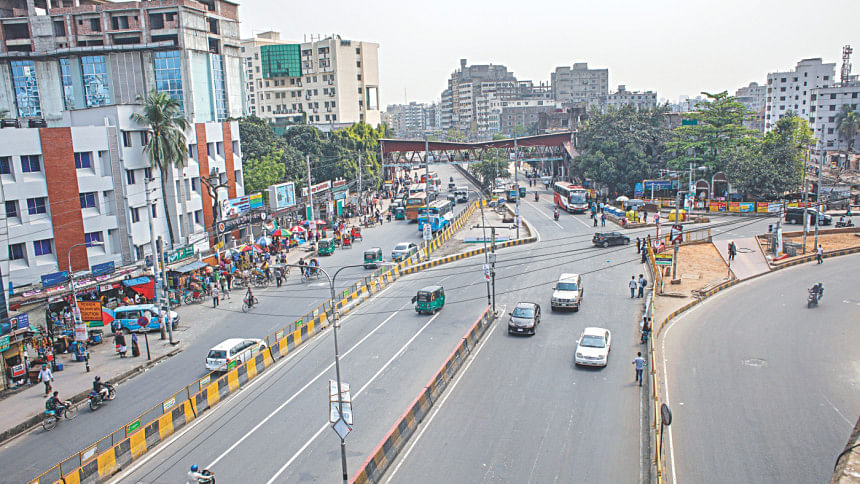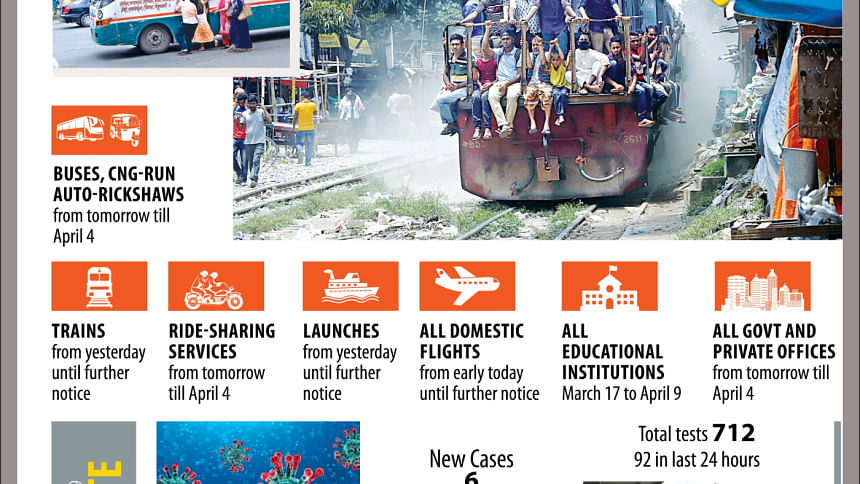 The government has decided to suspend all public transport services to slow the spread of novel coronavirus, inching closer to enforcing a lockdown.
It already suspended operations of all passenger trains, launches and domestic flights yesterday. Buses, minibuses, CNG-run auto-rickshaws and human hauliers will be off the roads from tomorrow.
Freight trains, cargo vessels, trucks and lorries carrying goods, medicine, fuel and perishable items will, however, operate as usual, according directives from different ministries.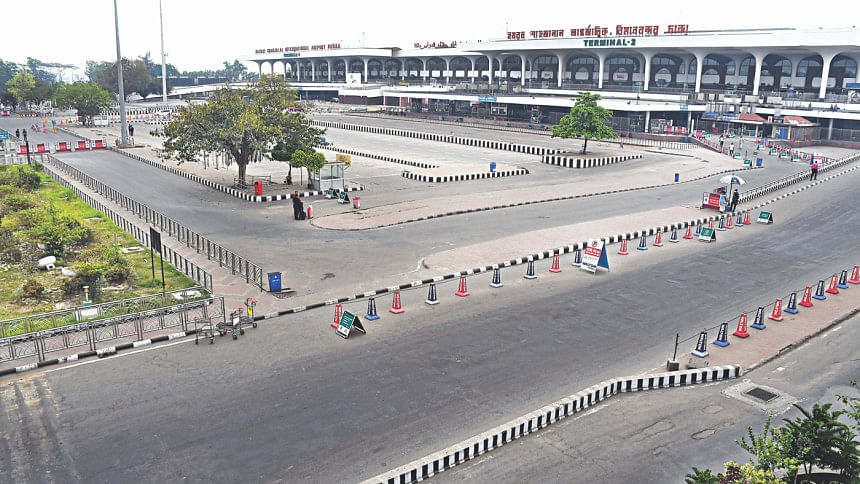 The measures came a day after the government announced closure of all public and private offices from March 26 to April 4 as part of its efforts to contain the spread of Covid-19. It also declared general holidays for the period.
On Monday afternoon, Cabinet Secretary Khandker Anwarul Islam announced a series of measures, including closing down the offices and limiting public transport services.
He also said the army would start assisting the local administration at divisional cities and district towns from yesterday in ensuring social distancing and implementing other precautionary measures.
At the same press conference, Principal Secretary to the Prime Minister Ahmed Kaikaus had said the government would not close down public transport services so that low-income people could travel to their village home.
Replying to a query, he said the services would not be shut down completely.
After the announcement, a huge number of people thronged different bus and train terminals and the Sadarghat Launch Terminal in the capital to go home, posing risks of coronavirus transmission.
Our correspondents reported a similar situation in Chattogram.
The situation turned so bad that the health ministry had to step in and issue a notice yesterday, asking all to stay in isolation in their home during March 26-April 24.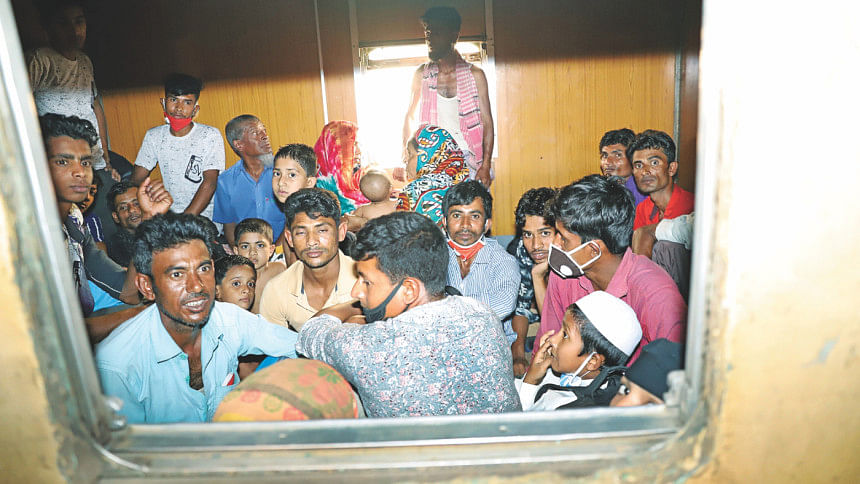 The notice said Prime Minister Sheikh Hasina directed the authorities to announce general holidays for the period to prevent the spread of the virus, but many were either going to their villages or taking part in different festivals, negating the purpose of the government move.
A huge number of people also thronged the ferry terminals on the Shimulia-Kathalbari route yesterday to cross the Padma river. It forced the authorities to halt carrying vehicles on the ferries. Only passengers were allowed to board them.
Against this backdrop, the decision to suspend all passenger transport services came yesterday.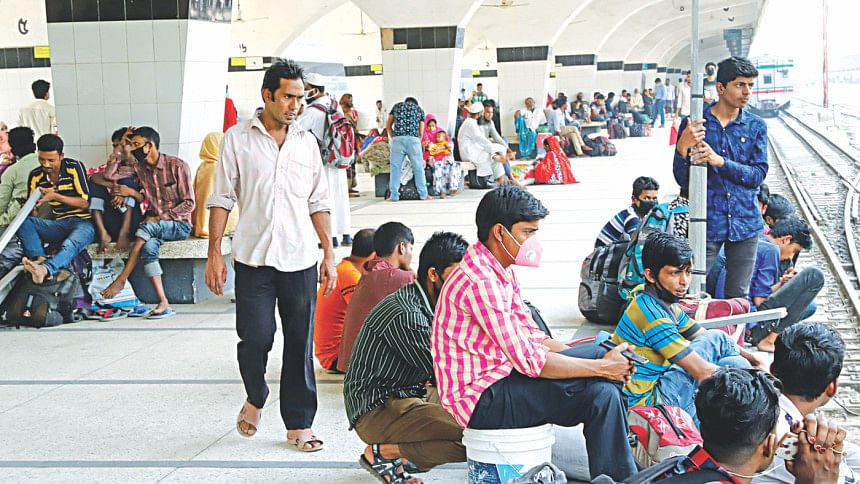 PUBLIC TRANSPORT 'LOCKDOWN'
In a video message around noon, Road Transport and Bridges Minister Obaidul Quader said a decision had been made to place "public transport services on lockdown" across the country between March 26 and April 4.
No goods-laden vehicles would be allowed to carry passengers, he said.
With this decision, buses, minibuses, CNG-run auto-rickshaws and other rental vehicles cannot operate on roads, an official of the Bangladesh Road Transport Authority (BRTA) told The Daily Star.
All ride-sharing services would also remain suspended during the period. The service-providing companies have already been notified about the matter, said Lokman Hossain Mollah, director (engineering) of the BRTA.
Acting president of Bangladesh Road Transport Workers Federation Shajahan Khan and General Secretary Osman Ali also urged the members of the platform to follow the government decision.
At an emergency press briefing yesterday, Railways Minister Nurul Islam Sujan said Bangladesh Railway suspended operations of its 364 passenger trains until further notice. He said the move was aimed at containing the spread of coronavirus.
Freight trains, however, would be operated on a "limited scale," he said at the briefing at the capital's Rail Bhaban. Railways ministry's Senior Secretary Mofazzel Hossain and Bangladesh Railway Director General Md Shamsuzzaman, among others, were present.
At first, the BR suspended operations of 257 local, mail and commuter trains from yesterday morning and had planned to suspend operations of other intercity train services gradually, the minister said.
"But a new decision came from the Prime Minister's Office to suspend all passenger train services today," he added.
Bangladesh Inland Water Transport Authority (BIWTA) also suspended launch services until further notice from yesterday afternoon.
Talking to this newspaper, Rafiqul Islam, director (Traffic) of the BIWTA, however, said operations of cargo vessels would continue as usual.
Operations of the 300 cargo vessels on India-Bangladesh route also remained suspended from Monday, he said.
Around 11:00am yesterday, BIWTA staffers announced through loud-speakers that no launch would be operated and asked passengers to leave the terminal at Sadarghat.
At one point, all launches, anchored at the terminal, were taken to the other side of the river, one of our correspondents reported from Sadarghat.
The government has also suspended flights on all seven domestic routes from 12:01am today until further notice, said Senior Secretary of Civil Aviation and Tourism Ministry Md Mohibul Haque.
It means air communications from Dhaka to Chattogram, Cox's Bazar, Saidpur, Jashore, Barishal, Rajshahi and Sylhet would remain snapped.
Mohibul, however, said the government was yet to decide on closing down the three international airports in the country. A few international flights from the UK, China, Hong Kong and Bangkok were still operating.
ALL COURTS TO SHUT
The Supreme Court authorities yesterday declared that all courts, including the Appellate and High Court divisions of the SC, would remain closed from March 29 to April 2. It said the move was aimed at containing the spread of Covid-19.
A notification, signed by SC Registrar General Md Ali Akbar, said the decision was made in line with the public administration ministry's gazette notification on March 24 announcing that all public and private offices would remain closed from March 26 to April 4.
Both the Appellate and High Court divisions were scheduled to reopen on March 29 after the ongoing vacation.
3 BANDARBAN UPAZILAS ON LOCKDOWN
Three upazilas of Bandarban -- Lama, Alikadam and Naikhongchhari -- were placed on lockdown from 8:00pm yesterday until further notice, said Shamim Hossain, additional deputy commissioner (general) in the district.
"We made the announcement after one coronavirus patient was found in Cox's Bazar, which is close to Bandarban," he said.
"No one will be allowed to enter Bandarban while people are barred from leaving home except for buying food or other daily essentials during the lockdown," he added.
(Our Bandarban correspondent contributed to this report)