Bhasani voices solidarity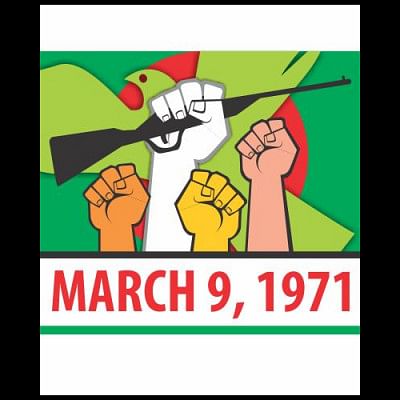 It was a day of solidarity to demonstrate support for Bangabandhu's non-cooperation movement.
On March 9, 1971, Maulana Abdul Hamid Khan Bhasani at a rally at the Paltan Maidan extended his support to the movement in East Pakistan.
Stating that Pakistan's eastern province would soon become independent, he asked Yahya Khan to accept it as an independent country.
People from all walks of life gathered for the rally.
The feeling that East Pakistan was truly on its way to independence was becoming increasingly palpable.
The Awami League amended some of its earlier directives about the movement and also issued some new ones.
Essential public services were running. Banks operated to deal with transactions. However, government offices together with other establishments continued to observe the general strike called by Bangabandhu Sheikh Mujibur Rahman earlier.
The Daily Telegraph reported that "Sheikh Mujibur Rahman appeared to have declared the independence of East Pakistan". In its editorial comment on the day, the newspaper said, "Already we hear the putative name of the separate state that East Pakistan could become --- Bangladesh, Bengali land. The flag has been devised."
In West Pakistan, there was no move yet on the part of the regime to initiate negotiations with the AL following Bangabandhu's speech on March 7.
Some West Pakistan leaders, including Air Marshal Asghar Ali Khan, constantly expressed their opinion that Yahya must hand over power to Sheikh Mujib to maintain peace in the country.
A series of meetings, however, went on at the army headquarters in Rawalpindi, the apparent purpose of which was to find ways of tackling the popular movement in East Pakistan.
The army went on increasing the number of soldiers in East Pakistan through transporting them along the long circuitous route between Karachi and Dhaka via Ceylon (now Sri Lanka), while pretending to mull over a peaceful negotiation.