Dhaka adorned with red-green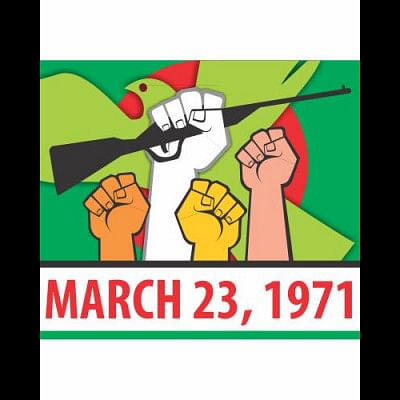 On this day in 1971, Bangabandhu Sheikh Mujibur Rahman raised the Bangladesh flag, to the cheers of a crowd gathered on the road outside his Dhanmondi residence. 
Pakistan's flags were supposed to be hoisted atop buildings in Dhaka as it was the Pakistan Resolution Day. Instead, Bangladesh flags were seen fluttering over the buildings, except the president's house and those in the cantonment, in the capital of the then East Pakistan.
Members of the Awami League's Shwecchasebak Bahini began the day early in the morning, singing in chorus the tunes of "Joy Bangla", while hoisting of Bangladesh flag at Bangabandhu's residence.
Bangabandhu urged people to observe the day as "Historic Lahore Resolution Day" and also announced a public holiday on that day.
A crowd of Bangalees thronged the Dhanmondi residence to hear orders for the next course of action from Bangabandhu himself.
On the day, the AL submitted a draft of what was considered its final proposals to the Yahya Khan team regarding transfer of power. General Pirzada pledged to get back to the AL the next day.
Meanwhile, Independent Bangladesh Central Student Agitation Committee and Central Workers Agitation Committee observed this day as "Protirodh Dibosh".
A meeting on economic issues was held on this day between the representatives of president Yahya Khan and the AL team.
Yahya spent the day in the cantonment where formal preparations for a military strike against the rebellious province were being given its final shape.
Thus, while the pretence of political negotiations was being carried on by the Yahya Khan regime, the military was in fact rushing through its plans to bring the civil disobedience movement to an end, through violence and mayhem.
Sources: Liberation War Museum, Bangladesh Genocide Archive and The Daily Star archive