1 killed, 5 hurt in shipyard blast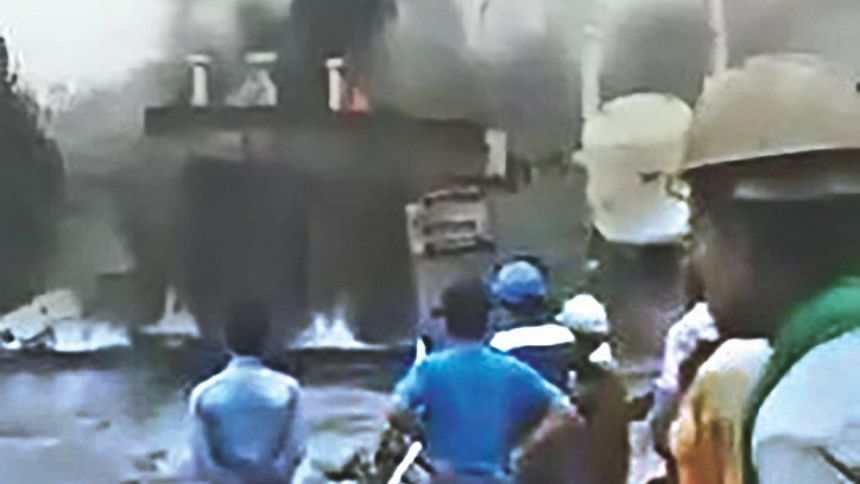 A ship-breaking worker died and five others were critically burnt in an explosion at the engine room of a ship in Chattogram's Sitakunda yesterday morning.
The incident took place at Mahinur Ship Recycling yard in Baro Awalia area around 8:00am.
Rubel, 25, of Noakhali's Senbagh died by the time he was taken to a hospital.
Other workers Masud, 19, Sohel Suman, 22, Al Amin, 27, Jalil, 26, and Mamunul Islam, 27, were critically burnt, said Mohammed S Khaled, assistant professor of burn and surgery at Chattogram Medical College Hospital.
One of the injured workers, wishing anonymity, told The Daily Star that the management of the ship-breaking yard didn't give them any safety gear, saying that the gears would slow down their work.
Describing what he saw moments before the explosion, another injured worker Mamunul Islam said Rubel was cutting a pipe with a blow torch at the engine room while six others, including himself, were working nearby.
 "I saw huge flames and a loud bang before I lost consciousness," Mamunul told reporters at the hospital.
He added that the management had told the workers there was no risk in working at the engine room.
The ship-breaking yard owner Manik refuted the allegation and said he provided safety gears to his workers.
Polash Kumar Das, labour inspector of factories inspection department, said the vessel was an oil tanker and dismantling it would require many precautionary measures.
"A spark could have led to the explosion," he said, adding that the work that should have been done slowly and cautiously was attempted in a rush apparently at the instruction of the management.
After visiting the scene, Ferdoush Anwar, deputy director of the environment department in Chattogram, said, "We came to know that they did not ensure workplace safety. We will take steps in this regard."
Explosives department officials said oil tanker MT Kellena-4 was beached at the yard on December 26 last year.