A new horizon for malta
One man's effort paves the way for malta orchards in Chapainawabganj
When Motiur Rahman, a driver by profession, from Rehaichar in Chapainawabganj town first planted malta trees, results were far from certain. The red, hard and dry Barind Tract soils offers challenge to even seasoned farmers. Maltas have no tradition of being grown there. Nonetheless, Motiur thought to give them a try.
"Palms with deep green or blackish leaves grow locally," says Motiur. "They are common vegetation here. I wondered: if those palms can grow with plenty of sweet sap then why shouldn't maltas also be sweet?"
Despite working as a driver, Motiur has long held interest in agriculture and has proven himself a successful farmer in the past. Despite limited training, Motiur first pursued his interest some years ago when he leased sixteen bighas of land to establish his "Manamina Nursery" in Atahar, twelve kilometres out of town.
There he planted mango, guava and other fruit; tending the new orchard with the help of his wife Begum Nasima Rahman and their son and daughter.
Then, in mid-2013 the Horticulture Centre selected Motiur's nursery as a suitable demonstration site for their Second Crop Diversification Project. He agreed to plant 200 BARI-1 variety malta saplings as an experiment.
"The district's soil is actually favourable for malta cultivation," says Dr Saifur Rahman, the Horticulture Centre's deputy director. "It's possible to produce especially sweet, high quality malta here."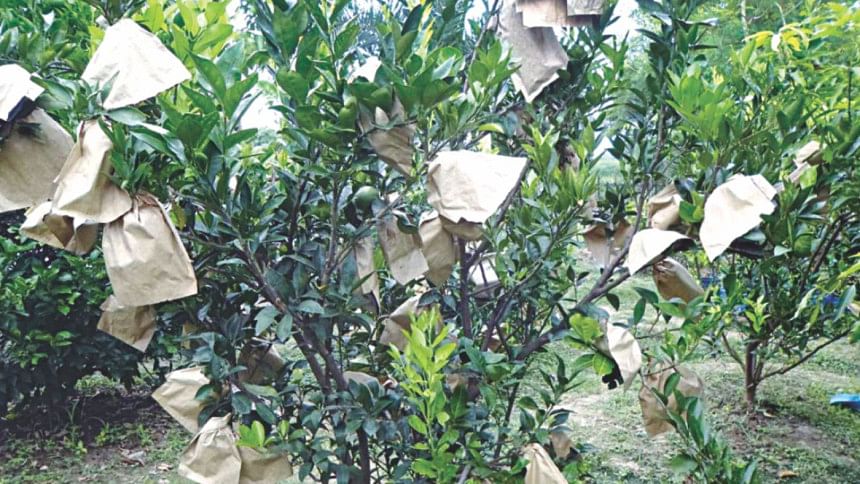 The deputy director of the agricultural extension department in Chapainawabganj, Sajdar Rahman, agrees.
He told The Daily Star that the region's weather and soil have been found to be suitable to malta production.
After only two years Motiur was able to harvest 800 malta, which he sold for Tk 16,000. The locally-produced maltas are of a bright yellow colour, large and very sweet, which appealed to customers. "Customers buy my maltas direct," explains Motiur. "I cannot satisfy their demand."
In such circumstances he extended the orchard last year to cover an additional six bighas, with six hundred more saplings. "I count on one to two hundred maltas per tree," he says, estimating this year's harvest. "About 15,000 maltas will be produced in this orchard."
He also makes a good income from sapling production, with 25,000 saplings produced to be sold from Tk 250 to Tk 400 each. "The investment has been Tk 8 lakhs," he says. "I hope through malta and sapling sales to realise Tk 20 lakhs." Motiur estimates a further 10,000 saplings will be ready for sale within two months.
In part, Motiur's saplings are in demand due to his own success as an orchardist. Following a good crop last year several other farmers in the area have developed an interest in establishing orchards of their own.
"I am planting malta orchards on my four bighas at Babudaying area in sadar upazila and on my sixty bighas in Gomostapur upazila," says amateur farmer Mahbubur Rahman, who sees value in following Motiur's lead.
In total, 150 bighas in the district are being transformed into malta orchards.
In addition to its sweet taste, Motiur's malta crop does not rely on chemical pesticides and fungicides. Rather, the driver-turned-farmer utilises eco-friendly pheromone traps and bagging to protect his crop from fruit flies and fungal spotting.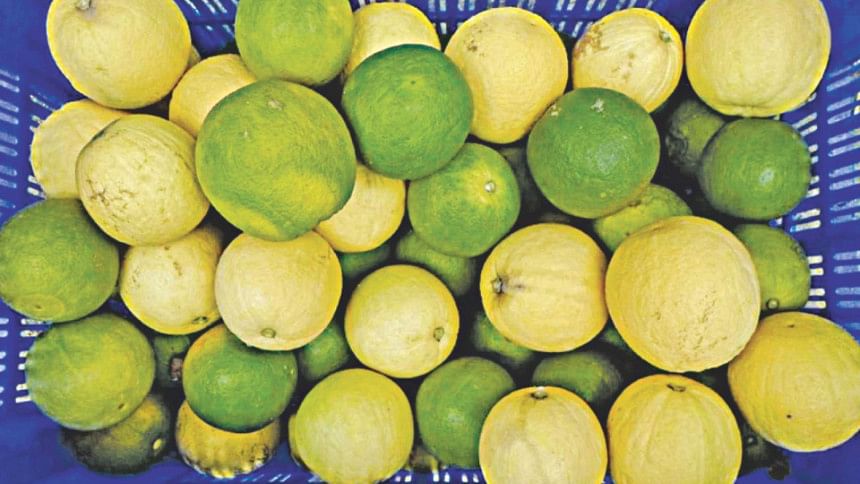 "Such methods ensure a good crop of high quality," says principal scientific officer of the Regional Horticulture Research Station, Dr Muhammad Hamim Reza. "As well as making the maltas spotless, physical protection against scratches and scarring is also achieved."
As a result of his pioneering efforts, Motiur received a tree-planting award from the Prime Minister on 1 September this year.
Motiur believes maltas have a good future in Chapainawabganj. "I expect the area devoted to orchards and the number of trees will increase over the next five years or so, due to the demand and the proven quality of the produce." He urges concerned authorities to facilitate easy bank loan facilities for orchard expansion.