AL men enraged over MP's arrest
Lay siege to Gaibandha DC, SP offices, scuffle with cops as lawmaker Liton lands in jail over shooting a child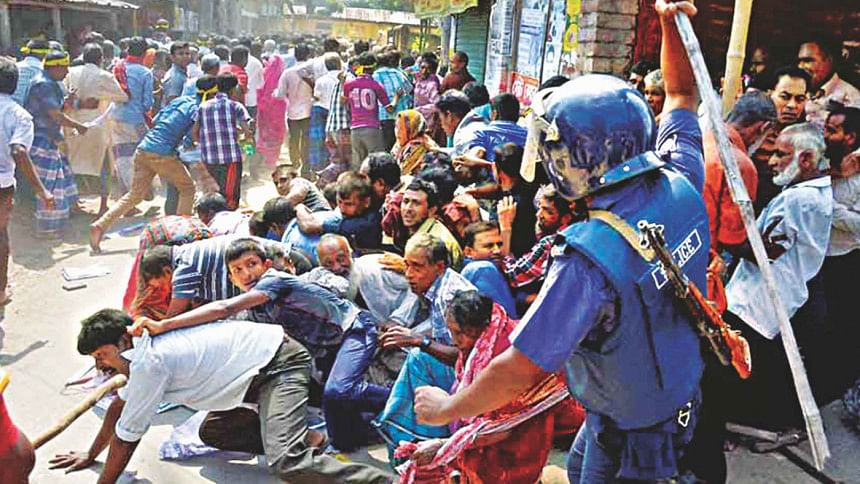 Aggrieved over the arrest of lawmaker Manjurul Islam Liton, several hundred Awami League men in Gaibandha besieged the entrance of local administration offices and the district court yesterday, demanding his unconditional release.  
Liton's supporters also scuffled with police as he was being taken to a court.
The court later sent him to jail, rejecting his bail petitions in two cases over shooting of a 10-year-old boy and vandalising a house in Sundarganj upazila on October 2.
The lawmaker's men from the upazila halted traffic movements on Gaibandha-Palashbabri road for an hour, prompting police to charge batons and fire rubber bullets and teargas shells to disperse them, leaving 17 people injured, sources said.
The AL men led by Golam Mostafa Ahmed, general secretary of Sundarganj upazila AL, called a road and rail blockade in the upazila for Sunday.
They will also hold a protest rally in the upazila the same day to press home their demands -- withdrawal of the "false cases" and the immediate release of the MP.
From the rally, they will declare their next programmes if Liton is not released by Sunday, Golam Mostafa told reporters.
However, Gaibandha district AL acting president and organising secretary of Sundarganj upazila AL said the party had no link with the protest.
Detectives arrested Gaibandha-1 lawmaker Liton, also president of Sundarganj upazila AL, from the capital's Uttara on Wednesday night, 12 days after he allegedly shot Shahadat Hossain Sourav in both legs for no apparent reason.
The shooting, which happened around 6:00am when the boy was taking a morning walk with his uncle, sparked widespread criticisms.
Liton was taken to Gaibandha overnight and was kept at Gaibandha police Superintendent Ashraful Islam's office after detectives took him there around 6:20am yesterday, the SP told our Gaibandha correspondent.
He was produced before a court around 11:45am amid tight security and his lawyers moved two bail petitions. Additional Chief Judicial Magistrate Moinul Hassan Yusuf rejected his prayers and sent him to jail.
The court fixed December 12 for the next hearing of the case for the shooting and December 14 for the case over vandalism.
Police did not seek remand for Liton, who denied the charges before the court. The SP said they would seek his remand later.
Earlier in the day, several hundred supporters of Liton took position before the main entrance of the offices of Gaibandha deputy commissioner, the SP and the district court with banners and placards.
AKM Mehedi Hasan, officer-in-charge of Gaibandha Sadar Police Station, told this newspaper that they fired 20 teargas shells and bullets to disperse 1,000 to 1,200 "supporters" of the MP.
Asked if police would file any case, he said, "The incident was not that big."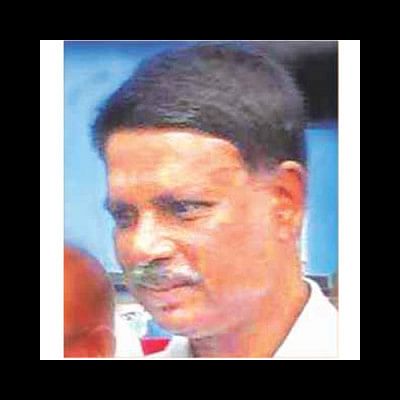 Sajedul Islam, organising secretary of Sundarganj upazila AL, told The Daily Star that it was not a party protest and that it was an "isolated incident".
"No meeting was held and no decision was made in this regard ... And whom should we protest against? Being the ruling party men, will we protest against the state?" said Sajedul, who has been vocal against the "misdeeds" of the MP.
He said they wanted Liton to be punished following due legal procedures for the crime he committed.
Syed Shamsul Alam Hiru, acting president of Gaibandha district AL, said the protest was staged by those loyal to Liton and the agitators had no link with the party.
"Liton was arrested in line with the strong stance taken by Prime Minister Sheikh Hasina against any wrongdoers. We welcome the decision," he said, demanding a proper investigation into the incident.
Sourav's father Saju Mia said he was happy that Liton landed in jail, but he wanted justice.
"I am worried over possible harassment and attack by Liton's men," he said by phone from Rangpur Medical College Hospital where Sourav is under treatment.
Saju filed an attempt to murder case against the MP and Hafizur Mandal, a three-wheeler driver, filed another case against Liton and nine of "his men" for allegedly looting and vandalising his house on October 2.
Liton, who had been on the run following the cases, appeared before the High Court for hearing of his bail petitions on Monday. The HC rejected his petitions and ordered him to surrender before a Gaibandha court by October 18.
Attorney General Mahbubey Alam said the order created confusions regarding his arrest. Later, he moved the Supreme Court on Wednesday and obtained a stay on the HC order, which cleared the way for Liton's arrest.