World's most urgent refugee crisis: UNHCR
As Rohingyas have continued to flee into Bangladesh, United Nations High Commissioner for Refugees (UNHCR) Filippo Grandi warned of humanitarian disaster.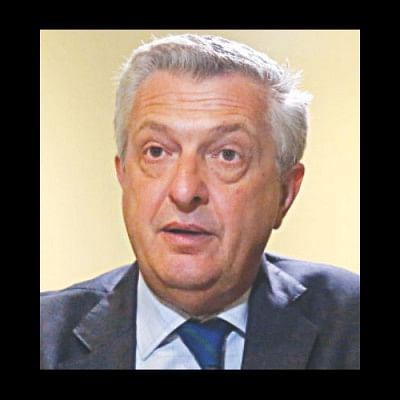 As Rohingyas have continued to flee into Bangladesh, United Nations High Commissioner for Refugees (UNHCR) Filippo Grandi warned of humanitarian disaster.
The exodus of Rohingya Muslims from Myanmar is "the most urgent refugee emergency in the world" right now, he told reporters while visiting the refugee camps in Cox's Bazar yesterday.
"People have fled unspeakable violence, and their needs are enormous," he said, as he toured around Kutupalong camp and its adjacent sprawling new extension.
Arriving in Bangladesh on a three-day visit, Grandi went to Cox's Bazar on Saturday to observe the situation of Rohingya refugees in camps.
The needs of more than 435,000 people who have fled terrible violence in Myanmar over the last month are enormous, he said, adding that the international community must step up financial and material aid to help Bangladesh  deal with the refugee crisis.
The latest round of violence in Myanmar's Rakhine state erupted on August 25. Those fleeing have described indiscriminate attacks by security forces and Buddhist mobs. The Myanmar government has shrugged it off saying Rohingyas themselves set fire to their houses, but could not produce any proof to substantiate the claim.
The United Nations and others have described the violence as ethnic cleansing.
UN doctors based in makeshift clinics in Rohingya camps have reported symptoms of rape and horrific sexual abuse on women arriving from western Myanmar.
There are dozens of cases of violent sexual abuse, including the ones leveled against Myanmar's armed forces, reports Reuters.  
The UN chief for refugees accompanied by UNHCR field staff and Bangladeshi officials yesterday toured a site recently assigned for the new arrivals. UNHCR staff there distributed cooking equipment, sleeping mats, solar lamps and other essential relief items to 3,500 families selected by community leaders.
Despite immense challenges at the beginning, there had been an "incredible outpouring of local generosity and support" but that now needed to be "beefed up by massive international assistance, financial and material," Grandi said.
International support is also being stepped up, under the leadership of the government, but these efforts must be accelerated and sustained, he added.
Grandi visited the massive refugee camps that had sprung up to accommodate new refugees. Cox's Bazar also has a large camp accommodating another 4 lakh Rohingya refugees who fled persecution over the decades.
The Bangladesh government has kept its borders open for the terrified Rohingyas "in a world that has often turned hostile to refugees", for which, the UN official said, he was thankful.
The Rohingyas need a long-term solution beyond measures to ease their immediate sufferings, and "just like the causes of the influx are in Myanmar, clearly the solution is in Myanmar as well."
Myanmar must end the violence that has caused such a vast number of people to flee their homes, and grant human rights organisations like the UN access to areas where violence has taken place, the UN refugee agency chief said.
Though the UNHCR and the World Food Programme have their presence in Rakhine, "our movement is still restricted".
"We know that there are people on the other side and under pressure and we know that there are people who are displaced internally in northern Rakhine."
Grandi also expressed the hope that the UN's role would give the registration of Rohingyas in Bangladesh "the necessary credibility, which is so urgent not just for repatriation but for assistance."
AID ARRIVING
Meanwhile, the first consignment of the Unicef emergency supplies for Rohingya children and their families arrived in Dhaka, Unicef says. A cargo plane arrived from Copenhagen with 100 tonnes of supplies comprising water purifying tablets, family hygiene kits, sanitary materials, plastic tarpaulins, recreational kits for children and other items.
The supplies will be given to around 250,000 Rohingya children. The next consignments of relief materials are also on the way to Bangladesh, according to a Unicef release.
Our New Delhi Correspondent reports that India is sending a fresh consignment of relief materials for the Rohingyas.
Nearly 700 tonnes of humanitarian relief materials were loaded onto Indian Navy ship Gharial at the Kakinada deep water port in southern state of Andhra Pradesh for transportation to Chittagong, a naval official said yesterday.
The relief materials will be handed over to the Bangladesh government for over 68,000 distressed families in customised family packets containing food, clothes and mosquito nets.
In addition to the already installed 196 tube-wells, 224 latrines and 35 bathing cubicles, BRAC said that by October 15, it will form 60 medical teams, install 15,000 latrines and 1,120 tube-wells and set up 10 maternity centres to provide services to three lakh Rohingyas.