Scorched earth
Amnesty, HRW show new evidence of 'mass-scale' torching of Rohingya villages by Myanmar troops, shooting of people at random; at least 80 large fires detected in the minority localities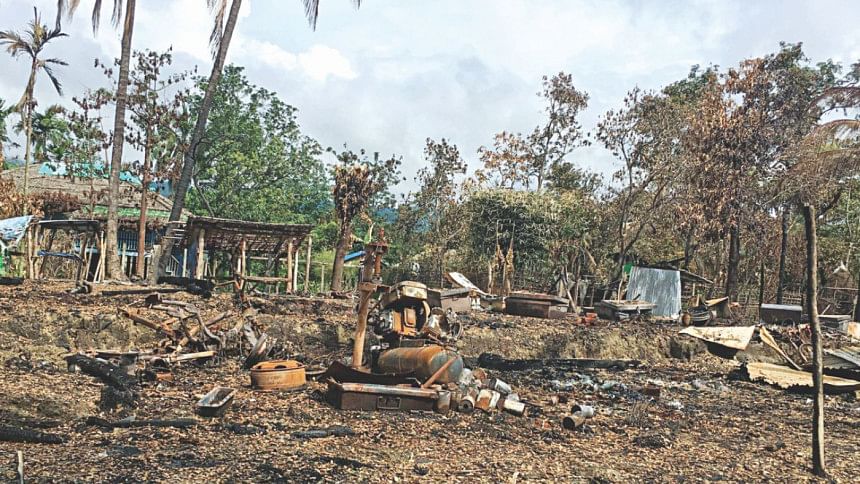 Amnesty International and Human Rights Watch have come up with new evidence pointing that the Myanmar army is deliberately burning Rohingya villages and shooting people, which is nothing but ethnic cleansing.
Amnesty termed it "mass-scale scorched-earth campaign" against the Rohingyas as Myanmar security forces and vigilante mobs are burning down entire Rohingya villages and shooting people at random as they try to flee.
"It is a targeted campaign to push the Rohingya people out of Myanmar .... Make no mistake: this is ethnic cleansing," said Tirana Hassan, crisis response director of Amnesty, in a statement yesterday.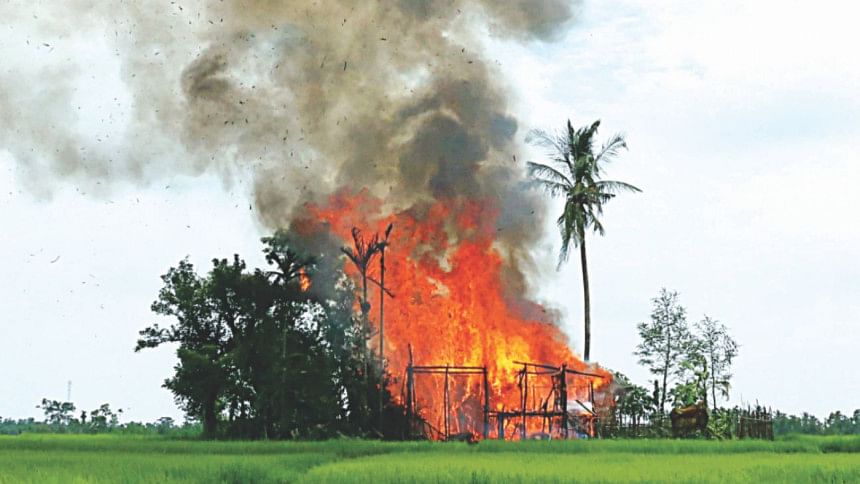 The statement came a day after the UN said 4,00,000 Rohingyas crossed into Bangladesh fleeing violence in Myanmar, with 10 to 20 thousands arriving every day, and that the number may rise to a million by the year end if the influx continues.
The crackdown against the Rohingyas, who are denied citizenship despite living in Myanmar for generations, began in response to insurgent attacks on police posts and an army base on August 25.
The Amnesty's analysis of active fire-detection data, satellite imagery, photographs, videos and interviews with eyewitnesses finds a clear and systematic pattern of abuse. Security forces surround a village, shoot people fleeing in panic and then torch houses to the ground.
"In legal terms, these are crimes against humanity," Tirana Hassan said, calling for the international community to wake up to the nightmares the Rohingya are living through.
"There must be much more pressure on Aung San Suu Kyi and Myanmar's military leadership who are still carrying out abuses to end this carnage," she said.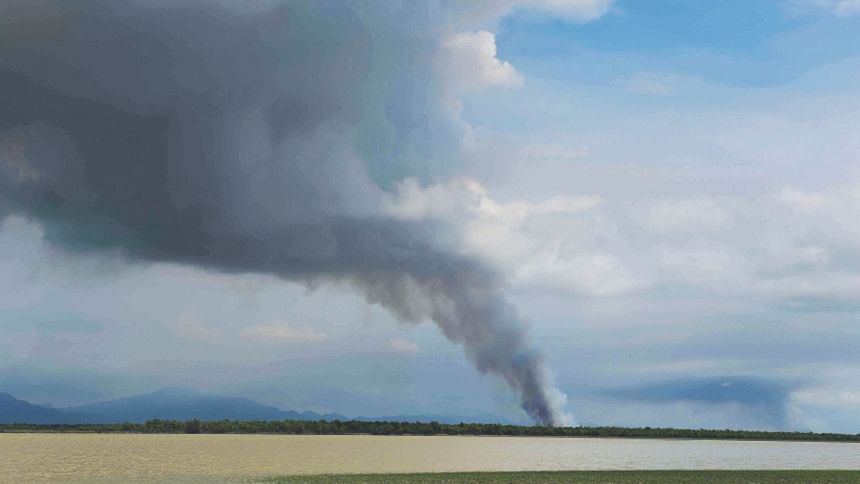 As Myanmar will be discussed at the UN Human Rights Council in a few days, this is an opportunity for the world to show that it has grasped the scope of the ongoing crisis and adopt a strong resolution to reflect this, added the rights body.
Phil Robertson, deputy Asia director of Human Rights Watch (HRW), said, "The United Nations and member countries should urgently impose measures on the Burmese government to stop these atrocities and end the forced flight of Rohingya from Burma [ Myanmar]."
Myanmar denies its security forces are responsible for the burnings and claims Rohingya have been setting fire to their own homes, but Tirana Hassan said Myanmar's attempts to shift the blame to the Rohingya population are blatant lies.
Amnesty has also received credible reports of Rohingya militants burning the homes of ethnic Rakhine and other minorities, but has so far been unable to verify or corroborate these.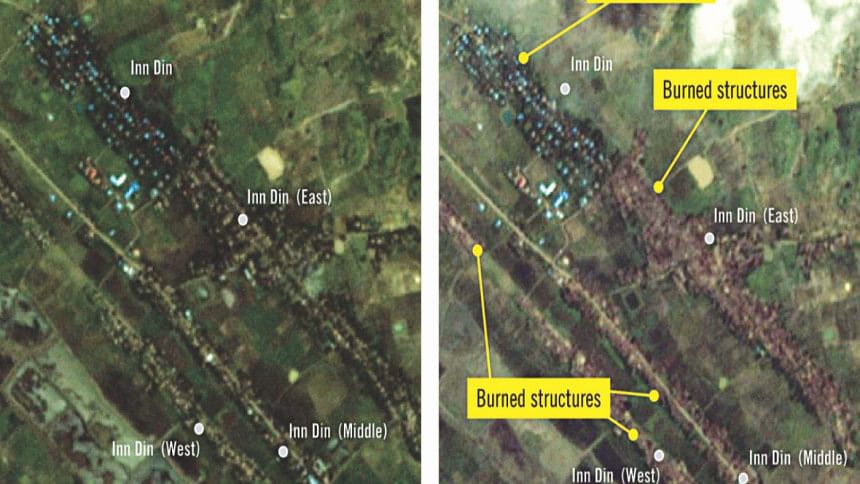 AMNESTY FINDINGS
Since August 25, Amnesty has detected at least 80 large-scale fires in inhabited areas across predominantly Rohingya areas of northern Rakhine.
While the extent of the damage cannot be independently verified on the ground, due to access restrictions by the Myanmar government, true number of fires and extent of property destruction is likely to be much higher. Cloud cover during the monsoon season has made it difficult for satellites to pick up all burnings.
Additionally, smaller fires go undetected by environmental satellite sensors.
Satellite images from the village tract of Inn Din, a mixed ethnic area in south Maungdaw, clearly show how an area of Rohingya homes have been burned to the ground, while non-Rohingya areas alongside them appear to have been left untouched, the Amnesty statement says.
SYSTEMATIC ATTACKS
Referring to eyewitnesses, Amnesty said soldiers, police and vigilante groups sometimes encircle a village and fire into the air before entering, but often just storm in and start firing in all directions, with people fleeing in panic.
As surviving villagers desperately try to leave the area, security forces torch houses using petrol or shoulder-fired rocket launchers.
One 48-year-old man told the rights body that he witnessed army and police storm into his village of Yae Twin Kyun in northern Maungdaw township on September 8.
"When the military came, they started shooting at people who got very scared and started running. I saw the military shoot many people and kill two young boys. They used weapons to burn our houses. There used to be 900 houses in our village, now only 80 are left. There is no one left to even bury the bodies," he said.
The organisation has been able to corroborate the burning by analysing photographs taken from across the Naf River in Bangladesh, showing huge pillars of smoke rising inside Myanmar.
In some areas local authorities appear to have warned local villages in advance that their homes would be burnt, a clear indication that the attacks are both deliberate and planned.
HRW FINDINGS
HRW said it got evidence that 62 villages in northern Rakhine State were targeted by arson attacks between August 25 and September 14.
It identified 35 of these villages with extensive building destruction, and an additional 26 villages that had active fires detected.
"Our field research backs that the Burmese military is directly responsible for the mass burning of Rohingya villages," said Phil Robertson of HRW. 
In a detailed building damage assessment in six of the 35 affected villages, HRW identified nearly complete destruction in each case. The total number of destroyed buildings was 948.
"Satellite detection of multiple active fires on September 11 and 13 suggests that villages in new areas of Maungdaw township are now being targeted for destruction.
Because of heavy cloud cover, it is almost certain that the actual number of fire-affected villages in the townships of Maungdaw, Buthidaung, and Rathedaung is considerably higher.
Meanwhile, Md Motaleb, president of law and order committee of unregistered Rohingya camp in Leda of Teknaf, told The Daily Star that Myanmar army destroyed around 500 Rohingya villages out of 700 in three regions of Rakhine.
Motaleb, who has connections with the Rohingya community in Rakhine, said villages of around five lakh Rohingyas were burnt and their houses looted. Four lakh of them already fled to Bangladesh and one more lakh are on the way, he added.
"Even if there are no people in the villages, Myanmar forces are setting fire to empty houses so that the Rohingyas are not able to return," Motaleb said.