Rains heap further woes on refugees
Rohingya influx slows amid bad weather; many now moving to hills from roadside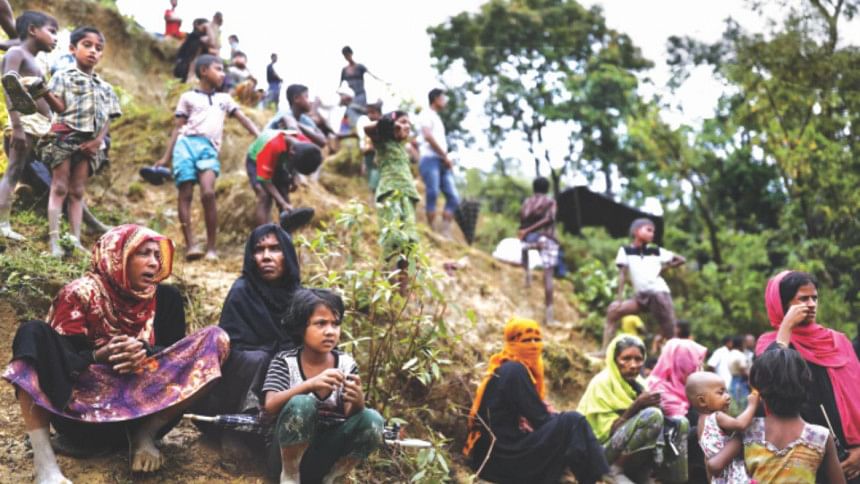 Nur Begum, 55, came to Bangladesh from Myanmar's Maungdaw with her young son and daughter in tow. She witnessed her husband killed and in the rush to escape lost her daughters in the crowd. Homeless and feeling hopeless, she thought she found some respite in a makeshift tent in a field near Gundum on the Cox's Bazar-Teknaf road. But the weather had other plans.
Here, like Nur Begum, a few hundred Rohingya families had been living in makeshift shelters. But the nearby Ukhia Ghaat Khal swelled following continuous rain, inundating the field and forcing the refugees to relocate.
"I left my home there and came here. Now, I have lost my home here as well," she said.
As it kept raining since yesterday, the water levels began to rise around evening, submerging the field in knee-deep water. The current of the water was so strong that it threatened to sweep away the belongings of the refugees.
"I have been standing all night holding my belongings and so have my children. We could not sleep at all," Nur Begum said, before breaking down. 
In the area, many families began leaving as soon as daylight broke, taking their belongings and heading towards the hillocks to resettle.
Monsoon rains sweeping across Cox's Bazar and Teknaf have compounded the problems of the thousands of Rohingya refugees in the areas.
Many women, with children, still stand besides the roads braving the pouring rain in hopes of getting relief from passing cars.
Laila Moti, who just gave birth to a girl only yesterday, was found in the downpour out in the open. Her baby was nestled under the protective layers of a blanket which had also begun to get soaked. She sat in the mud, waiting in a queue in front of a newly established medical camp in Baghuna. Her eyes narrowed from the immense pain she was suffering.
"I brought my wife here with our newborn for medicine," Syed Azim, her husband said.
Apart from the refugees themselves, the rains have also added a further headache to the government's initiative to relocate the refugees to certain areas for a better relief distribution.
The resettlement drive has lessened the chaos in relief distribution but more needs to be done, aid workers said.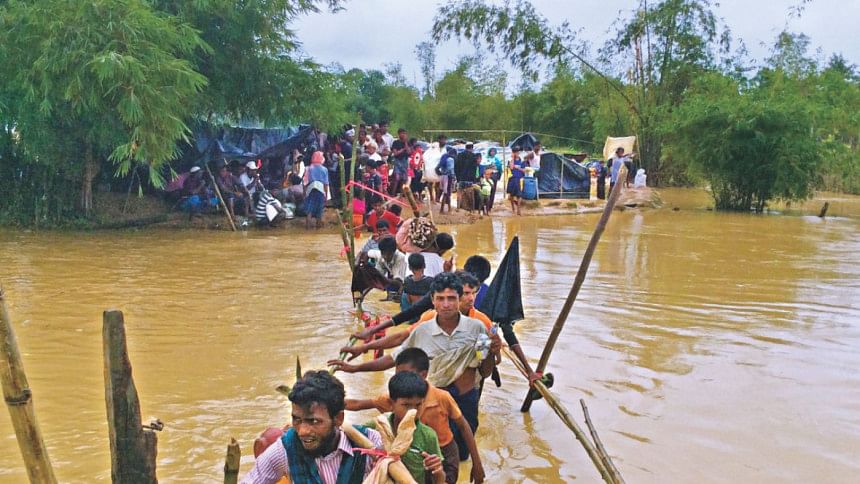 While the roadside camps have mostly been cleared, the refugees from there are now building homes on forested hillside areas seeking higher grounds. Those who have come as recently as ten days ago are now resettling in previously uninhabited areas of Balukhali and Baguna. 
Around 150 meters away from the Cox's Bazar Highway, new homes were being set up in the forested areas, with refugees abandoning the old ones.
Furthermore, locals in Rezu Aamtoli para, Lomba Beel, Anjuman Para and Shah Pori Dwip said that while over a 100 people were crossing into Bangladesh every day even two days ago, the weather has meant almost no new entrants.
The rough conditions of the Naf river and cautionary signal 3 have played a role in preventing the Rohingyas from Myanmar from crossing over.
Meanwhile, RAB detected and apprehended 210 Rohingyas from different points in Cox's Bazar. They were promptly sent back to a refugee camp in Balukhali.