Lost in the maze of misfortunes
12-yr-old boy loses limbs falling from train roof; now stays abandoned at hospital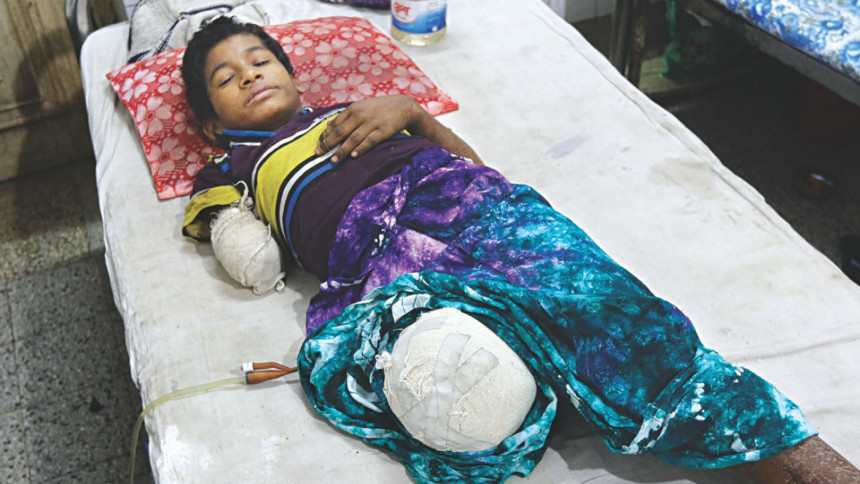 Wanting relief from torture of his stepfather and freedom, the pre-teen boy left his village in Kishoreganj and came to Dhaka six months ago. That freedom was short-lived as he lost his right limbs in a train accident and is now confined to hospital for having no one to take him home.
The 12-year-old, Robin probably had his best days in the city playing with other street children and enjoying food and classes arranged by an NGO at Kamalapur Railway Station before the accident swept away all that from him.
On the fateful day nearly three months back, he was going to Gendaria from Kamalapur by train to meet his friends.
"Since I didn't have any ticket or money, I climbed on to the roof [of a train],"Robin said at the hospital. He fell off the roof as the train was moving at Kamalapur.
Locals took him to Dhaka Medical College Hospital with injuries to his head and the two limbs cut off. After months of treatment there he was released a week ago but no one has come to take him.
Without anyone's support, the boy can hardly rise from bed, let alone leave the hospital.
Seeing him suffer, Mohammad Alam, an attendant of ward-206, and a couple of his colleagues came forward to help him. They request other patients and their family members for money so that they can buy him food and clothes.
The attendants also let him sleep on any empty bed in the ward at night.
Meanwhile, one man from Robin's village Sadhanpur in Nikli upazila came to DMCH to see another patient and recognised Robin. On his return, he informed his mother Jahanara and other villagers of Robin's situation.
Bakul Miah, a farmer of the village, said he along with two others then came to DMCH with Tk 6,000 and bought medicines and other necessary things for him.
Robin's mother Jahanara came too to visit him at DMCH but quickly sneaked out, said some hospital staff who are providing him with food now. 
Talking about the boy's childhood, Bakul said his mother Jahanara, who is mentally challenged, took him to Nikli when he was just six-months old.
"She used to beg people to help." 
Local people married her off to a man named Faizul who is also mentally challenged. Faizul and Jahanara have five children; all adopted by some villagers.
Robin's stepfather used to beat him up frequently. Seeing that neighbours gave him work at a tea stall, the boy said.
One day he fled from there and came to Dhaka by train. He used to sleep on the platforms of Kamalapur station at night.
Robin now wants to go out and play.
"I would in the least need a wheelchair to be able to leave the hospital. I hope someone will give me one."
Talking on the phone about his rehabilitation, Bakul quoted the local chairman as saying that they could not afford to keep in the village a boy who lost the right hand and the right leg.