Khaleda's motorcade comes under attack
15 injured, 6 vehicles damaged; hartal tomorrow, Dhaka, Ctg cities exempted tomorrow, Dhaka, Ctg cities exempted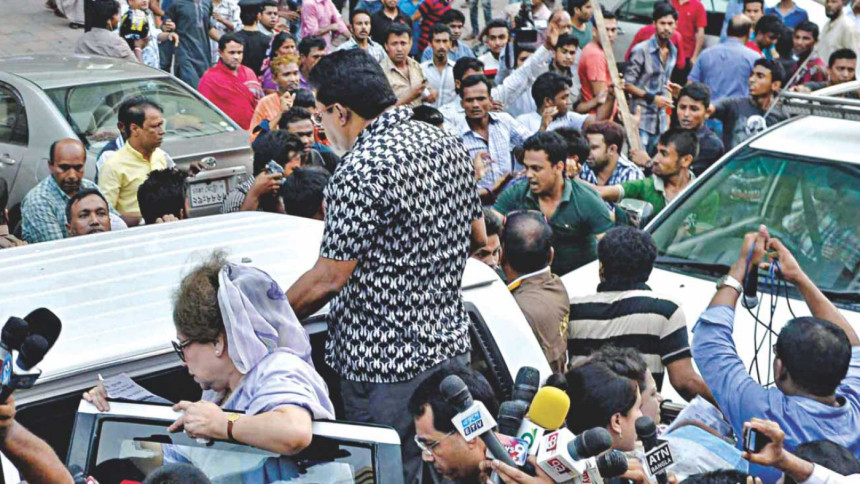 BNP Chairperson Khaleda Zia's motorcade came under attack by pro-ruling Awami League activists during her election campaign at the capital's Karwan Bazar yesterday. 
Around 150 activists of Jubo League, Swechchhasebak League, Shramik League and Chhatra League showered the vehicles with brick chips and hit those with wooden sticks for around 15 minutes from 5:45pm. 
Khaleda's bullet-proof car was damaged but she was unhurt.
Some 15 people, including her personal secretary, got injured. Four of them were admitted to United Hospital.
Six vehicles, including four from the motorcade, were damaged.
On Sunday, over 100 ruling party men carrying sticks with black flags in separate groups chased Khaleda's motorcade and blocked roads during her campaign at Uttara.
In the face of the attack yesterday, she abandoned the electioneering for Dhaka North's mayoral hopeful Tabith Awal and left Karwan Bazar. She went to Shahzatpur and campaigned for Dhaka South's mayoral candidate Mirza Abbas. 
In the evening, the BNP-led 20-party alliance called a countrywide daylong hartal for tomorrow. The opposition combine will also stage demonstrations across the country today.
However, the Dhaka and Chittagong metropolitan areas will remain out of the purview of the agitations due to the city corporation elections on April 28.
Earlier in the morning, the policemen deployed for the security of the BNP chief's residence at Gulshan were withdrawn. The seven-member police team left the area around 7:00am, Syrul Kabir Khan, a staff of the BNP chief's media wing, told The Daily Star.
There was no police escort during yesterday's campaign. 
"Although the BNP chief is not the opposition leader [in parliament], the police authorities usually send a police van with seven police members from the Rajarbagh Police Lines whenever she goes out from her residence. But there was no police van yesterday when she left for electioneering," Sayrul Kabir added. 
Jahangir Alam Sarker, acting deputy commissioner (media) of Dhaka Metropolitan Police, told The Daily Star that Khaleda's state-provided security was indeed withdrawn.
Yesterday, Khaleda left her Gulshan residence around 4:50pm and reached Karwan Bazar around 5:30pm. BNP supporters and activists gathered on the road between Palli Bhaban and Karwan Bazar kitchen market, chanting slogans in support of Tabith Awal. 
Around 5:35pm, Khaleda came out of her vehicle and stood on a makeshift platform. When she took the microphone, a group of AL activities began to shout at her. Her personal security force and supporters chased them away. 
But the ruling party activists came back within minutes and showed black flags to Khaleda. They became more aggressive when         Khaleda began addressing people, seeking vote for Tabith and asking all not to vote the AL-baked candidate. 
They lambasted Khaleda saying she had killed innocents in the last three months. Her security personnel and party men again chased them, this time triggering a running battle.  
At one point, Khaleda threatened the ruling party men with dire consequences and said, "I will see to you later." 
At this, they start vandalising vehicles, throwing brick chips and hitting those with sticks. Khaleda's car too came under attack; one of its right-side windowpanes got cracked.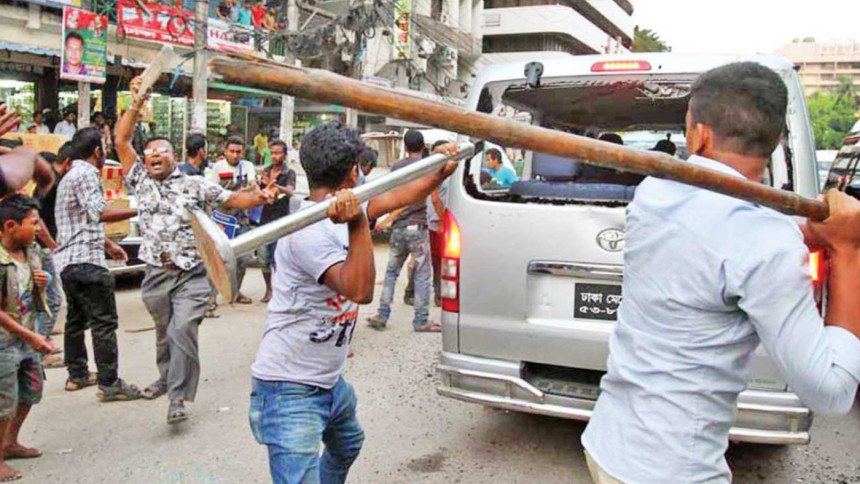 As Khaleda left the spot, the ruling party men chased the motorcade up to the rail gate near FDC and brought out a procession. They chanted slogans hailing Prime Minister and Awami League President Sheikh Hasina.
Around seven to eight policemen were on duty in the area. They, however, could not resist the vandalism.
Contacted, Mazharul Islam, officer-in-charge of Tejgaon Police Station, said a protest rally was being held at Karwan Bazar when Khaleda Zia's motorcade reached the area. 
He said a running battle took place there, but he was "unaware" of vandalism.
MOUDUD'S BRIEFING
Moudud in an urgent briefing at the BNP's Nayapaltan headquarters said the attack on Khaleda's motorcade was part of government plan to assassinate the BNP chief and this was the reflection of government's fascist attitude. 
"Sensing defeat in the upcoming city corporation elections, the government is carrying out such attacks," he said, adding that the BNP chief, however, would continue her electioneering.