Khaleda has no links to trust funds
Counsel tells court in Zia Orphanage case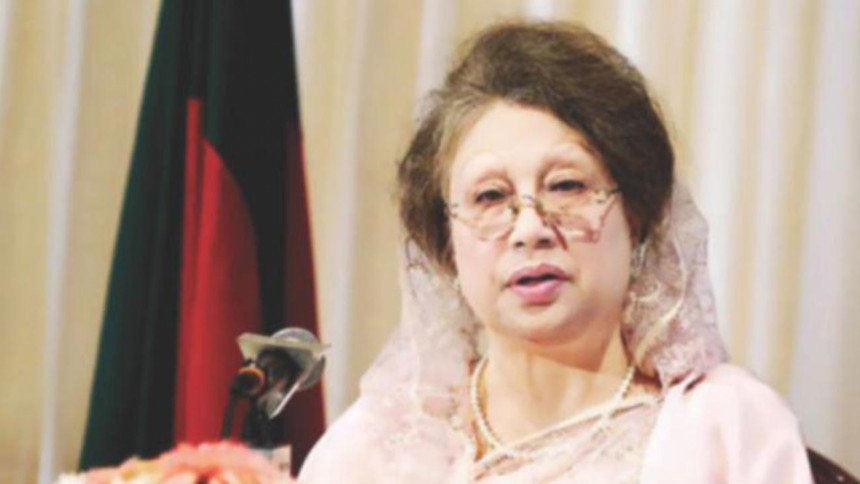 A senior counsel of BNP Chairperson Khaleda Zia yesterday pleaded with a Dhaka court to acquit her in the Zia Orphanage Trust graft case.
Wrapping up his three-day argument, Abdur Rezak Khan told the Dhaka Special Court-5 that Khaleda didn't have any distant involvement in the process, let alone misusing power for setting up the trust, receiving donation from a former Kuwaiti ameer and disbursing the money. 
"I have made an extensive submission to you [judge] showing that the BNP chairperson is innocent. I hope she will be honourably acquitted of all the charges as the prosecution failed to prove any allegation against her."
About the Zia Orphanage Trust, Rezak Khan said actually it was late foreign minister Mustafizur Rahman who took an initiative to contact the then Kuwaiti ameer to get a donation to preserve the memory of late president Ziaur Rahman.
"Mustafizur Rahman received the donation from the then Kuwaiti ameer. He took part of the donation and set up an orphanage in his village in Bagerhat. The orphanage is running well. But nothing has been mentioned about it in the first information report," argued the lawyer.
The allegations that Khaleda received the donation, formed the trust fund and disbursed the money were raised like "a bolt from the blue". The allegations were "totally uncalled for and untrue", he said.
He also claimed that none of the 32 prosecution witnesses could tell the court that the former prime minister was involved in any of the processes.
Rezak Khan said Khaleda can't be accused in a case as a public servant as she was the country's prime minister at that time.
"Khaleda Zia was not personally involved in any of the processes of Zia Orphanage Trust. None of the documents of the trust contains her signature," the lawyer added.
Making his arguments for the defece, senior lawyer Khandker Mahbub Hossain told the makeshift court in the city's Bakshibazar that it was a "politically motivated case aimed at harassing Khaleda and remove her from politics".
"The whole intent of the case is to identify Khaleda Zia as a thief," he said.
Judge Md Akhtaruzzaman fixed today for hearing the incomplete arguments of the defence counsels.
Chief Prosecutor Mosharrof Hossain Kajol later told reporters that a prime minister is also considered a public servant and criminal cases can be filed against her.
Earlier on December 21, the court fixed December 26, 27 and 28 for placing defence arguments in the case.
The Anti-Corruption Commission had filed the Zia Orphanage Trust graft case with Ramna Police Station on July 3, 2008, accusing Khaleda, her elder son Tarique Rahman and four others for misappropriating over Tk 2.10 crore that came as grants from a foreign bank for orphans.
On August 8, 2011, the ACC filed the Zia Charitable Trust graft case with Tejgaon Police Station accusing four people, including Khaleda, of abusing power to raise funds for the trust from unknown sources.