Judiciary held hostage: SC
Expresses displeasure at govt over non-issuance of gazette on lower court judges' conduct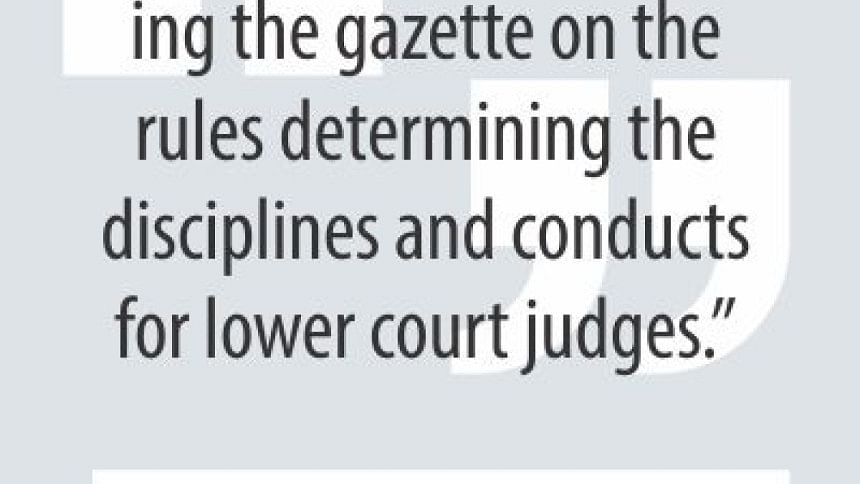 The Supreme Court has once again expressed dissatisfaction at the government failure to issue the gazette notification on the rules determining the disciplines and code of conducts for lower court judges.
"The judiciary has been held hostage by not issuing the gazette," the SC said, noting that institutions are larger than individuals and they must be protected.
The apex court came up with the observation when Attorney General Mahbubey Alam sought four more weeks to issue the gazette, saying Law Minister Anisul Huq was abroad now. The gazette requires the law minister's approval.
The court was holding a hearing on the Masdar Hossain case, popularly known as separation of judiciary case.
On February 27, an eight-member bench of the Appellate Division headed by Chief Justice Surendra Kumar Sinha gave the government two weeks to publish the gazette and adjourned the hearing till yesterday.
Earlier on November 7 last year, the SC expressed disappointment that the government did not finalise the rules outlining the job disciplines for lower court judges.
During the hearing that day, the court said the judiciary was held hostage as no action could be taken for misconducts by lower court judges due to a lack of rules. It also said some lower court judges were involved in corruption and anomalies and yet steps could not be taken against them.
Also on that day, the top court gave the government two weeks to finalise the rules and to issue a gazette notification to this effect.
The lower judiciary was officially separated from the executive branch in November 2007 but the disciplinary rules for lower court judges are yet to be made.
The government had drafted the rules and sent those to the SC for its opinion. The court revised the draft and resent it to the government for passage.