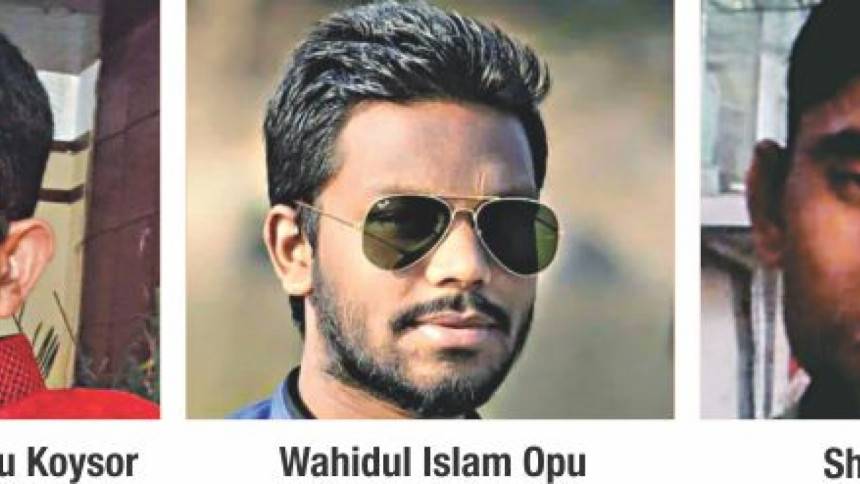 Police inspector Monirul Islam left for his workplace in Sylhet on Saturday morning after attending a family function at his village home in Noakhali.
Little did he know that it would be his last visit to his family home.
He was among the six persons killed in two bomb blasts that evening while army personnel and law enforcers were raiding a militant hideout in Sylhet city's Shibbari area.
His elder brother Abdul Wahab said Monirul, the fourth among seven siblings, came home to attend the wedding ceremony of their younger brother on Thursday night after taking part in a three-day training in the capital.
But the family's joy turned into bereavement when they learnt that Monirul died from his wounds at Ibn Sina Hospital in Sylhet around 2:00am yesterday.
Married in 2010, Monirul left behind his wife Parvin Akhter and an 18-month-old son.
He joined the police as a sub-inspector in 2003 and went to the US the following year for a two-year training on bomb deactivation. Later, he was made an inspector (investigation) at Jalalabad Police Station in Sylhet.
Monirul would be buried at his village home in Noakhali Sadar upazila, reports our correspondent in the district.
The five other deceased include a court inspector in Sylhet, two traders and two activists of Bangladesh Chhatra League. They have been identified by their relatives and law enforcers.
The court inspector is Chowdhury Md Abu Koysor from Kutubpara in Sunamganj Sadar Upazila.
He lived with his wife in Sylhet's Shibganj area. He had six brothers and a sister.
Contacted, his brother Chowdhury Md Abu Obayed, executive engineer of the PDB in Fenchuganj, said they learnt about Koysor's death from police officials around 9:00pm on Saturday.
Another victim, BCL activist Jannatul Fahim, left his Puchail Dakkhinpara home to attend a class at a local coaching centre in the city on Saturday evening.
Fahim was an HSC student of Puchail Israb Ali School and College.
Out of curiosity, he and some of his friends went to Shibbari area to watch the raid on the militant den.
The 18-year-old boy paid with his life for his curiosity.
He was wounded in the first explosion on Sylhet-Fenchuganj road in Gutartik area, and died at Osmani Medical College Hospital around 1:00am yesterday.
His maternal uncle Foysal Ahmed said he was forest and environment secretary of Dakkhin Surma Upazila BCL.
Fahim was vocal against militancy and also took part in anti-militancy campaigns in Sylhet, added Foysal.
Another BCL activist, Wahidul Islam Opu, who also went to Shibbari area to see the raid, was killed in the same explosion.
Opu, 23, was a student of Madan Mohan University College and an activist of Sylhet metropolitan BCL unit, said his uncle Shahin Ahmed.
Opu took over the family business of metal products since his father died two years ago. "He was the breadwinner of the five-member family," said Shahin.
Hearing the news of Opu's death, his youngest sister Fazilatunnesa Tuli fell ill and was admitted to a hospital, he added.
Another deceased, Shahidul Islam, 35, was proprietor of Prime Lightings that provides decoration service in Sylhet city.
Shahidul was the third among five brothers and three sisters.
He lived with his wife Nasrin Akhter and six-month-old daughter Afifa in the city's Dariapara area.
His elder brother Saiful Islam said Shahidul was fatally wounded in the blast in Shibbari area around 7:00pm while he along with his acquaintance Khadim Shah was going to his workplace by a motorbike from Dakkhin Surma after settling a business-related matter there.
Shibbari is on the way to Dakkhin Surma from his workplace in Dariapara area, he mentioned.
Khadim, 32, who was with Shahidul, was also killed in the blast.
Saiful said he found Shahidul's mobile phone switched off since 7:30pm on Saturday. One of their neighbours, who saw on the social media the news of his brother getting seriously injured in the blast, informed them about it.
They reached Sylhet Osmani Medical College Hospital around 9:30pm only to find Shahidul dead.
Saiful said he didn't dare to tell their mother Noorjahan Begum, a heart patient, about his brother's death.
Khadim's father Ismail Ali said his son was involved in decoration business, and that he used to work with Shahidul.
Khadim from Sunamganj's Chhatak upazila lived with his wife in Sylhet city's Mirza Jangal area.
Ismail said Khadim married Ayesha Begum, a Muslim convert, four years back.
Learning about his son's injury in the blast on Saturday evening, Ismail along with other family members went to Sylhet Osmani Medical College Hospital and found his son dead.