STAY OUT, media
AL men assault 10 journos, deny access to polling centres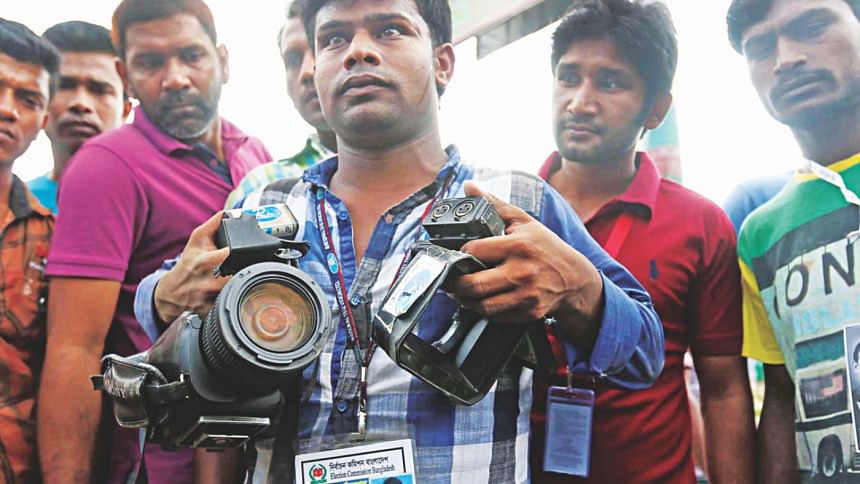 At least 10 journalists were assaulted by ruling party men during the city corporation elections yesterday.
Some reporters were robbed of their mobile phones, handbags and cash.
Polling officers, law enforcers and ruling party men allegedly prevented reporters, photographers and cameramen from entering polling centres, journalists and eyewitnesses said.
Two reporters of The Daily Star -- Porimol Palma and Mahbubur Rahman Khan -- were beaten by Bangladesh Chhatra League men when the journalists were covering a polling centre at the Science Annex Building of Dhaka University.
Porimol's mobile phone, identity card and personal bag were snatched. The attackers also slapped Mahbub in the face and asked him to leave.
Amitosh Paul, a senior reporter of the Samakal, a Bangla daily, was beaten at 12:30pm when he identified two fake agents of the ruling party-backed mayoral candidate, Annisul Huq, at the Uttara Girls' High School and College polling centre.
At the Bodhir School centre at Purana Paltan, some youths held Ashish Ur Rahman Shuvo, a special correspondent of the daily Prothom Alo, at knife point as he was entering the polling centre.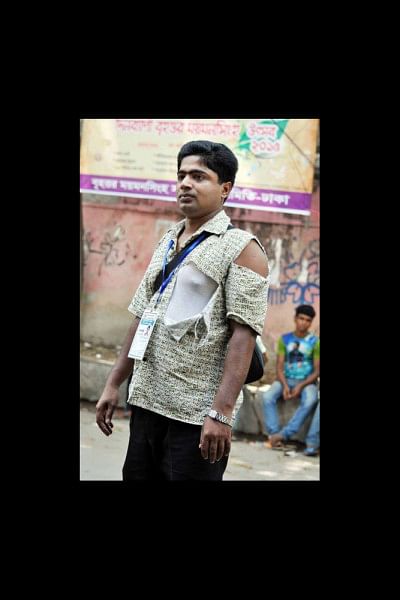 Mostaq Ahmed and Sujoy Mohajon, two senior reporters of the leading Bangla daily, were attacked by ruling party men at Narinda and Shahjahanpur polling centres. Their diaries, phones and cash were looted. However, Mohajon got back his phone with the help of some policemen.
Awami League men also attacked two journalists of Ekattor TV and one of Rtv in Chittagong, according to the private TV stations.
There were many cases of intimidation as well. Photos and videos taken by many journalists were deleted and they were asked to leave the polling centres.
Tuhin Shubhra Adhikary, a reporter of The Daily Star, found a polling agent illegally stuffing ballot boxes in presence of an assistant presiding officer at a booth of Dhanmondi Government Girls High School at 12:40pm.
The reporter took some snaps of the act. When he was coming out of the booth, a man in plain clothes, identifying him as a policeman, asked him to delete the photos and go away.
Sohel Parvez, a senior reporter of this newspaper, was forced to delete pictures of vote-rigging by ruling party activists at the Kabi Nazrul Government College polling centre.
Anisur Rahman, a photographer of The Daily Star, witnessed many acts of intimidation. At 8:45am, when he was taking pictures of voters' thin presence at the Siddheswari Boys' High School polling centre, some youths popped up and shoved him, asking why he was taking pictures.
At the nearby Siddheswari Girls School, Anis saw a presiding officer standing outside a polling room while some youths were busy inside. When he tried to get closer to the room, some youths asked him to leave.
The camera of Palash Khan, a photojournalist of The Daily Star, was taken away by a policeman in plain clothes at a centre in Kafrul under Dhaka North City Corporation. The policeman deleted the pictures of an assault on journalists.
Another reporter of The Daily Star, Rafiul Islam, witnessed fake vote-casting at a polling centre of Kamalapur Sher-e Bangla Railway High School at 11:00am. When he attempted to take videos of the incident, ruling party men warned him not to.
Shamim Noor, a photographer of the daily Jugantor, was harassed by some youths at a polling centre in Segunbagicha around 9:30am. The youths took away his camera, but when other journalists stepped in, they returned his camera after deleting the pictures of a polling agent being pushed out of the polling centre.
Indrajit Ghosh, a photojournalist of the New Age, was injured in a clash between the followers of an Awami League-backed councillor and its rebel candidate in front of Kabi Nazrul Government College polling centre. He was rushed to Dhaka Medical College Hospital.
Meanwhile, Dhaka Union of Journalists has expressed concern over the assaults on journalists. The DUJ in a statement demanded punishment for the attackers.
Prof Nazmul Ahsan Kalimullah, founder of JANIPOP, a national election observation council, said media activists and observers were barred from performing their election duties.
"The Election Commission was supportive but political activists did not welcome journalists and observers," he told The Daily Star.