JMB operative 'confesses' shooting Hoshi
Police say 2 other killers also identified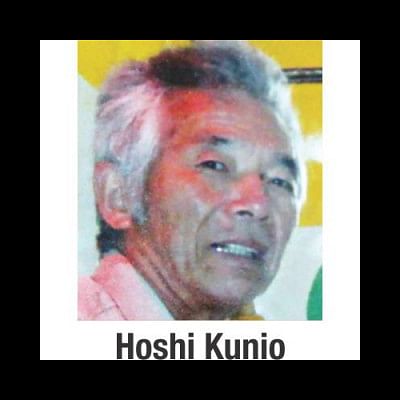 An operative of Jama'atul Mujahideen Bangladesh (JMB) has confessed his involvement in the killing of Japanese man Kunio Hoshi in Rangpur, claim police.
"Masud Rana had opened fire on the Japanese national," Humayun Kabir, deputy inspector general (DIG) of police (Rangpur range), told a press briefing at his office yesterday.
He said the arrested member of the banned militant outfit gave his confessional statement before Senior Judicial Magistrate Shafiul Alam on Monday. 
Masud was one of the three persons who directly took part in the murder in Kaunia upazila on October 3, said the DIG, without disclosing the identity of the other two killers "for the sake of investigation".
The JMB man also confessed his links with the murder of Rahamat Ali, a khadem of a shrine, in the same upazila, and the incident of shooting Rangpur Medical College Hospital (RMCH) staff Ruhul Amin, in the city, claim the police official.
Humayun, when asked when the alleged militant was held, replied: "The IO [investigation officer in the case] would say that."
Contacted, IO ABM Zahidul Islam, officer-in-charge of Kaunia Police Station, said the 28-year-old was arrested in a raid on his village home in Pirgacha upazila on December 2.
Several bomb-making equipment and three sharp weapons, including one believed to be used in the murder of Rahamat, were recovered from the house, he claimed.
Police sources said the arrest had not been disclosed earlier for investigation-related reasons. 
Hoshi, 65, was shot dead by unidentified assailants on October 3, just five days after Italian aid worker Cesare Tavella was murdered in the capital's diplomatic area.
Witnesses said they had heard gunshots and saw three men fleeing on a bike soon after Hoshi's murder.
In another attack, Rahamat, 55, was hacked to death in Choita intersection area of the same upazila on November 11.
Two days earlier, three criminals had shot and injured Ruhul Amin, 45, personal assistant of the RMCH director, in the city's Ideal Intersection area. He somehow survived the attack.
JMB MAN ON REMAND
A Rangpur court yesterday placed Isahak Ali, an alleged member of the JMB, on an eight-day remand in the Hoshi killing case.
Senior Judicial Magistrate Shafiul Alam passed the order after the IO produced the arrestee before the court with a prayer to interrogate him for the same number of days.
IO Zahidul Islam said they arrested Isahak at Tangailpara village on Monday night with the help of Pirgacha police.