Japan outraged at Hoshi killing
Govt to brief diplomats today about security measures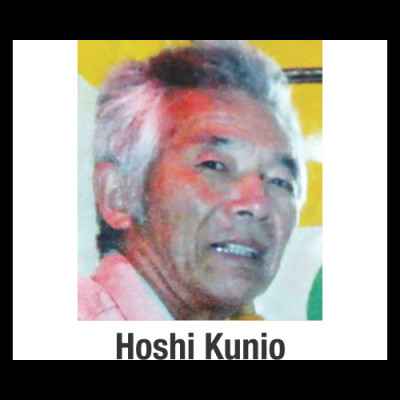 Japan's top government spokesman yesterday expressed outrage over the killing of a Japanese citizen who was shot to death by unidentified assailants in Rangpur on Saturday.
"Such a dastardly act should never be repeated. I feel outraged by such an act," Yoshihide Suga, Japan's chief cabinet secretary, told reporters in Tokyo.
The shooting of Japanese national Kunio Hoshi came barely five days after Italian aid worker Cesare Tavella was murdered in the capital's high-security diplomatic zone on September 28.
The spokesman offered his condolences to Hoshi's family, and said his government was seeking a full investigation into the case.
With the international community expressing concern following the killing of the two foreigners, the government has called for a diplomatic briefing today.
Sources in the foreign ministry said the heads of diplomatic missions, the UN and other international bodies in Bangladesh have been invited to the briefing at 3:00pm at the state guesthouse Padma.
The ministries of foreign and home affairs have jointly called the briefing where the government ministers, prime minister's advisers and top bureaucrats will brief the diplomats about the government measures taken for ensuring the security of diplomats and foreign citizens living in Bangladesh.
Meanwhile, different diplomatic missions and UN organisations in Dhaka had separate meetings yesterday and discussed the security situation in Bangladesh.
The participants stressed the need for maintaining high degree of cautions as they cannot rule out deterioration of law and order in future, sources said.
Attended by chiefs of more than 15 diplomatic missions, one of the meetings was held at the residence of a European envoy in the afternoon.
The ambassadors and high commissioners shared their respective embassy's information about threats from terrorism, a mission chief told The Daily Star yesterday.
The diplomat added that they will seek government statement regarding the killing of the two foreigners and want to know about the safety and security measures.
"We want to get a concrete assurance from the government that no foreign citizens fall victim in the days to come. We will also strongly raise our demand for prompt investigation into these two killings."
Earlier in the morning, top officials of 11 UN bodies in Bangladesh had a crucial meeting at the office of the ILO.
Heads and senior officials of UN organisations, including WHO, ILO, FAO and UNFPA, at the meeting decided to issue internal travel alerts for their officials and employees.
Meeting sources said they already asked their staff to avoid crowds and advised them not to go for walking or jogging until further order. Movement after dusk has been restricted and trips outside Dhaka, except for the essential ones, have been discouraged.
Also yesterday, the Japanese embassy in a press statement sought support from media people.
Citing security risk, the embassy requested all to refrain from shooting video or taking photos of its officials and other Japanese personnel visiting Rangpur on a mission and broadcasting/publishing the images.
The statement also read, "Giving due consideration to the request of the bereaved family, please refrain from using the victim's photo, particularly those related to the killing."