Eid Day Attack at Sholakia
It was no small plan by militants
When a group of militants struck Holey Artisan Bakery in the capital's Gulshan, another group was in Kishoreganj with a plan to attack Sholakia Eid congregation.
The second group was staying at a rented apartment in Kishoreganj town when gunmen stormed the Bakery and held foreign and local diners hostage on the night of July 1.
Nine Italians, seven Japanese, one Indian and three Bangladeshis were brutally killed in the Gulshan attack, a never-seen-before terror incident in Bangladesh.
The Kishoreganj group moved to the apartment six days before swooping on a police checkpoint on the Eid day as part of a plan for a large-scale assault, according to police, locals and a suspected attacker now in custody.
They went on a recce to the Sholakia ground area on 27th Ramadan (July 3) to put the final touches to their plan, police quoted the detained suspect as saying.
A youth, who police say took part in the attack, rented the apartment on the ground floor of an under-construction building on Neelganj Road posing as a local college student. He told the house owner that he and three of his friends would stay there.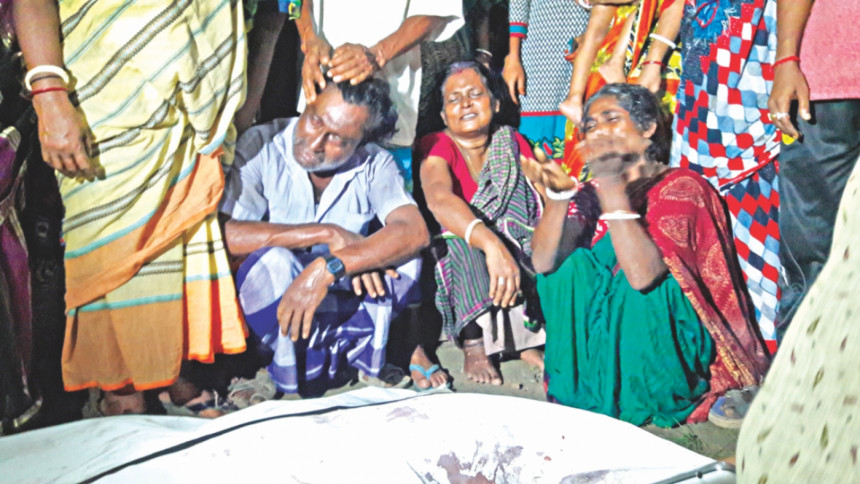 "They rented the apartment temporarily -- only to carry out their mission," said an official of Kishoreganj Police Station, who is involved in Sholakia terror probe, on condition of anonymity.
Sholakia Eidgah is about one kilometre from the apartment. There are many alternative ways to reach the congregation ground from the house.
Many locals believe the group might have taken the nearby rail track and walked up to the Azim Uddin High School to attack a police team.
Two police constables were killed while a dozen others including six cops were injured as the gang, comprised of seven to eight and armed with explosives, machetes and firearms, battled with law enforcers for more than an hour.
A woman and a suspected attacker also died during the fight which ensued when the attackers tried to cross the police checkpoint near the school in an attempt to reach the Eidgah.
The Daily Star correspondents visited the Neelganj house on Friday afternoon.
"They hardly came out of the flat," the daughter of the house owner told this newspaper as she described how the youth convinced them to rent out the apartment to him without showing any documents.
The youth introduced him as Joynal Abedin and said he was from a village in Phulbari upazila of Mymensingh. He also claimed that he was a first-year student of economics of Gurudayal Government College in Kishoreganj.
A local college teacher, the daughter said she and her parents had discussion with Joynal on house rent and other conditions on June 30.
"The youth accepted every condition and promised us to provide his and his friends' identity cards after the Eid," she said, adding, "We agreed as Joynal told us that they stayed at a students' mess where they couldn't study well.
"They said they came here after noticing  the 'To-Let' sign."
The youth told them that they all were from the same institution -- two from Economics and two from English department.
The youth paid Tk 2,000 in advance out of Tk 6,000 monthly rent. He and his friends started living here from the daytime of July 1. "But I didn't see anyone except for the youth [Joynal]," she said.
When her father asked them whether they will go home to celebrate Eid, they said they will go home after offering Eid prayers at the historic Sholakia Eidgah.
"Actually, no suspicion crossed our mind," she said. They first came to know that something was very wrong when a Rab team came to their home on Friday evening.
Rab personnel said they learnt from a suspected attacker, now detained, about the rented house, she added.
Rab searched the house and took her father and brother to police station for interrogation. Both were released after around five hours of interrogation as they found nothing wrong with them, she told these correspondents. 
Police too searched the flat and found some books, utensils and three blankets. When these correspondents wanted to see the room, she said the key was with his father and he was away from home at the time.
"Both the suspected attackers in custody admitted that four attackers were staying at the apartment," a police official of Kishoreganj Sadar Police Station told The Daily Star on condition of anonymity.
Islamic State has claimed responsibility for the Gulshan attack, according to US-based SITE Intelligence Group. But none claimed credit for the Sholakia attack yet.
Visiting Sholakia yesterday, Inspector General of Police AKM Shahidul Hoque said homegrown militant outfit Jama'atul Mujahideen Bangladesh (JMB) was involved in both Gulshan and Sholakia attacks, reports BSS.
"The detainees in the Sholakia incident admitted that Gulshan and Sholakia attacks were interlinked," he told journalists.
"The attackers admitted that they tried to launch bomb attack on the Muslims at the Eid congregation. They unleashed a sudden attack on police personnel as the cops were searching them."
The attacks came following a string of murders of secular activists, progressive writers, bloggers and religious minorities.
Both the groups included youths from private universities and madrasas.
THE SHOLAKIA ATTACK
Around 8:45am on Eid day, seven to eight youths -- all in Panjabi and aged around 20 -- approached the police checkpost set up near Azim Uddin High School.
"It seemed they were hesitant to cross the point and suddenly there was an explosion," Md Shamsuddin, officer-in-charge (investigation) of Pakundia Police Station, told this newspaper.
Some members of the police team fell to the ground. Seconds later, there was another explosion that left one constable critically injured, he said. "Some of us started shooting while the attackers swooped on others, firing and welding machetes."
Two police constables -- Jahirul Haque Tapu from Mymensingh and Ansarul Haque from Netrakona -- were killed in the attack.
Jharna Rani Bhowmik, a resident of the area, died as a bullet flew through a window of her house as law enforcers and attackers were exchanging fire.
Police have identified the assailant shot dead during the gun fight as Abir Rahman, a private university student in Dhaka. He was missing since March.
The suspected attacker, who survived bullet wound and was detained, has been identified as Saiful Islam, alias Abu Muktadim alias Sohan, a madrasa student from Dakkhin Debipur village in Ghoraghat upazila of Dinajpur.
Another suspected attacker detained by law enforcers has been identified as Jahidul Haque Tanim, son of Abdus Sattar Chand Mia of Paschim Tarapasha in Kishoreganj Sadar upazila, police said, adding he was detained from under a bed at a house during the fight.
Talking to The Daily Star, Tanim's father Chand Mia claimed his son was not involved in militancy.
Identities of the rest of the attackers could not be known.