Hartal, blockade caused Tk 1.2 lakh crore loss: PM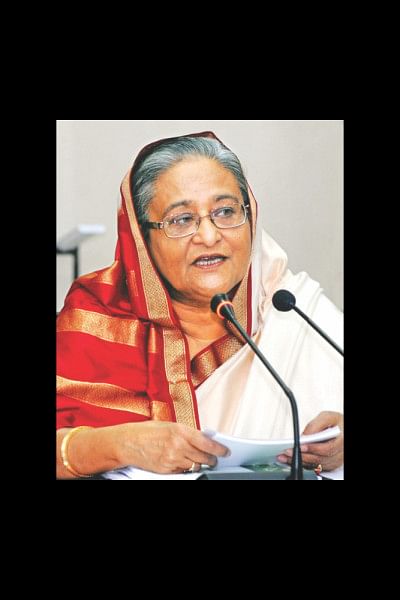 Prime Minister Sheikh Hasina yesterday said the country had incurred a loss of over Tk 1.2 lakh crore in the first 52 days of the BNP-Jamaat's blockade and hartal.
Since the indefinite blockade started, 101 people had been killed and 1,173 vehicles torched and vandalised, she told the Jatiya Sangsad replying to a lawmaker's tabled question.
The premier said the BNP-Jamaat alliance had been resorting to subversive activities only to stop the ongoing war crimes trial and get rid of the nine cases filed against
BNP Chairperson Khaleda Zia and her son Tarique Rahman and the lawsuits against the alliance leaders.
In her scheduled question-answer session, Hasina termed these subversive activities grave crimes punishable with death.
The Awami League chief urged BNP Chairperson Khaleda Zia to stop killing people, and warned of legal actions if sabotage and killings were not stopped immediately.
Replying to another lawmaker's query, Hasina, also leader of the House, said the persisting political instability would hamper the government's target of reducing poverty to 13.5 percent by 2021 from 31.5 percent in 2010.
The government has also started working on upgrading 13 important roads and highways to four lanes, she informed the House.
They are 225km Chittagong-Cox's Bazar-Teknaf road, 286km Dhaka-Sylhet-Tamabil road, 222km Daulatdia-Magura-Jhenidah-Jessore road, 85km Comilla-Brahmanbaria road, 40km Elenga-Hatikumrul road, 137km Hatikumrul-Rangpur highway, 157km Rangpur-Teesta-Burimari road, 194km Hatikumrul-Bonpara-Rajshahi-Sonamasjid road, 37km Khulna-Mongla road, 132km Faridpur-Barisal road, 109km Barisal-Kuakata road, 54km Dhaka-Mawa-Bhanga highway and 13km Dharkhar-Akhaura highway.
Among these, Dhaka-Mawa-Bhanga, Faridpur-Barisal and Barisal-Kuakata roads would get priority, considering the tourism potential of these areas, she noted.
Responding to another query, she said a rehabilitation centre for the autistic people with football and cricket fields, swimming pool and gymnasium, among other facilities, would be constructed on a 12-acre piece of land in Savar.
Foster family service would be introduced for the autistic people without family, and compulsory autistic school and toy library would be set up in all the 103 centres for autistic people across the country, added the PM.