Govt failing to address rights abuses
Says HRW in its World Report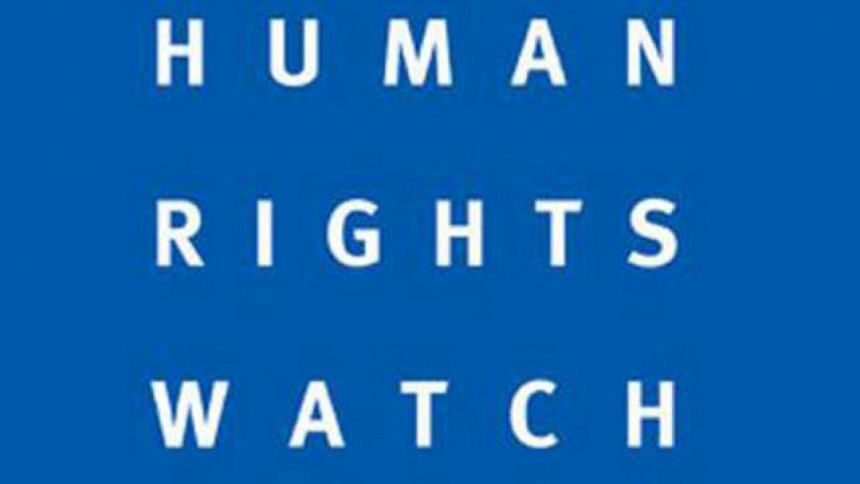 Bangladesh authorities failed to respond to repeated and serious allegations of secret detentions, enforced disappearances, and extrajudicial killings, denying the abuses instead of holding perpetrators accountable, Human Rights Watch said in its World Report 2018.
Although the government did not enforce refoulement on Rohingya refugees seeking sanctuary from across the Burmese (Myanmar) border, Bangladeshi citizens themselves saw no reprieve in their quest for justice, the US-based global rights watchdog said in a statement on its website yesterday.
In the 643-page report, its 28th edition, HRW reviewed human rights practices in more than 90 countries.
Starting in late August, Bangladesh saw over 655,000 Rohingya refugees cross the border from Northern Rakhine State in Myanmar fleeing a campaign of rape, arson, and killings by the Burmese military that amounted to crimes against humanity.
While Bangladesh does not officially recognise the majority of the Rohingya as refugees, the government has allowed those seeking shelter to enter the country, the report says.
"Bangladesh deserves credit for not forcibly returning Rohingya refugees, and for doing what it can with strained resources to provide safety for them for the time being," Brad Adams, director of HRW Asia, said in the report.
"However, recurring plans to move the refugees to uninhabitable islands or to return them to Burma without key citizenship rights and protections remained a concern."
In domestic rights concerns, scores of Bangladeshis remained victims of enforced disappearances, even as law enforcement authorities continued to target both opposition supporters and militant suspects, the report mentions.
Security forces responsible for serious human rights violations continued to be free and unaccountable, the report says.
Despite evidence of flawed trials and coerced confessions, the High Court upheld the death penalty against nearly 140 members of the Bangladesh Rifles, as the present Border Guard Bangladesh was formerly known, it adds.
Civil society groups and the media continued to face pressure from both state and non-state actors, while dozens of Bangladeshis were arrested for criticising the government or the political leadership on Facebook, it further says.
Although the official government policy is to eliminate child marriage, in February 2017 the government passed a law permitting girls under 18 years of age to marry under special circumstances -- effectively eliminating the minimum age for marriage in this exception.
The government also failed to take steps to end discrimination based on sexual orientation and gender identity, the report says.
"Particularly as the country heads into general elections in 2019, it is vital to restore the rule of law, and end all efforts to silence dissent," said Adams.