Gastric? Get his gastrometer
Passion, tragedy drive a man from Magura to invent device for diagnosing gastric problems easily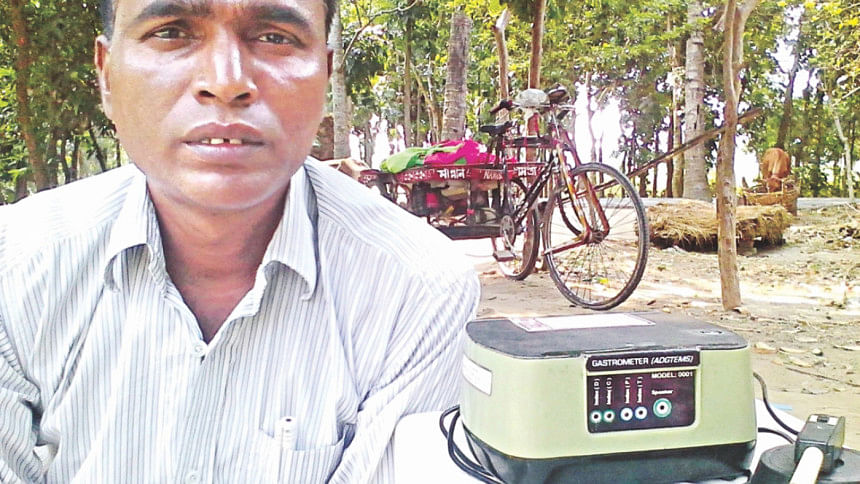 Gastric maladies like dyspepsia, heat-burn, acidity and abdominal pain can be difficult to accurately diagnose and effectively treat. In developed countries there is equipment to measure acidity in the oesophagus which facilitates accurate analysis; but such equipment is expensive and rare in Bangladesh.
Locally, doctors more often rely on patients describing symptoms such as gastric history, abdominal pain and loss of appetite for diagnosis, a process which leads to generalised treatment that is somewhat hit-and-miss, and can lead to complications and even death. It's a situation that might be about to change.
Medical practitioner and inventor Siddartha Sankar Biswas, 42, of Gobindapur village in Magura's Sreepur upazila has invented a saliva-testing instrument with the potential to offer more accurate and inexpensive diagnoses of stomach conditions.
"My electric gastrometer uses two electrodes of different metals," Siddartha explains, "and when saliva is placed on the tool's receiver current is produced. The current relies on acidity in the saliva which is related to stomach acidity. By measuring the current we can better understand what's going on in the stomach."
Between 2008 and 2010, Siddartha tested 388 healthy volunteers and 622 patients with acidity-related stomach conditions, publishing the results in the Bangladesh Journal of Medical Physics in 2011. While healthy volunteers produced values of between 22 and 31 in the current test, those with chronic stomach complaints realised results of between 14 and 50.
"Based on the test results I have prescribed medicines," Siddartha says, "and they worked."
In 2014 his gastrometer was granted a patent from the Department of Patents, Designs and Trademarks in the industry ministry, but it is yet to receive attention from the authorities who could promote the technology.
For Siddartha, his invention is the result of both a childhood dream to study medicine and personal tragedy.
Unfortunately when Siddartha, the son of a simple farmer, graduated with a Higher School Certificate from the science stream in 1995 he found his marks were not outstanding; and he switched to the humanities stream for his Bachelor of Arts, completed at Magura Government Degree College three years later. But his thirst for medical study was not done.
He enrolled in a six-month course in Jessore, followed by a two-year medical diploma in Kolkata, completed in 2005. Yet he was not satisfied.
In the meantime he married and became father to a baby boy in 2007. Tragically, the baby died within three months due to digestive problems including gas. Siddartha and his wife were devastated. Yet he turned tragedy into strength and decided to dedicate his efforts to finding better treatment options for gastric conditions, which crucially includes, of course, better diagnosis.
"I've always instinctively liked to probe matters deeply," Siddartha says, "since I was young. When I was in Class VIII, I focused on how to turn magnetic power into fuel. Since my son's death, treating gastric ailments has been my focus.
It was such determination that led to the electric gastrometer.
"What Siddartha has done is amazing," says biomedical physics and technology expert Professor K Siddique-e Rabbani of Dhaka University. "I have seen the instrument and observed that it is scientifically sound. Of course it will need rigorous testing to make it more sophisticated."
"To achieve what Siddartha has without higher academic background is truly laudable," the professor adds.
Indeed once the gastrometer had passed its initial tests, Siddartha consulted his local Member of Parliament who is also a physician, Professor MS Akbar, who directed him to health research institute, the ICDDR,B in Dhaka, which led in turn to Professor Rabbani.
It was Professor Rabbani who helped Siddartha publish his article and subsequently file for a patent. "I wish I could do more for him," says the professor, "As Siddartha is not our student it's been difficult to include him in our projects and naturally the university has its own priorities. But I hope the relevant authorities can help him further develop his invention."
"The gastrometer can help with diagnosis of stomach conditions, their treatment and also prevention," says an always-enthusiastic Siddartha. "People can even test their own acidity and plan meals accordingly. I hope to find a company willing to manufacture the gastrometer because I want my countrymen to benefit from my invention." Given the low cost and ease of the test it's not unthinkable that gastric patients in developed countries might eventually benefit from Siddartha's ingenuity as well.