Fresh worries over fleeing Rohingyas
Despite heightened efforts of border, coast guards, many from Myanmar infiltrate into Bangladesh thru' Teknaf border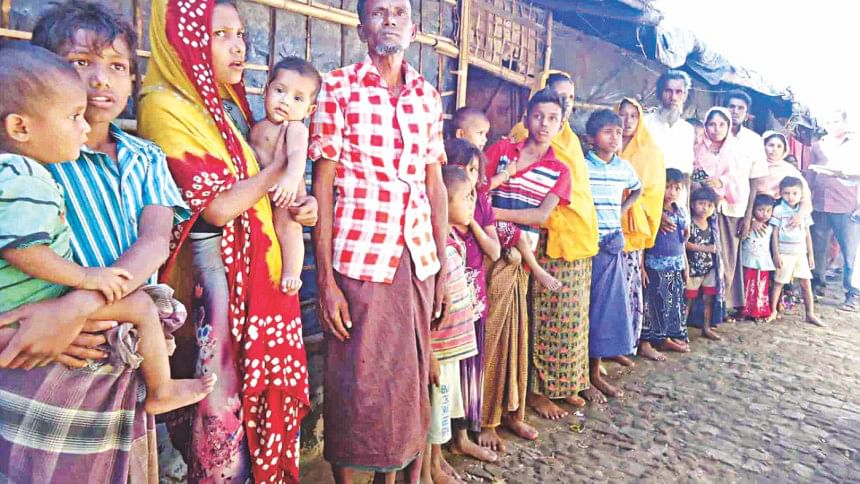 Ali Hossain along with four members of his family was waiting for a bus in Hoyaikong Bazar area on Cox's Bazar-Teknaf highway around noon yesterday.
He was accompanied by his mother Jahera Begum, sister Halima Khatun and Halima's two minor children. They were going to their relatives in a village in the district's Chakoria upazila.
Behind this seemingly ordinary scene, there is a story of pain and suffering. Ali Hossain is a Rohingya Muslim, often called one of the most persecuted minority groups in the world. 
The 30-year-old said they were among some 15 Myanmar nationals who crossed the Naf river in small boats before dawn and entered Bangladesh through Lombabeel in Hoyaikong union of Teknaf upazila.
They are from Kuikkhali in Maungdaw of Myanmar's Rakhine state. 
Ali said they fled to evade "torture by Myanmar army".
Moulavi Syed Karim from Myanmar's Raimmya Ghona area and Habibullah from Keyari Para, two other Rohingyas, left home for the same reason -- to escape persecution.  
"Myanmar army burned down our houses and killed our relatives," alleged Habibullah.
Along with their relatives, they entered Bangladesh through Jhimongkhali of Hoyaikong on Friday.
Nur Begum, Shahnur and Shomila Begum, who are from Roigyadong, came through Leda border point. They claim the males of their houses were "taken away".  
According to local sources, many of the Rohingyas, infiltrating since Friday, are staying at an unregistered Rohingya camp in Leda village of Hnila union under Teknaf.
Rohingyas are trying to escape the military crackdown after a recent escalation of violence in Rakhine, say residents, adding that some of them have been gunned down while attempting to cross the river that marks the frontier with Bangladesh.
The UN said up to 30,000 people have been displaced by this latest violence, half of which occurred last week when dozens of people died in clashes with the military, reports AFP. 
Though Bangladesh officials say patrolling has been increased, these persecuted minorities have been infiltrating after crossing the Naf river at night.
"Deeper the night, more crowded the Naf river gets," said Sirajul Islam Chowdhury Lalu, member of ward-2 of Hoyaikong Union Parishad.
The rate of Rohingya infiltration has increased in the last few days. They are coming in groups, he said. 
Lalu claimed he has information that "several hundred Rohingyas" entered Bangladesh from Saturday night to early morning yesterday. "They are taking shelter in different areas and some have sneaked into other districts." 
Another union parishad member preferring anonymity said many Rohingyas infiltrated through Meena Bazar, Kharangkhali and Lombabeel from Saturday night to early yesterday.
Border Guard Bangladesh (BGB) and Coast Guard pushed back 86 Rohingyas from Hnila and Sabrang points on November 15, and some 85 others from different border points in Ukhia and Teknaf on Thursday and Friday.
And on Friday night, 125 Rohingyas were sent back from No 5 Sluice Gate area in Sabrang early Saturday.
Lt Col Anwarul Azim, commanding officer of BGB in the Cox's Bazar sector, said those turned away had been provided with food and medicines, reports Reuters.
Talking to reporters on Saturday, Lt Nafiur Rahman, commander of Coast Guard Teknaf station, said to monitor the movement of the Rohingyas, patrol by coast guards along the Naf river has been increased.
Col Abu Zar Al Zahid, commander of BGB No 2 Battalion at Teknaf, yesterday said the Rohingyas have been trying to cross the river in small boats and BGB has increased manpower at border outposts to prevent the infiltration.
The official said they are holding meetings with locals, including fishermen, to limit movement and fishing in the borders. Locals are being motivated to help BGB stop Rohingya intrusion.
Fishermen have been strictly warned against crossing the zero line in the Naf river and asked to inform BGB about anything unusual, he added.  
An emergency meeting was held yesterday with Cox's Bazar Deputy Commissioner Md Ali Hossain in the chair to discuss the border situation.
The district's BGB sector commander, battalion commander, superintendent of police, representatives of intelligence agencies and important government officials attended the meeting.
The DC said the meeting took decisions on maintaining law and order in border areas and two registered Rohingya refugee camps, and preventing the infiltration of Rohingyas.
The Rohingya infiltration has long been a big concern for Bangladesh.
At present, 31,759 registered Rohingya refugees are staying in Kutupalong camp in Ukhia and Nayapara camp in Teknaf.
But sources citing a government census held from February 1 to 23 say that about three lakh other Rohingyas are living illegally in the district.
There are allegations that many from Rohingya community are getting involved in human trafficking, Yaba smuggling and other criminal activities. 
President of Rohingya Refugee Repatriation Action Committee (RRRC) Hamidul Haque Chowdhury said Rohingyas must not be allowed in Bangladesh in any case. 
He said if more Myanmar nationals get in, the country's law and order will be sharply deteriorate.
Claiming that around 5 lakh Rohingyas, registered and unregistered, already live in Bangladesh, he demanded all of them be repatriated. "If that is not possible, they should be rehabilitated in a developed third country."
Cox's Bazar Relief and Rohingya Refugee Repatriation Commissioner (RRRC) office sources said a large number of Rohingyas fled Myanmar in 1991-92 due to political, social and economic persecution and took shelter in Bangladesh.  The government allowed them in on humanitarian grounds and extended all cooperation.
Through the 1992 census, 2,50,877 Rohingya refugees were registered.  Of them 2,36,599 were repatriated from  1992 to 2005. And 926 Rohingyas were rehabilitated in a third country from 2006 to 2009.
From January to November 18 this year, some 1,688 Rohingyas trying to infiltrate into Bangladesh were stopped and pushed back.
Bangladesh Bureau of Statistics conducted a survey to determine the actual number of unregistered Rohingyas staying in the country. The result is scheduled to be published in December.