Freeing Mir Quasem is their goal
Says PM about terrorist attacks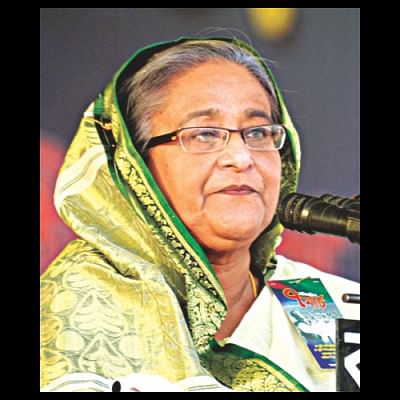 Prime Minister Sheikh Hasina yesterday said there might be attacks next month on some renowned educational institutions to create a hostage situation in efforts to free war crimes convict Mir Quasem Ali, a Jamaat leader.
"They [terrorists] will try to create unrest in August. They are planning something big … Ministers may also be targeted … Everyone must remain alert," the PM told the cabinet meeting, according to multiple sources present there.
"Their goal is to free Mir Quasem," two sources told The Daily Star, quoting the PM.
She initiated the unscheduled discussion following news that the hearing of Quasem's review petition had been deferred by one month.
This is the second time in less than two weeks that Hasina spoke of possible terror strikes.
Earlier on July 13, she told a programme in the capital that there might be more attacks in the country and urged all to be vigilant. 
After the PM's comment at the cabinet meeting, ministers said that Quasem, considered a top financier of Jamaat, could spend a huge sum of money on terror activities to foil the hearing of his review petition at the Supreme Court, which already upheld his death sentence for war crimes.
Several ministers expressed surprise over the SC's decision to defer the review hearing.
Law Minister Anisul Huq said the apex court decision was an exception and that he did not see any ground to give one month's time to Quasem. He said no war criminals got the scope, according to the sources.
Quasem, chief of Chittagong Al-Badr, an infamous auxiliary force of the Pakistan army, and now a member of Jamaat's central executive council, had allegedly paid $25 million to an American lobby firm to carry out a smear campaign to make the war crimes trial controversial, former law minister Shafique Ahmed told parliament on April 28, 2013.
Security has been tightened across the country amid fear of further attacks following the two back-to-back terror operations at Gulshan and Sholakia in the span of a week.
"We have taken extra security measures to thwart possible militant attacks. Law enforcement and intelligence agencies are already on high alert," Home Minister Asaduzzaman Khan Kamal told The Daily Star last night.
He also claimed that the July 1 and the Eid day attacks were meant to foil the ongoing war crimes trial and to create instability in the country.
Earlier at a programme in the city, the home boss said the government had all the information about the conspirators behind the Gulshan and Sholakia attacks, which he said were part of a national and international conspiracy.
"Our Bangladesh has been the victim of national and international conspiracies…the evidence we've got so far are linked to the same thread," he said.
Already, several ministers, top bureaucrats and authorities of business and educational institutions wrote to the home ministry requesting additional security, the minister said.
Earlier many embassies, foreign organisations and individuals had sought additional security.
INU UNDER FIRE 
Almost all ministers came down heavily on Information Minister Hasanul Haq Inu after he expressed regret over his allegation that lawmakers were involved in corruption in Test Relief (TR) and Food For Work (FFW) programmes.
He made the allegation at a conference of Palli Karma-Sahayak Foundation (PKSF) in the capital on Sunday.
At the cabinet meeting, State Minister for Labour Mujibul Haque Chunnu sought an explanation from Inu for his remarks and most of the ministers followed suit.
Following criticisms from the PM and other ministers, Inu gave a written speech apologising for his comment.
The PM then said, "An arrow shot and words uttered cannot be taken back."
Hasina also asked Housing and Public Works Minister Mosharraf Hossain to sit with the owners of all hotels and restaurants in the diplomatic zone of Gulshan and Baridhara and to remove all illegal business installations from there.
Earlier on July 10, the cabinet committee on law and order decided to shut all unauthorised educational institutions and businesses in Gulshan area.