FREE, finally
Enclaves fall, dwellers erupt into celebration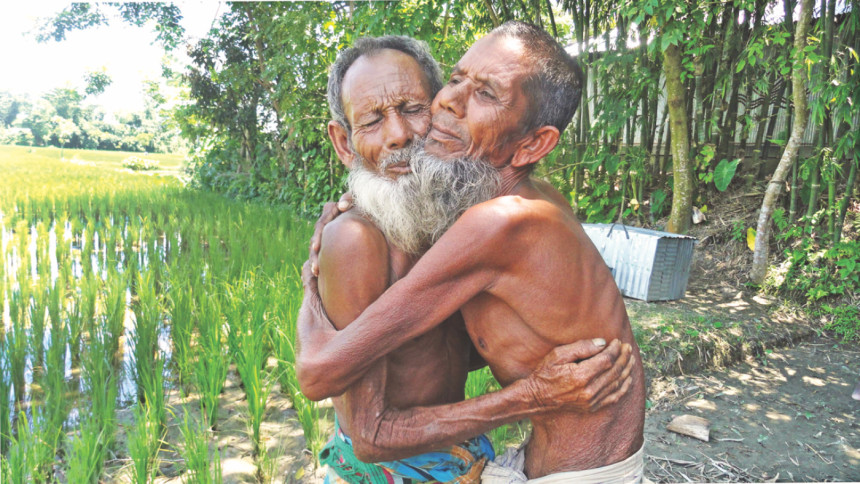 The clock struck 12:00am.
It was the moment when around 52,000 inhabitants of 162 enclaves inside Bangladesh and India got the taste of freedom for the first time in 68 years, officially becoming citizens either of the two countries.
It was also the moment when the tiny pockets of land -- or enclaves -- in each other's territories got merged with the respective countries, bringing an end to one of the most complicated and confusing border disputes in the world.
The moment marked the end of the stateless existence of these people as the neighbouring countries exchanged the adversely possessed land following the historic land boundary agreement signed and ratified earlier this year.
There was joy all around the 111 enclaves in Bangladesh with people organising an array of programmes to mark the end of their 68-year-long life of identity crisis, deprivation and obscurity.
They lit 68 candles, released 68 balloons, brought out processions and organised traditional Bangalee sports and cultural programmes throughout yesterday. Ha-do-do, race, boat race, lathi khela (stick fight) and horse race were among the games arranged in these enclaves.
In some enclaves, people brought out processions carrying the red and green flag of Bangladesh, chanting slogans like: "Noi ar chhit basi, amra ekhon Bangladeshi" (We're no more enclave people, we're Bangladeshis)."
President Abdul Hamid and Prime Minister Sheikh Hasina congratulated the enclave people on getting their own identity, the national flag and the map of their motherland.
From elderly people to youths, from housewives to children, everyone seemed equally happy. As the moment came at the stroke of midnight, they all were over the moon, singing, dancing and hugging each other.
"We are Bangladesh nationals now. I cannot describe in words how happy I am," said 65-year-old Hashem Ali, an inhabitant of Bhitarkuti enclave in Lalmonirhat, the district that had 59 enclaves.
"The confined life for 68 years has finally come to an end. Now we will live like a citizen of an independent country," he said.
Mansur Ali, 60, of Banshkata enclave in Patgram upazila, said, "Now we will enjoy all kinds of state facilities. Our children would not need to use fake identities anymore. They will now get jobs."
Azizul Islam, general secretary of India-Bangladesh Enclave Exchange Coordination Committee's Lalmonirhat unit, said the national flag of Bangladesh would be hoisted officially in all these enclaves today.
In Kurigram, the main programme was held in Dashiarchhara enclave with hundreds of residents of the enclaves and people of adjoining areas gathering there since yesterday afternoon.
A discussion was held there followed by a cultural programme. Local lawmaker Tajul Islam Chowdhury, among others, attended the discussion.
Earlier, locals participated in boat race, stick fight and rally.
People in the area lit 68 candles and exploded 68 fire crackers. Locals set up large gates and decorated various installations with lighting at various points.
At many places, cultural programmes were underway when this report was filed around 1:00am today.
Nur Islam, 28, of Dashiarchhara, said they now wanted the government to take development activities there.
Younus Ali, 75, of Gangarhat Bazar area in Phulbari of Kurigram, said there were allegations of criminal activities in Dashiarchhara and all these would be over once the government started developing the areas.
Abdulla-Hill Baki, principal of Kashipur Degree College in Phulbari upazila, said some students of the enclave studied in his college using fake identities since there was no education institution in the enclaves.
"But now I believe education institutions will be built here and students would not have to use fake identities," he said.
In India, similar programmes were held in Mashaldanga enclave in Cooch Bihar of West Bengal where political leaders and officials of local administration attended, reports a correspondent there.
At a discussion around 8:00pm, some people who had been arrested on charges of intruding into India narrated how they served additional time in jail, as the authorities were confused where to send them after their prison term ended because "they had no country".
[Our Lalmonirhat and Kurigram correspondents contributed to this report.]