Farmlands near Payra in peril
Government move to set up port there triggers rush for land purchase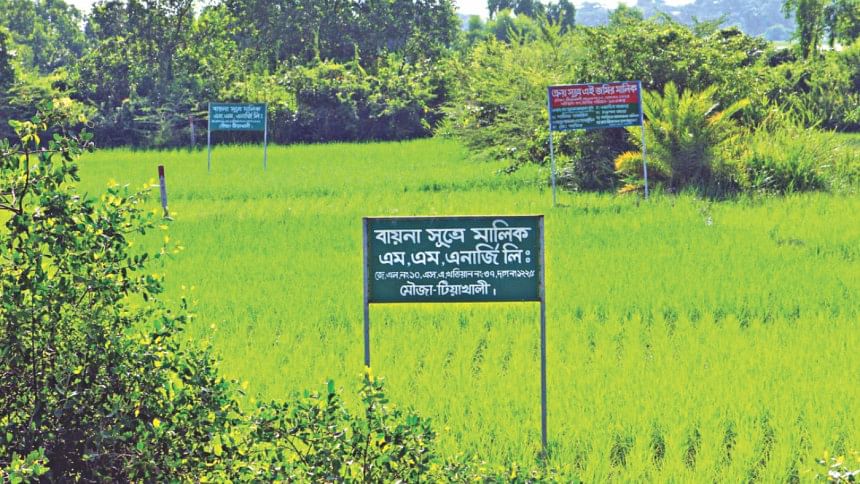 If one goes deep inland in Kalapara of Patuakhali near the Payra Port, hundreds of signboards could be seen on pieces of land covered by Aman seedlings.
After the government moved to establish the port there, the quiet farming neighbourhood has changed. There is rush for buying land by public and private firms and local wealthy people to set up various establishments close to the port that is on 6,000 acres of land.
Prices of land surrounding the port skyrocketed and so did the tension among land owners, according to some locals of Tiyakhali union. Some have sold land without their co-owners consent, while some others are trying to buy land off co-owners.
Prior to the government's announcement to build the port there, locals usually sold three decimals of farmland for less than Tk 20,000. But the prices began soaring after the government announcement in 2013. Now, the prices are between Tk 30,000 and Tk 40,000.
In some cases, the prices went up even higher following the government's move to acquire land for the port, for public agencies to set up five power plants, a land-based Liquefied Natural Gas (LPG) terminal and an oil refinery, according to data from Patuakhali DC office.
For example, state-run North West Power Company Ltd has sought 1,015 acres to build a 1,320MW power plant. Bangladesh-China Power Company Ltd has already started building a 1,320MW power plant near the new port.  
Rural Power Company Ltd, Ashuganj Power Company Ltd, Sena Kalyan Sangstha, Bangladesh Petroleum Corporation and Petrobangla have also lined up for land to build power plants, oil refinery and LGN terminal in the area.
The government has approved three 1,320MW power plants of the five proposed plants, said Payra Port Authority (PPA) acting chairman Capt Md Saidur Rahman.
Madina Group, owned by lawmaker Mohammad Selim, is in the process of buying 1,500 acres of land while another person Sultan Ahmed Mridha, husband of Patuakhali lawmaker Luthfunnessa, has bought 500 acres in Kalapara, said people concerned.
All these have created tension among locals and complicated resettlement. The locals do believe that establishment of the port would create a lot of economic activities and provide them with jobs and higher income.
"Well, the port will bring us fortune because of establishments of mills and factories. But it will not be good if we lose our homes due to land acquisition," said 25-year-old Mohammad Masum.
However, Akkash Ali Mridha, a landless labourer was rather upbeat.
"We will work regularly for the port and will no longer need to go to Dhaka for income," he said.
Monowara Begum, 65, was worried. "These pieces of land have fed us for a long time. How shall we survive if they take away our land," said Monowara standing a few hundred yards away from the area developed by the PPA. It was when the prime minister inaugurated official operation of the port on August 13.
There is a concern whether locals will get fair prices for their land to be acquired.
During the video conference to inaugurate the port, Humayun Kabir, chairman of Baliapara union under Kalapara, urged Prime Minister Sheikh Hasina to pay higher prices for the land to be acquired by the government.
Hasina assured him that the demand would be considered.
The PPA officials and locals said the main port, to be built on the west bank of Rabnabad channel, was yet to be set up.
The PPA is in the process of acquiring land to build the required infrastructure such as terminals and other facilities in the vicinity.
Around the port, according to the government plans, will also be an exclusive economic zone, development of a tourism zone centring the beach town Kuakata (near the port), and an airport, which is expected to bring a new lease of life to the south.
The government expects that it will be possible to create facilities for establishing garment factories, pharmaceuticals, cement, fish processing zone and shipbuilding yards, near the new port and thus generate thousands of new jobs.
Because of the greater depth than that Chittagong and Mongla ports, the new port will allow bigger ships to come through, enabling users to do overseas trade at costs lower than that of Chittagong and Mongla.
However, little visible work has been seen on the ground.
So far, the PPA has acquired 16 acres of land and established its office to facilitate shipments. It has also awarded contract to build a warehouse and a five-storey administrative building on the land.
As land acquisition is yet to be complete, it may take several years to build adequate infrastructure for loading and unloading goods from ships, construct a 14km dual carriageway including a bridge to connect the port to the Patuakhali-Kuakata highway. Users would have to rely on waterways to transport goods from the port until then.
PPA Chairman Saidur said they were at the final stage of the start of land acquisition and building port infrastructure. "We expect to start construction work next year," he said.