Eyes that can't see the world
Future of five violence victims bleak, with their eyes fully or partially damaged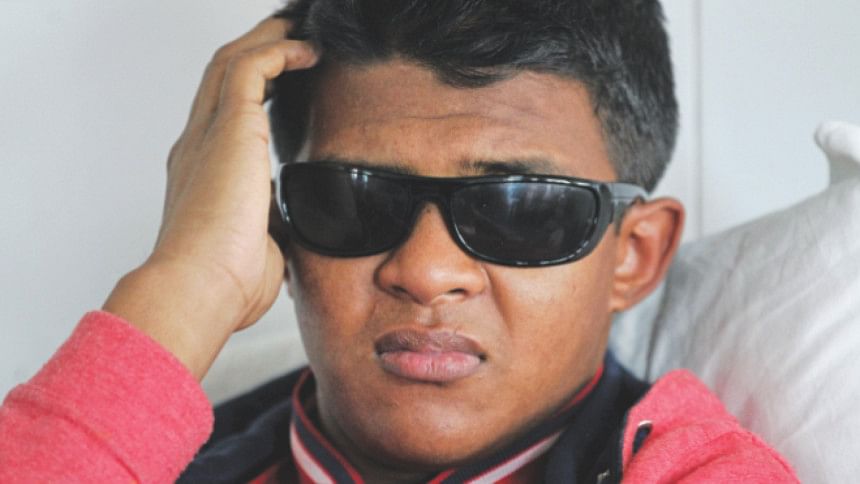 For trucker Liton, life is now a nightmare. A bomb attack has blown away his one eye and damaged the other. But what worries him the most is the future of his five-member family.
"Will anyone give a driving job to man with one eye? If I don't get any job, how will I feed my children, where will we live?" Liton, a truck driver for 16 years, told The Daily Star at the National Institute of Ophthalmology Hospital on Thursday.
The father of two was silently crying, with big tears rolling down from his partially damaged right eye. "My whole world has become dark."
On the afternoon of January 14, the trucker from Shailakupa upazila of Jhenidah started for Magura with his truck loaded with stone from Chapainawabganj. His vehicle was among a convoy under law enforcers' protection.
As his vehicle reached Shibganj Bazar in the evening, a youth came out of a roadside house and hurled a crude bomb at his face, blowing off his left eye.
"I felt the world went black within seconds," he recalled.
The lone breadwinner of the family, the 35-year-old has two sons -- one in class-VI and the other in play group. His elderly mother lives with him at a rented house in Shailakupa.
He received Tk 5 lakh from the government for his treatment in India where he intends to fly in a few days. But his wife Sweety Akter is not sure if the money would be enough.
"Those who took treatment in India told us they spent Tk 10 to 15 lakh," she said and demanded that the government arrange a job for her husband once he gets cured.
Equally bleak is the future of Shahriar Hridoy. The teen boy was to take this year's SSC exam that finally began yesterday.
But as his peers took to the exam halls, he lay at the hospital and cried all morning.
He suffered injuries in his right eye with which he can see nothing but a dot of light.
A student of Feni Government Pilot High School, he and his classmate Minhazul Islam Anik were wounded in a crude bomb blast in Feni town on January 5.
"If I were well, I would have taken the test," he told this newspaper on Thursday.
He too got Tk 5 lakh from the government for treatment. He and his parents got their visas yesterday and will fly to India soon, said his mother Rosy Roushan Akter.
"We appeal that the prime minister makes special arrangements so my son and Anik can take the exam once they return," she added.
Anik has already left for India with government assistance.
Like Liton and Hridoy, three other victims are undergoing eye treatments at the hospital after being attacked by suspected blockaders.
Shyamal Kumar Sarkar, resident surgeon at the hospital, said six other injured had been released after treatment in the last one month. They are all victims of the ongoing violence.
Imran Sardar is one of those still admitted there.
A student of a private university in Uttara, he wants to be a cricketer. An all-rounder, he got himself admitted to the Indoor Cricket Academy of Abahani Club in Dhaka six months ago when he came to the capital for higher education.
The 18-year-old suffered injuries in his left eye as pickets threw a brick chip at the bus by which he was going to his Madaripur home. The attack happened on January 31 at Bhanga of Faridpur.
A piece of broken glass pierced in his left eye, making him unconscious. He underwent an operation the next day and is expecting another today.
"I seek everyone's blessing so that I can play cricket. That I can see well," he said. 
His father Kawsar Haider, a farmer, said, "I spend most of my incomes for him so he can fulfil his dream. But he now lies in the hospital."
Ziaur Rahman, another victim, was injured in a similar attack on a bus on February 2 when he was coming from his Rajshahi home to Manikganj where he works.
In the attack, a piece of broken glass pierced in his left eye.
"I cannot express the situation I am in. I don't know what will happen," said Zia, 29.
Himself married and father of a minor son, he provides for his seven-member family, including his three brothers who are still studying.
"If I lose an eye at this stage of my life...," he said and went abruptly silent.
Another victim Akter Hossain expressed his anger at the country's chaotic political situation when these correspondents wanted to talk to him.
"Why do you write? Can you solve the crisis by writing? No. So what's the point of writing?"
Akter, 60, was injured in a crude bomb attack at Malibagh in the capital on February 3.
"No one from Khaleda and Hasina's families has been burned. How will they realise our pain?"