Exodus of refugees turns fatal
23 die as Rohingya boats sink in the Bay, Naf; 400 Hindus also take shelter in Bangladesh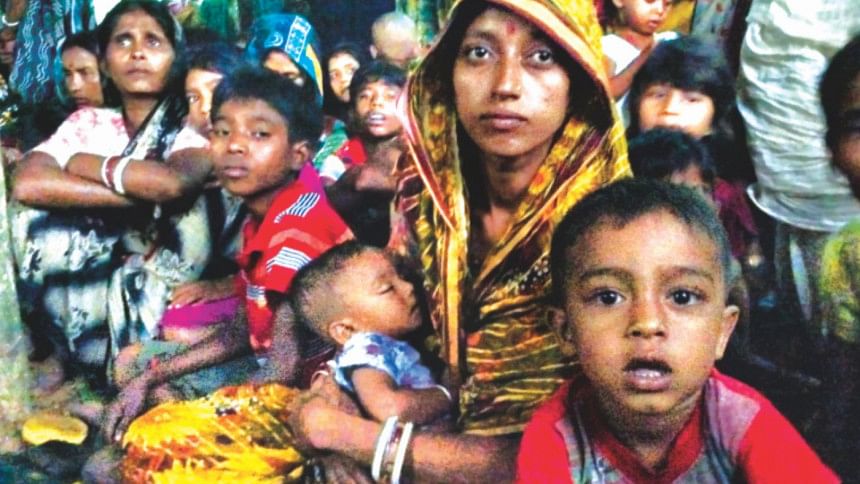 Law enforcers rescued 19 bodies of Rohingya people, who had been fleeing violence in Myanmar, from the Bay of Bengal after the ill-equipped boats carrying them capsized yesterday.
With this, the total death toll of the Rohingyas from boat disaster stood at 23. Four others drowned as another boat sank in the Naf River Tuesday night, local authorities say.
Of those rescued yesterday, 10 were children and nine women. One woman was aged around 60, while others were between 35 and 45.
The children, seven of them girls and two boys, were under four, said Teknaf Upazila Nirbahi Officer Jahid Hossain Siddiqui.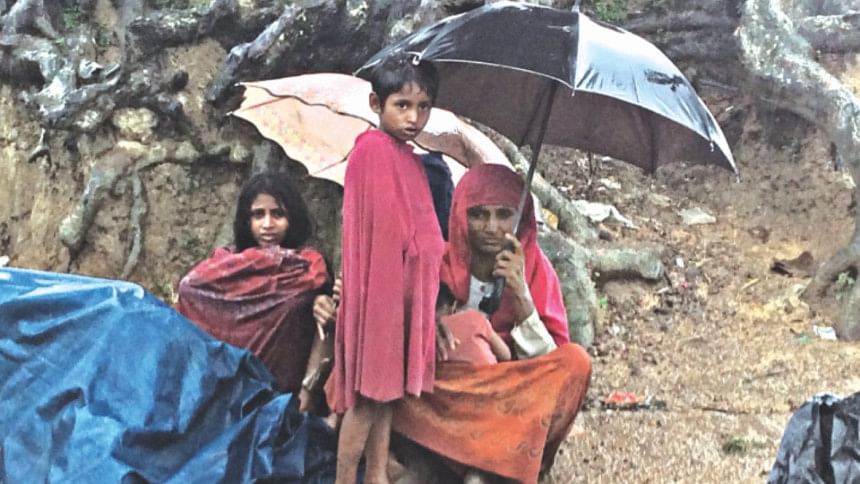 The boats sank near the west beach of Subrang union of Shah Pori Dweep in Teknaf upazila of Cox's Bazar, said Mohammad Main Uddin, officer-in-charge of Teknaf Police Station.
Border Guard Bangladesh (BGB), Coast Guard and Bangladesh Police in a combined operation rescued the bodies early yesterday after Subrang Union Parishad Member Nurul Amin informed them about the accident.
Nurul Amin said one of the boats capsized around 1:00am and the other around 7:00am. He added these were small boats carrying people way beyond their capacity.
Talking to some people who managed to swim ashore, he learnt that the dead were residents of Dongkhali and Fatngza areas of Maungdaw in Rakhine State of Myanmar. 
As their identities were not known and none claimed their bodies, the dead were buried in a graveyard at Shah Porir Dweep, said Cox's Bazar Deputy Commissioner Mohammad Ali Hossain.
Thousands of Rohingyas are fleeing to Bangladesh with Myanmar law enforcers conducting a "clearing operation".
Rohingya militants attacked 30 police posts and an army base last Friday, triggering a military response. More than 100 people, mostly insurgents, were killed.
Refugees and rights groups alleged Rohingya villages were set on fire in Rakhine, triggering the influx. While most are walking to cross the border, many are taking rickety boats to enter Bangladesh.
UN agencies estimate more than 27,000 Rohingya Muslims have fled to Bangladesh, while some 20,000 have been stranded in no man's land along the border.
Some Rohingya people with bullet and burn injuries have been admitted to different hospitals in Bangladesh in the last three days. They claim to be the victims of Myanmar military offensive.
HINDUS FLEEING TOO
Alongside the Rohingya Muslims, over 400 Hindus from Maungdaw made it to Bangladesh yesterday through Rezu Amtola of Ukhia amid attacks by an "unidentified armed group".
They took shelter in a makeshift tent at Paschim Hindupara of Kutupalong. They said unidentified people with firearms, bombs and knives besieged their villages last Friday.
The attackers, wearing black clothes and veils, surrounded Fakirabazar, Riktapara and Chikonchhari villages till yesterday and "killed some 86 people of the community", they claimed.
"My husband Kanu Rudro went to visit our son-in-law's house at Fakirabazar. But they [unidentified armed men] killed all of them [Kanu, his daughter, and son-in-law]," said Bakul Bala, wailing. 
Niranjan Rudro from Chikonchhari of Maungdaw, too, said some people in black clothes besieged the villages and set fire to the Hindu houses.
"They were carrying guns, bombs and knives."
The refugees said one or two Hindu children went missing while crossing the border with Rohingya refugees.
"We have been living in Burma for generations. We are Burmese Hindus," said Chitya Ranjan Paul, who reached Kutupalong around 5:30pm yesterday.
His identity card issued by the Myanmar government described him as "Indian".
Aid workers were seen enlisting the names of the Hindu refugees while local Hindus providing them with food and shelter.
MEDICAL CAMP FOR ROHINGYAS
BGB has set up a medical camp for the several thousand Rohingyas now stranded in no man's land along the Naikhyangchhari border and waiting to enter Bangladesh. 
Some 200-300 refugees have been seeking treatment daily at the medical camp set up two days back, said Dr Mohammad Shahidul Islam, who is treating them.
The patients, mostly children and women, come with fever, cold, diarrhoea, minor cuts and scrapes and skin diseases, he added.
A few youths from a Rohingya camp in Kutupalong of Cox's Bazar also provided some relief materials to the refugees at the makeshift shelter in no man's land.
A team of Bangladesh Red Crescent Society also visited the site yesterday morning.
CHANGED ROUTE
In the first five days since last Friday, Rohingyas entered Bangladesh through the hills and land routes. However, since Tuesday, they are mostly crossing the border through 11 points of the Naf River, locals said.
The points include Anjman Para and Rahmater Beel of Ukhia, and Leda, Moulvibazar, Lambabil, Kanjarpara, Unichiaprang, Jhimangkhali, Ulubunia, Kharangkhali and Karainga of Teknaf.
Locals said the Rohingyas are taking river routes because of restrictions on the land points.
During a visit to Hoyaikong Kanjarpara around 11:00am yesterday, these correspondents found some 800 Rohingya men, women and children gathered by BGB.
Some of the Rohingyas said they crossed the Naf River by boats to reach Bangladesh in the wee hours yesterday. Each of them had to pay 10,000 Burmese kyat (Myanmar currency) to the boatmen. 
Many in the villages along the borders, meanwhile, are providing temporary shelter and food to the Rohingyas before the refugees move to the unregistered camps in Leda, Balukhali and Kutupalong.
Haji Abdul Malek, a leader in Kanjarpara village, said some 3,000 Rohingyas entered Bangladesh through Kanjarpara point of the Naf River on Wednesday and Thursday night.
UNSC DISCUSSES ROHINGYA ISSUE
The UN Security Council on Wednesday discussed the violence in Myanmar though there was no formal statement from the 15-member council following the closed-door meeting.
British Ambassador Matthew Rycroft to the UN said there were calls from council members for de-escalation. "We all condemned the violence, we all called on all the parties to de-escalate," Rycroft told reporters.
Association of Southeast Asian Nations (ASEAN) Parliamentarians for Human Rights on Wednesday also called on Myanmar to take immediate action to protect civilians from violent clashes in Rakhine.
"The priority here must be civilian protection," Indonesian MP Eva Kusuma Sundari said in a statement from Indonesia.
"Urgent measures must be taken by all parties to protect all individuals caught up in this violence, regardless of their ethnicity or citizenship."
In March this year, China, backed by Russia, blocked a UN Security Council statement on Myanmar. Just a month before, the UN human rights office had accused the country's military of mass killing and rape of Rohingya Muslims.