Huge blasts at 'terror den' in capital
There may be casualties inside, says Rab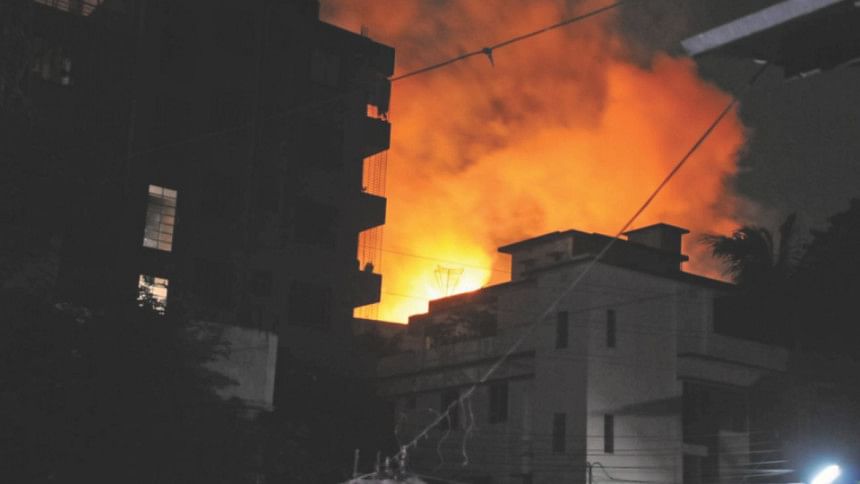 Casualties are feared in a flat in the capital's Darus Salam after a suspected militant allegedly detonated bombs last night.
With the building cordoned off since 12:40am yesterday, Rab officials gave the suspect till 8:00pm to surrender. But he wanted another half an hour, said Mufti Mahmud Khan, director of legal and media wing of the elite force.
Several explosions rocked the area around 9:50pm, triggering a blaze and a plume of smoke at the building.
Stationed nearby, Rab men fired shots. Four of its members suffered splinter injuries but they are out of danger, official sources said.
"The militant detonated bombs that caused a number of big explosions," Benazir Ahmed, director general of Rapid Action Battalion (Rab), said in a text message around 11:00am, when contacted.
"The size of the explosions suggests there may be casualties inside the hideout," he added.
What actually happened inside can be clearly said only after firefighters douse the blaze and Rab men inspect the spot, the Rab DG said.
There could be some unexploded bombs inside, he said, adding that Rab members would enter the flat in the morning.
 Earlier, Rab personnel had said the suspected militant agreed to surrender along with his four family members.
"There were at least five people, including JMB militant Abdullah, in the flat," Mufti Mahmud Khan told The Daily Star around 9:00pm.
The Rab officer said he had talked to Abdullah and the militant said they would surrender after Esha prayers.
Earlier in the day, Rab DG Benazir said they primarily came to know that Abdullah was a dreaded militant involved in terrorism since 2005.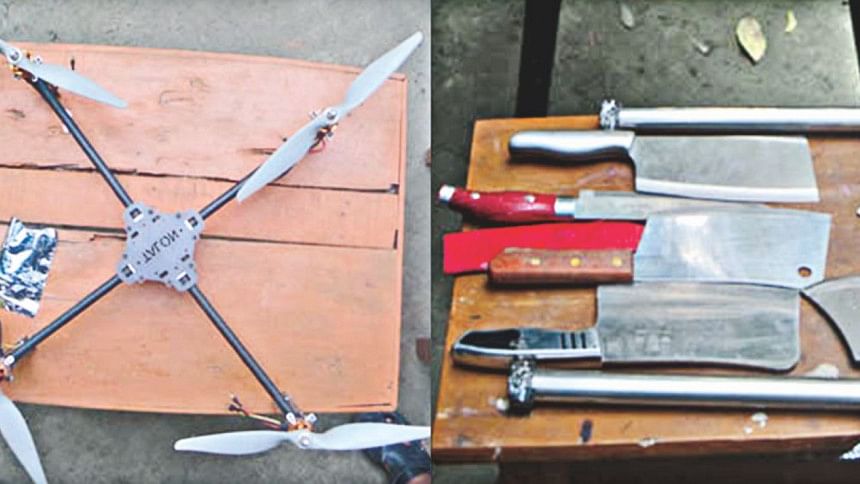 A man in his 30s, Abdullah used to rear pigeons at home and was involved in refrigerator repair job besides supplying IPS and UPS to shops. He had been a resident of the area for the last 10 to 12 years, locals and other sources said.
Abdullah, his wife and two sons have been living in a rented flat on the fourth floor of the six-storey building "Komol Prova", located at Dhanbari, around 100 metres off Darus Salam Police Station.
Rab cordoned off the house following information about the suspect from two alleged members of Jama'atul Mujahideen Bangladesh (JMB), both detained from a house at Elenga in Kalihati upazila of Tangail late Monday night.
During the seven-hour raid at the Elenga house, Rab arrested Syed Nurul Huda alias Masum, 30, and his brother Syed Mazharul Islam alias Khokon, 25.
The elite force also recovered a drone-like object, bomb-making materials, several machetes and Chinese axes from the house.
The Rab DG said, "We have successfully been able to establish communications with Abdullah after 4:00am and he informed us that he has at least 50 improvised explosive devices in the house."
Rab picked up the house owner, Habibullah Bahar Azad, for interrogation.
The building has 24 flats. Rab evacuated 65 tenants -- 24 females, 26 males, 15 children -- between 7:00am and 8:00am from the other 23 flats.
According to sources in the Counter Terrorism and Transnational Crime (CTTC) unit of DMP, Abdullah, widely known as Kabutar Abdullah, was once involved with JMB, but he has cut ties with the banned outfit.
Wishing anonymity, a CTTC official said, "We had information about Abdullah, but we never raided his house as he snapped his links with JMB.
"Earlier, some JMB men, including now arrested key Neo JMB leader Jahangir Alam alias Rajib Gandhi, visited his home."
A number of locals told this newspaper that they never suspected Abdullah of being involved in militancy. He used to play badminton and cricket with others in the area.
They said Abdullah had long been keeping pigeons. He used to supply UPS, IPS and power stabilisers to shops in the locality as well as the Stadium Market in Gulistan and Nawabpur in Old Dhaka.