'Drawn into militancy by Mufti Jashim'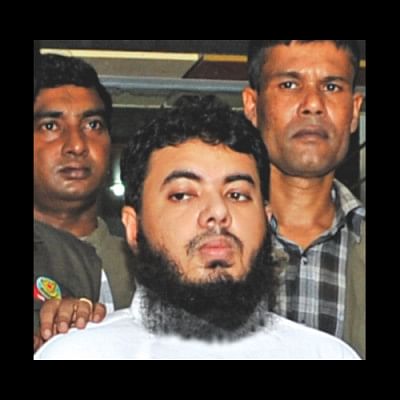 "Mufti Jashimuddin Rahmani, former imam of Hatembagh Mosque in Dhanmondi, had radicalised my son Junnun Sikder by misinterpreting Islam," Junnun's father Wahidur Rahman said yesterday.
The 30-year-old is one of the 10 missing militant suspects, as reported by the media. His name also appeared in the Rab's list of 262 missing people.
"Junnun told us that he used to discuss the Quran and Hadith with Rahmani at the mosque after Juma prayers. He talked to the imam for a clear understanding of any part of the Quran or any Hadith."
Rahmani is the chief of banned militant outfit Ansarullah Bangla Team. A convict in the murder case of blogger Ahmed Rajib Haider, he is now behind bars.
Junnun was a student of computer science at North South University. He used to read the Quran and Hadith regularly since his school days, said the father. 
"During his school and college days, my son was not in the habit of reading story books. He spent most of his time in studies, saying prayers and reading Quran-Hadith. All his school and college friends were good students. We didn't see him keeping bad company," Wahidur added. 
He said during the three-month gap before getting admission in the college, Junnun's devotion to religious activities, mainly reading Quran-Hadith, became stronger.
In between 2008 and 2013, the family didn't notice anything wrong with him like staying away from home or remaining missing. He, however, used to ask people to be pious and good human beings.
"One day in 2013, a group of eight to nine detectives came to my Jigatola house and asked my son to go with them," said Wahidur.
Detectives said many youths were arrested for their alleged involvement in militancy and some of them during interrogation mentioned Junnun's name. For this reason, they would quiz Junnun on militant activities.
Fifteen days later, police showed Junnun along with 13 others arrested in a case filed with Mohammadpur Police Station.
"Police alleged that my son was a member of Ansarullah Bangla Team. This was the first time I came to know about the organisation and their militant activities," Wahidur mentioned.
Junnun returned home on bail after spending around a year in jail. He stayed at home for around five to six months. During that period, detectives frequented his Jigatola house to talk to him. 
According to the father, detectives on several occasions had phoned his son in the morning, asking him to go to their office. He was freed in the evening.
He appeared before the court on scheduled dates for the hearing in the case.
"I was very angry with him. I argued with him why all these were happening to him and why policemen were visiting our house and taking him to the DB office. We insisted him to complete his graduation as he was in the sixth semester then," Wahidur recalled.
Junnun replied that he was not in need of worldly education anymore. "I already have enough worldly education to earn a living," the father quoted his son as saying.
One day in August or September last year, he left the house without informing the family. Some days later, he phoned from Malaysia to inform his relatives that he was doing well.
That was the last contact between Junnun and his family.