Does media have full freedom?
Asks HC judge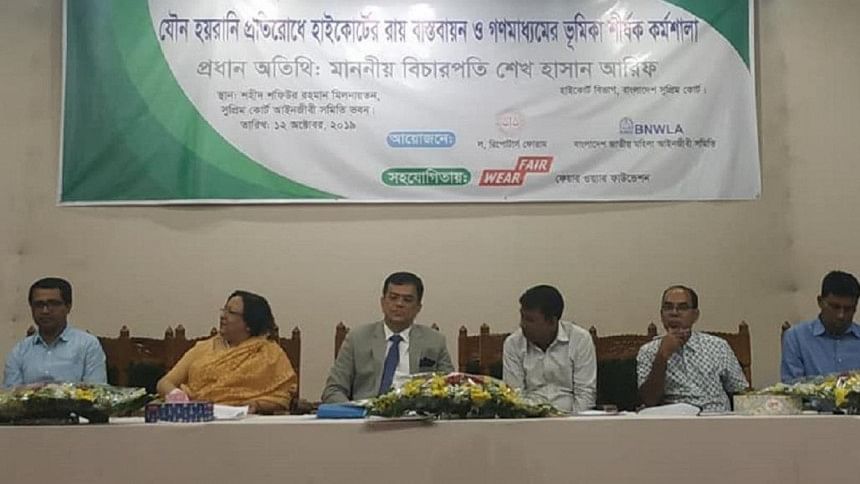 A High Court judge yesterday questioned whether the media in the country enjoys full freedom and whether fear is at play among journalists.
Justice Sheikh Hasan Arif pointed out that Bangladesh's position deteriorated in this year's freedom of the press ranking though people seem to be getting sensitive and fresh news from the media every day. 
"But note that you journalists report and can report only when there is an outburst … when it unfolds in front of our eyes nakedly," he said, addressing a workshop at the Supreme Court Bar Association auditorium. 
"But you knew about those incidents beforehand but could not report, and there are various limitations behind all this.
"This is exactly where lies a problem regarding the press freedom."
Talking about the ongoing drive against casinos, he said, "Casinos were operated in Bangladesh for many years. Could journalists run reports on this? No, they could not."
Journalists jumped on the issue after the prime minister said action would be taken. 
"Then, is there full press freedom in our country? Does it mean fear is at play among you [journalists]? [Do you apprehend] 'if I do a report I will run into trouble or my editor may face a problem'," he said.
His comments came amid concerns over media freedom with the World Economic Forum's Global Competitiveness Index (GCI) putting Bangladesh at 123rd place this year from 119th last year. The country scored 49.3 in the freedom of the press this year, according to the GCI.
Touching on the killing of Buet student Abrar Fahad, he questioned the inaction of Buet teachers over the ragging and torture at dormitories even though the misdeeds were an open secret.
"We all are aware of ragging at universities. Newspapers like The Daily Star and Prothom Alo ran stories on the issue," he said.
"But we were silent, administration was silent, the university authorities were silent. All were silent," he said, adding that everyone started talking after Abrar was killed and the prime minister said justice has to be done.
"Where were the teachers when there were incidents of ragging, when the culture of torturing students was developing at every university?" he questioned.
"Today, the teachers' association brings out processions over Abrar murder. Where were you then? What did you do when students faced ragging in your institution? What steps did you take? Have you lodged complaints with police? You did not." 
Justice Hasan was speaking at a workshop on "Implementation of High Court Verdict to Prevent Sexual Harassment and Role of Mass Media".
Law Reporters Forum (LRF) and Bangladesh National Women Lawyers Association (BNWLA) jointly organised the event in association with Fair Wear Foundation. 
ON SEXUAL HARASSMENT
Justice Hasan was critical of the absence of a complaint committee on sexual harassment in the Supreme Court, although the High Court gave directives in this regard in 2009. 
"We all know sexual harassment takes place among lawyers. We also know such incidents happen among the staff of the Supreme Court. I personally heard one or two such incidents. 
"But such issues were resolved somehow -- rebuking the accused when those were exposed widely."
Such incidents were covered up or the accused were just transferred, he said.
But the HC has issued directives for constituting a complaint committee at every workplace; carrying out probe into sexual harassment allegations; filing report to police if any allegation contains criminal ingredients, and starting disciplinary proceeding against the accused. 
"The High Court said this in 2009 but if you ask the Supreme Court registrar whether a complaint committee has been formed, I guess he will not be able to reply in the affirmative." 
He said, "If we can't purify my house, then how can I be able to purify others. This is applicable to the judges and the Supreme Court, as it is applicable to you, journalists."
He called upon journalists to enquire whether his or her newspaper or media house has formed a committee to resolve sexual harassment issues.
Also speaking at the workshop, BNWLA President Fawzia Karim Firoz urged the government to enact a law to prevent sexual harassment at workplaces on the basis of the guidelines issued by the HC.
LRF President Wakil Ahmed Hiron, BNWLA General Secretary Seema Zahur, Country Representative of Fair Wear Foundation Bablur Rahman, among others, spoke while LRF Training and Welfare Secretary Mas Udur Rahman moderated the event.